Haven't done a health post in a while and I thought it was long overdue.
First up:
Antibiotics doing long term damage to your vital gut bacteria
Many people don't realize how
vital gut bacteria
is to your health and well-being.
Not surprising since our health care revolves around popping pills, meds and other invasive treatments. When it should be encouraging healthy habits, nutritious eating from non-toxic food supplies and raising awareness of how it is our bodies actually function on their own and as part of the environment. These very sound health habits are not encouraged because they are not profitable to pharmaceutical corporations or gmo creators, who wish to have you ingest a pill or a genetically modified food, in the name of
good health.
With the very questionable long term effects of both, hidden from the population.
But, lets get back to the point here: Antibiotics and gut bacteria
Two research scientist wondered how hardy gut bacteria are, how well they bounce back?
So they recruited healthy volunteers who hadn't used antibiotics in at least the past year to take two five-day courses of the antibiotic Cipro, six months apart.
The first round of antibiotics brought about these results:
The volunteers reported no diarrhea or upset stomach, yet their fecal samples showed a lot going on beneath the surface.

Bacterial diversity plummeted

as a third to half of the volunteers' original germ species were nearly wiped out, although some other species moved in. Yet about a week after stopping the drug, two of the three volunteers had their bacterial levels largely return to normal. The third still had altered gut bacteria six months later.

Round two of the antibiotics brought about these startling results:
Another die-off and shift happened with the second round of Cipro,

but this time no one's gut bacteria had returned to the pre-antibiotic state by the time the study ended two months later.
Two five day courses of antibiotics and not one of the volunteers gut bacteria had returned to it's pre-antibiotic state after two months.
The lack of healthy bacteria in the gut is a indicator of trouble to come.
I wonder in fact about the use of antibiotics not just as prescribed by doctors, but in the use of meat production for this alarming news story
:Colon cancer cases 'may rise 50%
While this article links obesity to the increase, obesity and gut bacteria imbalance may be connected, it fails to mention this important information:
Red Meat Consumption Linked To Colorectal Cancer
Is it the meat? Or is it all the antibiotics fed to the meat, in turn consumed by humans?
While on the subject of pharmaceutical intervention, this news caught my eye-
I would actually say they have skyrocketed. Look at the chart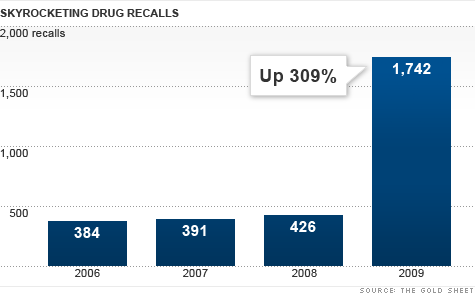 Recalls of prescription and over the counter drugs are surging, raising questions about the quality of drug manufacturing in the United States.

The Food and Drug Administration reported more than 1,742 recalls last year, skyrocketing from 426 in 2008, according to the Gold Sheet, a trade publication on drug quality that analyzes FDA data.

Ironically, or typically the FDA " maintains that it hasn't identified any alarming patterns in last year's recalls."
Bottom line: there is no such thing as a quick fix, no miracle pills, and the long term effects of many of these drugs is not well known, so none of them should be taken lightly.