I have been mulling over the idea of doing a post on the latest banksters scandal,
Foreclosuregate!
But, where to begin?
I knew
Ellen Brown had done a good piece on it
. This most excellent interview with Ellen Brown had brought her article to my attention
The Progressive Radio News Hour - 10/09/10
Then AP blogger @ Twelfth Bough also did a great post on subject called
banks piss on the third rail
.
She includes the Ellen Brown article in her post.
Still I hemmed and hawed...
The whole thing is complex and I would like to keep it simple. So I chose to go with a focal point.
At the heart of the whole mortgage mess is MERS. What is MERS? Who is MERS?
Understanding this helps a lot to understand the fraudulent mortgage fiasco in the US.
At the center of the foreclosure fraud crisis lies something called "MERS," which is usually described in news reports as a computer system and database.

However MERS is much more then a computer system or a database, as innocuous sounding as that is.
MERS is a nebulous, database-driven entity

created by the mortgage industry

.

let lenders swap mortgages electronically without being slowed down by

inconvenient

(?)

courtroom rules

. MERS is "Digital Life" for mortgages,

an electronic shell game that makes it hard to track the real party behind a loan.

It's designed to

The company's own publicly available documents paint the picture of a legal

shapeshifter

that appears before the court as the lender and title holder, then morphs itself into a mere service organization when it's time to take responsibility.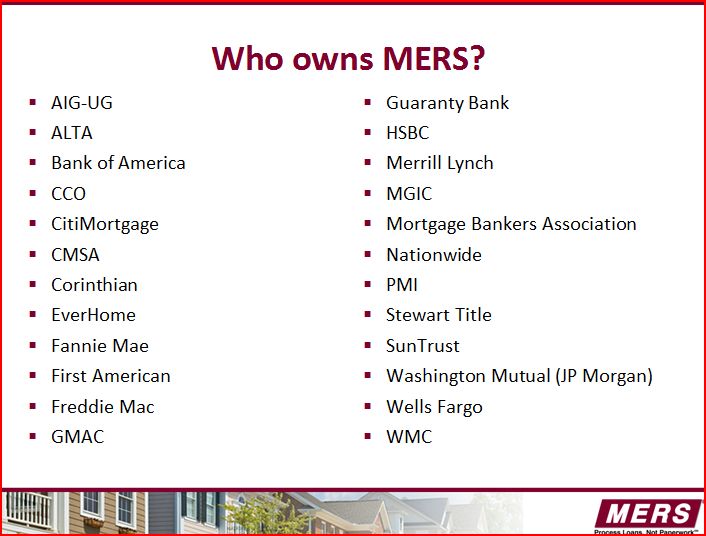 MERS is a subsidiary of "MERSCORP".
MERSCORP is an entity created entirely by the mortgage industry.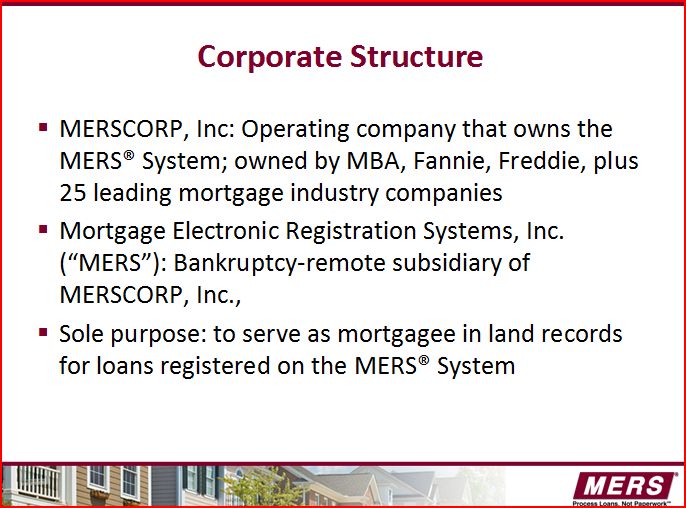 Why did the mortgage industry create MERS? What was the benefit to them to create and use MER's? I'll bet you can imagine, the reasoning is quite self-serving? And you would be correct!
In their own words-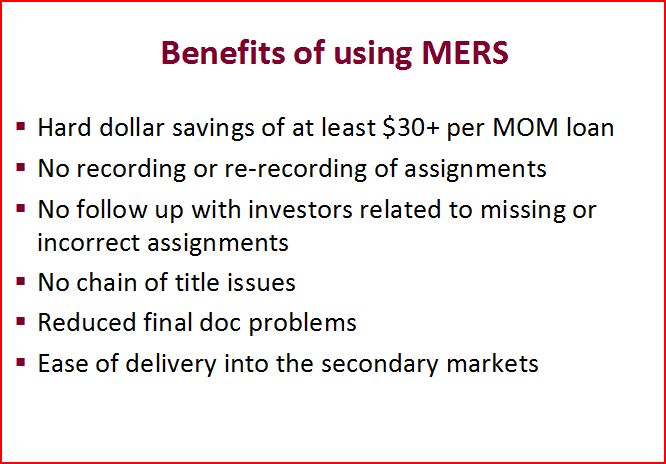 No recording or re-recording of assignments. No follow up with investors. No chain of title issues.
In other words the banksters created a free ride for themselves! They gamed the system for their benefit!
As for "ease of delivery into secondary markets" -- that is, the bundling and re-selling of mortgages -- there's no question that MERS has enabled that. MERS provides the chips for the housing market casino.

Completely self-serving!
There are at least two ways "MERS Inc." (that synthetic company that's a MERSCORP "subsidiary" becomes the mock holder of a loan, but the preferred way is to have lenders employ a
"MOM"
arrangement. MOM stands for "MERS as Original Mortgagee."
An explanation of MOM-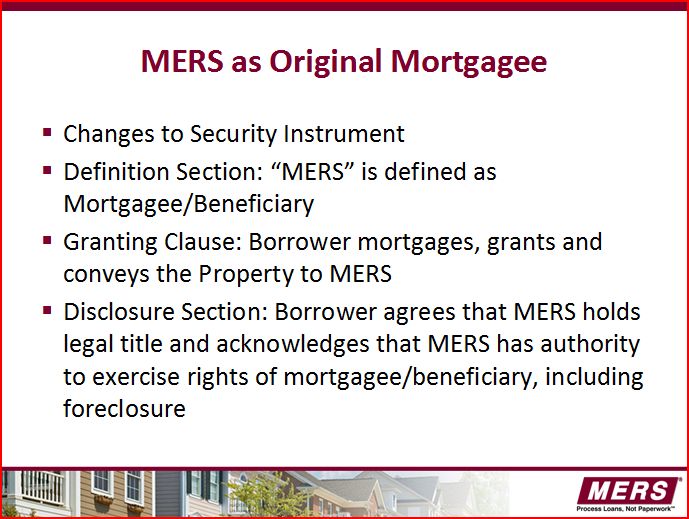 In order to obtain their home loan, the lender demands that the borrower -- that's you, Mr. and Mrs. Homeowning American -- "mortgages, grants, and conveys" their property to the vague "MERS Inc." The homeowners agree that MERS "holds legal title" and has the authority to exercise all mortgagee rights, "including foreclosure."
So, MERS really does own your home? Nope!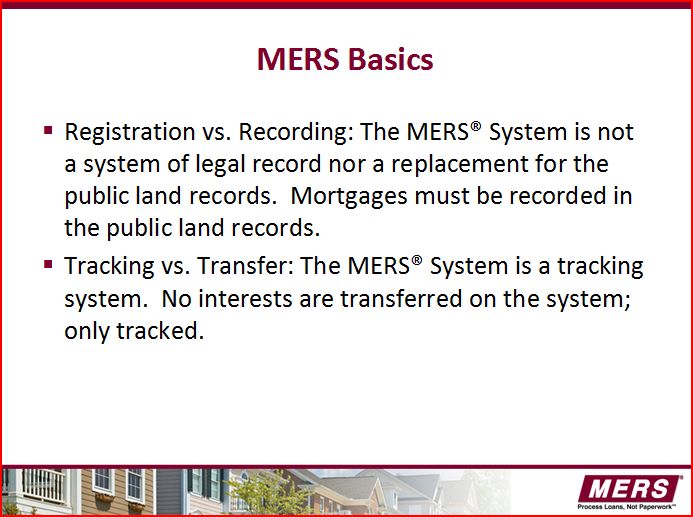 MERS can't own your home, or the note for your home.
Because as MERS states themselves, they are not,
NOT
a system of legal record nor a replacement for public records.
MERS is merely a handy, dandy transfer system, no tracking required.
I will stop here, on the subject of what and who is behind MERS.Read the rest of the article linked above. Check out twelfth bough's post, read Ellen Brown's article and listen to the interview.
To my understanding, from MERS emanates the need for the all the fraudulent documents.
Since MERS cannot own your home, they have no legal right to foreclose, so the creation of fraudulent documents became a necessity.
If I am mistaken, feel free to express your opinion.