UPDATED -scroll down!
The latest:
President Assad says he will need written agreement over violence, in move observers say is designed to divide opposition

UN-backed plans for a ceasefire and negotiations in Syria have been thrown into doubt by a new demand from President Bashar Al Assad that armed groups guarantee to halt all violence before regime forces are withdrawn from flashpoints across the country.



Scepticism about Assad's readiness to implement Annan's six-point plan was rife from the start, but the western governments who dominate the Friends of Syria group argue that it is the "only game in town", given Russian support for Assad and the lack of appetite for outside intervention.




"This is a totally predictable move," said Emile Hokayem, of the International Institute for Strategic Studies. "By accepting Annan's plan, Assad wanted to demand – and get – reciprocity to put pressure on a fragmented opposition. Russia will support this demand and the Friends of Syria have painted themselves into a corner. Can they really say no at this point?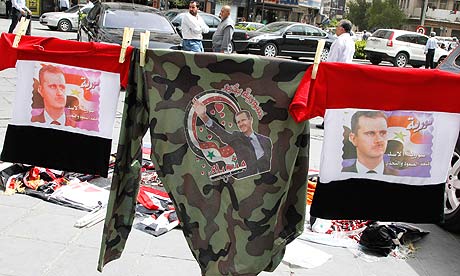 The Assad merchandise is interesting. How many in the West are walking around with their leaders faces on their chests? None.
Has the West been fudging on their reporting? Not like that would be a surprise or anything?
"To say that Syria will pull back its forces from towns on April 10 is inaccurate, Kofi Annan having not yet presented written guarantees on the acceptance by armed terrorist groups of a halt to all violence," it said.




On Thursday, the UN Security Council formally endorsed the deadline for Syrian troops and big guns to be withdrawn from cities, but Damascus said a day later the number of "terrorist acts" has risen since the deal was agreed with UN and Arab League envoy Annan.



"Mr Annan has not submitted written guarantees from the governments of Qatar, Saudi Arabia and Turkey on stopping their funding to terrorist groups," the ministry added of its northern neighbour and strongest critics in the Arab world.
Was Kofi Annan supposed to have these written guarantees in place before the ceasefire? If he was, this changes the dynamic of what has been reported on.
"Syria is not going to repeat what happened in the presence of Arab observers when armed forces left towns," Sunday's ministry statement said.
"Armed terrorist groups reorganised and rearmed to control entire neighbourhoods, committing every possible terrorist act, killing and kidnapping people and destroying public and private property."
The ministry said that when Annan met President Bashar al-Assad in Damascus, the former UN chief "said he would work to stop the violence, disarm armed groups ... initiate a comprehensive national dialogue with opposition movements."
"It is this principle on which Syria accepted Annan's mission and his six-point plan."
The former UN Chief had better get moving.