UPDATED BELOW-SCROLL ON DOWN!
It appears,
if this witness account is accurate
, Turkey may be acting to shore up the positions their NATO backed terrorists have taken up in Syria.
If this report is correct, we know that Syria did not agree to that "buffer zone" as Turkey was claiming earlier this week.
Globe and Mail:

Turkey sends two fighter planes to border after opposition town bombed in Syria
Turkey scrambled two fighter planes to the border with Syria on Friday after a Syrian military helicopter bombed the Syrian border town of Azmarin, a Reuters witness said.
This story appears to be just breaking and this is the first news report of it's kind.
More here:
Guardian
:Turkey scrambles warplanes to Syrian border
• Turkey scrambled two fighter planes to the border with Syria today after a Syrian military helicopter bombed the Syrian border town of Azmarin, a witness told Reuters.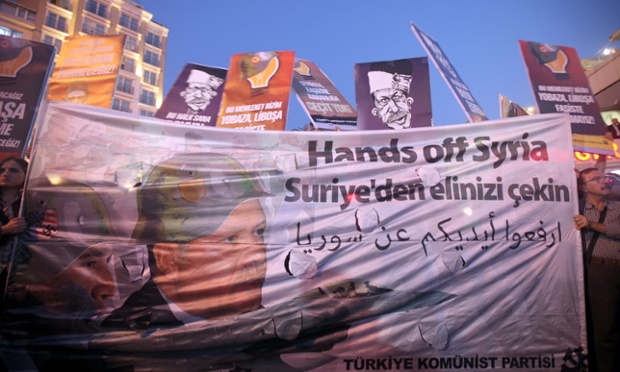 Anti-war demonstrators protest against a possible war with Syria, in Istanbul on Thursday.
Erdogan, your people are talking. How about listening? Perhaps Turkey needs an
intervention
? Clearly they are being very undemocratic. Clearly Turkey is failing to heed the wishes of it's people.
UPDATES BEGIN BELOW!
I'm starting to wonder if the lone eye witness account of Turkey scrambling fighter planes was legitimate?
Or, was it a way to knock the incident of Turkey using the F-18's to force the Moscow to Damascus flight off the top of the news heap? Or was it a means of creating a perception of imminent war?
Speaking of the F-18's and the forced landing move on the part of Turkey..
Some serious excuse making has been taking place
Headline- Analysts see Turkey's frustration at Syria war behind Plane incident
Poor frustrated Turkey. You see Turkey is the victim. Never mind all the arms and mercs they are aiding and abetting to kill Syrians. You see it's
frustration
that caused them to take this course of action
Baloney!
"The interception of a Syrian passenger plane from Russia, allegedly carrying military gear to Damascus, is a sign of Turkey's mounting frustration at the drawn-out conflict and its inability to hasten regime change in its neighbour, according to analysts.
Poor frustrated Turkey, trying so dam hard to do NATO's bidding and destroy Syria.
This next part is priceless
""There's nothing magical about the timing. It's a coincidence resulting from the build-up of frustration in Ankara," said Fadi Hakura, a Turkey analyst at the

Chatham House

think-tank in London. "Turkey wants to hasten the demise of the Assad regime in Damascus, but really its hands are tied."
You see just a coincidence? After the NATO mercs tossed mortar across the border. Russia snubbed Turkey and Maliki issues a warning with Putin at his side, to keep NATO out of Syria. Just a coincidence...

Mehmet Yegin, an analyst with the Ankara-based

International Strategic Research Organization

, said that it was not yet clear whether the decision to force down the Moscow to Damascus plane was part of a larger drive to change the dynamic of the war.



"If it is acting with its allies, it's a clear message to Russia to get out of the picture

and stop arming Syria," he added. "

It is such a bold move, that one wonders if Turkey acted alone."



Does anyone think Turkey would have acted alone on this?
U.S. State Department spokeswoman Victoria Nuland declined Thursday to comment on Turkish media reports that the intelligence on the plane's contents had come from the United States.

But she told reporters that Washington backed Turkey's decision to intercept the plane.
I am quite certain the US did indeed "back" Turkey's decision or told them what to do?
No fly zone anyone?
You could speculate about this being part of a build-up to imposing a no-fly zone,"

said Hugh Pope, who leads the Turkey program for the

International Crisis Group.
Notice the prevalence of information from warmongering think tank types throughout that article?
Anonymous 9:41 am left this link
Parliament approves cross-border motions into northern Iraq
Thanks anonymous!!
"

"This is not a motion for war, this motion has been adopted to provide peace"
Same language used when the Turkish Parliament approved cross border movement into Syria
Also this: Qatar calls for the No Fly Zone
The called for no fly zone in Syria's north combined with the potential to move into Iraq could clear the way for an Israeli strike on Iran with the full support of NATO.
In light of the possibility of a dual purpose buffer zone being created. A zone enabling NATO to destroy Syria and to allow safe passage for an Israeli strike. I am reposting the image above
and relinking to this post:
Worrisome scenarios? You got'em. Israel, Syria, Iran & Canada
There you can access an interesting pdf, if you missed it the first time round, check it out the second time!
Recall this from the previous post?
• We conclude that a military strike by Israel against Iranian Nuclear Facilities is possible and the optimum route would be along the Syrian-Turkish border then over a small portion of Iraq then into Iran, and back the same route. However, the number of aircraft required, refueling along the way and getting to the targets without being detected or intercepted would be complex and high risk and would lack any assurances that the overall mission will have a high success rate.
Does this area, the optimum route for Israel to attack Iran, along the Syrian -Turkish border just so happen to, coincidentally, (and remember I am not a coincidence theorist) be the same area that NATO is working on making a "no fly/humanitarian zone. Just a thought.
Food for thought in this comment-
The Jordan and Iraq deployments are straight up along the strike route corridor for IDF

. The US exercises in Israel solves the problem of worrying about pulling in the US?

I would say that if ever the pieces were in place it is now.

"On October 14, large numbers of American soldiers are expected to begin arriving in Israel, where they will set up aerial defense positions on Israeli territory and on US Navy vessels off the Israeli coastline. The three-week drill will simulate various missile defense scenarios, and is expected to end with a live-fire interception of a decoy incoming Patriot missile. One of the objectives of the drill is to facilitate the rapid deployment of US missile defense systems to Israel and test their ability to operate in conjunction with Israeli defense systems during a conflict.""

US redeploys spec ops to iraq last week.
US deploys spec op forces to Jordan (as the Jordan King hangs by a chad)
Turkey gets clearance to raid into Syria and Iraq form Parliament
US takes MEK off the terror list
US leans on Maliki to stop iran flights over Iraq territory
Most logical strike route to Iran through Jordan and Iraq

US and Israel kick off massive exercises next week.
Multiple carriers in the gulf.
Turkey denies today US Special forces on the border
Israel uses drone shoot down to deploy to Lebanon border (after launching a surprise drill a week before the drone)
Israel has already deployed to the southern border (Egypt)
Israel forced clamp down on Gaza tunnels and continues airstrikes
US, Israeli military drill set for October-November
Or
Ynet: US, Israeli military drill set for October-November
After high-level talks in Israel this week, US Army General Dempsey says largest exercise between two allies to take place in the fall
We rescheduled it for October-November time frame," Dempsey said. "I really don't know what the final decision was, but it is our expectation that that's when the event will occur."
The air-defense drill, named "Austere Challenge 12,"
Some surprising honesty from the CBC: War-gaming Iran, the drums are beating
Not if, but when?