UPDATES HAVE BEGUN!
Scroll down
Obama- the man makes me want to vomit!
CBC-
"America is coming to help," Obama said during a (late night) news conference in the White House dining room.
Why a late night conference? Coming to help who and for what? And how is it that airstrikes really ever help anyone?
We can already notice the contradictions?
Reuters photographs

showed what appeared

to be Islamic State fighters controlling a checkpoint at the border area of the Kurdish semi-autonomous region, little over 30 minutes' drive from Arbil, a city of 1.5 million that is headquarters to the Kurdish regional government and of many businesses.
Photographs that showed what appeared...........
However " a Kurdish security official denied that the militants were in control of the Khazer checkpoint, and the regional government said its forces were advancing and would "defeat the terrorists", urging people to stay calm"
Denied by a Kurdish security official..........
Of course the excuse is 'humanitarian, but, that is pure unadulterated Grada A bullsh*t!
Bah,hah, hah... Obama out to prevent genocide?- Only in doublespeak world!
Forgot this tidbit from the CBC article!
U.S. air power could also be used to

protect American personnel

if the militants advance toward the Kurdish capital Arbil, where they are based
Flashback to this post form last week!
If you did not read it then, you should read it now-
A supposedly secre

t but

locally well-known CIA station on the outskirts of Irbil's airport is undergoing rapid expansion as the United States considers whether to engage in a war against Islamist militants who've seized control of half of Iraq in the past month.

Western contractors hired to expand the facility and a local intelligence official confirmed the construction project, which is visible from the main highway linking Irbil to Mosul.
EuroNews
President Barack Obama said

he had authorised limited bombing to prevent "genocide"

and blunt the onslaught of Sunni radicals who have captured swathes of northern Iraq and advanced to a half hour drive from the Kurdish regional capital, Arbil.

U.S. officials also announced an acceleration of military supplies to the Kurdish regional government,

The U.S. Defence Department said planes dropped 72 bundles of supplies, including 8,000 ready-to-eat meals and thousands of gallons of drinking water, for threatened civilians near Sinjar.
Sinjar: Location, location, location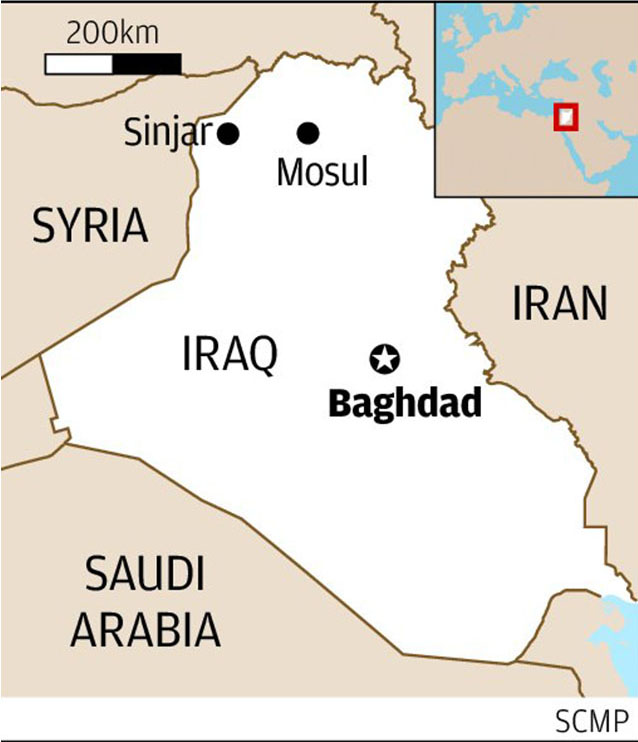 Right on the border with Syria.
If you did not read this post, you need to go back and read it
:
"Refugee camps" in Kurdish/Iraq- Kurds request No-fly Buffer Zone & Armed US Assist
*Mentioned- The construction of a new, ready this week, 20,000 person refugee camp
But there were no refugees
*Also a previous "refugee camp" built in Sinjar!
A town without refugees at the time of construction. Yet that very same town, Sinjar, just so happened to contain a refugee camp built by Turkey. And, as coincidence would have it, Sinjar was shortly there after over run by ISIS.
OH and by the way.... If there is already a refugee camp present in Sinjar why are the alleged refugees fleeing to the mountains at the border with Syria. Can't they use the refugee camp already operating? Or is it being used by other parties?
Or are their no refugees fleeing to the border with Syria
and this is simply one pretext to get the no fly zone and armed American assistance as requested?
* Turkmen Front leader and Iraqi MP Ers,ad Salihi has applied to the United Nations' Iraq representative to establish a buffer and no-fly zone for the community.
*The Kurdistan Regional Government has officially asked the United States for armed assistance
Which they got! - See links above
Obama orders "limited airstrikes"

"U.S. officials also announced an acceleration of military supplies to the Kurdish regional government"
This could very easily, by design, spread over into Syria!
Consider this?
When ISIS first started their onslaught in Mosul- Air assistance was requested to suppress the attacks?
The US denied the request of the elected government.
Iraq then got it's own planes, started bombing ISIS and now the US is going to undertake airstrikes? Why?
Baghdad is able to strike ISIS and did so the other day. Is this why the kurds suddenly requested a 'buffer/no fly zone' and the US agreed to it?
UPDATE # 1
Exactly as I suspected- Airstrikes could be used more broadly in Iraq!
While the president said the operations would be limited, senior administration officials indicated that U.S. airstrikes could be used more broadly.
The U.S. now has near continuous manned and unmanned surveillance planes flying over Erbil to assess the Islamic State's threat, defense officials said.
Refer back to that post from last week/relinked above.
"We will strike at a time and place of our choosing," said one senior defense official
Interesting photo accompanying this article
Yazidis displaced by fighting protest in front of the gates of the United Nations office in Erbil in northern Iraq on Aug. 4.






Thoughts?
First- I have no idea whether or not these really are Yazidis? Do you?
Second- I thought the Yazidis had fled to the mountains in Sinjar and were dying of starvation and dehydration in the hot summer sun- yes I read that this morning. So, what are they doing in Erbil?
Third- What's up with the English signs? Looks like a photo op for the NATO/US media
UPDATE #2
U.S. launches first airstrikes in Iraq
American troops in the northern city of Irbil and the U.S. consulate there in the Kurdish region of Iraq. The troops were sent to Iraq earlier this year as part of the White House response to the extremist group's swift movement across the border with Syria and into Iraq.
"When the lives of American citizens are at risk, we will take action," Obama said. "That's my responsibility as commander in chief."
Is this narrative morphing from protecting minorities to protecting Americans?
Good thing the US had massively and very quickly expanded that airbase in Erbil, right?
Proof of advance planning. It's all there.
UPDATE # 3
Obama Has No 'Specific End Date' for U.S. Military Strikes in Iraq
So "limited' airstrikes actually means no limit- Of course!
President Barack Obama has not established a "specific end date" for U.S. military strikes in Iraq, the White House said on Friday, explaining the situation will depend on the security situation in the country.
"The president has not laid out a specific end date," White House spokesman Josh Earnest told reporters.
Followed up with more in a second post