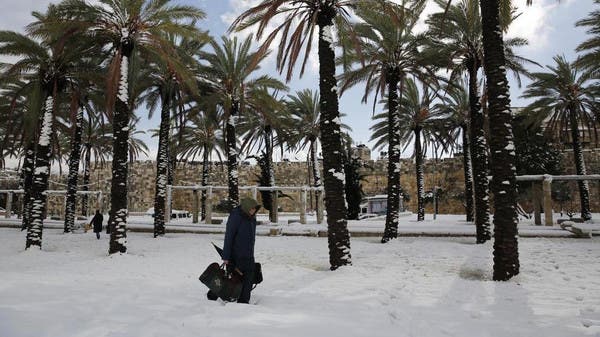 Palm Trees in the Snow- not impossible, but, not very common
Several countries in the Middle East are bracing for cold weather this week, with snow storm "Huda," also called "Zina," expected to hit parts of Jordan, Lebanon and the Palestinian territories.
In Jordan, people are storing food and fuel in anticipation of possible shutdown of main roads and stores during the storm, according to Al Arabiya's correspondent in Amman.
The country's Petra News Agency has said that "a tangible drop in temperatures is expected on Wednesday, and it will be very cold, cloudy and rainy in the northern and central parts of the country extending gradually to other regions.
On Thursday and Friday, temperatures in the capital Amman are expected to fall below 40 degrees Fahrenheit (5 degrees Celsius), according to the Weather Channel. Snow is expected to accumulate between 1-3 inches (2.5-7.6 centimeters).
In Lebanon, authorities have urged people to "drive carefully and not take any mountain roads before checking on their status - clear or blocked - and following up on the relevant meteorology reports," the Beirut-based Daily Star reported.
Now I don't feel quite so chilled as I cool my heels (pun intended) again in yet another abnormally frigid winter. The winter that started here in the Fall.