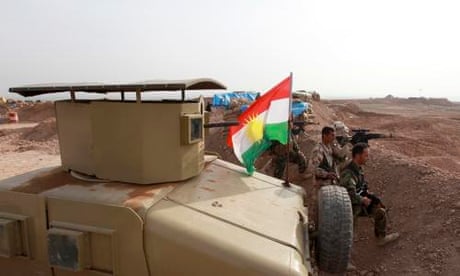 A Kurdish flag flies next to peshmerga fighters on the outskirts of Mosul in January. Kurdish fighters were involved in a friendly fire incident with US-led coalition forces on Friday
Guardian
What happened here? Were the Kurds in their ISIS role at the time of the shooting? Did these 4 get into some kind of gun fight with one another? Can any readers make sense of this incident? The
The news sure lacks detail.
One member of the US-led coalition fighting Islamic State (Isis) militants in Syria and Iraq was killed and three were wounded in a friendly fire incident with

Kurdish forces in northern Iraq

, the US military said on Saturday.
This incident took place right in Kurdish territory.

It said in a statement that the incident happened on Friday while the four were conducting an "advise and assist" mission. All four were transported to a medical facility, where one died of wounds.

The statement added the incident was under investigation and gave no information about the nationalities of the casualties.
Seriously, DON'T MISS the previous post- Lots to consider!