I had doubts about the first one-
But this one, which Israel admits too... I DO NOT believe this news, as presented, at all!
Israel controls this border area with the Golan heights.
Only their militants get in and out.
One reason this story may have appeared in the media is so Israel can claim there is a threat at their border- When there has never been a threat at their border!
So many people, including myself have pointed out the obvious collusion between Israel and their Islamic allies
-
That Israel needed something to happen to cover for it's malfeasance and shore up it's victim narrative was plainly obvious and inevitable
Israel reported no casualties counts for their alleged airstrike
. The narrative and body count is bolstered, conveniently, by the the Britain-based Syrian Observatory for Human Rights - But SOHR claims Syrian soldiers were killed. If it was Syrian soldiers then it was not on Israel's side of the border. Israel's admission to making this strike- their failure to provide a casualty count, when they should have been able to- Along with SOHR playing it's role. Adds up to a narrative fail
We don't even know how the missile was fired! By air or by land?
Then Netanyahu hits social media to shore up the bullshit!?
FoxNews
The military said it carried out the strike after troops saw "a group of armed terrorists" approach the border with an explosive intended to target Israeli troops. It said that Israeli aircraft "targeted the squad, preventing the attack."
It did not offer any casualty figure for the strike. The Britain-based Syrian Observatory for Human Rights said four Syrian soldiers were killed by a missile fired from Israeli-occupied territory in the Golan. Observatory director Rami Abdurrahman said it was not clear whether the missile was fired by a plane or from a vehicle.
Can't even get the lies straight?
On Twitter, Israeli Prime Minister Benjamin Netanyahu sent messages commending the soldiers involved in the strike.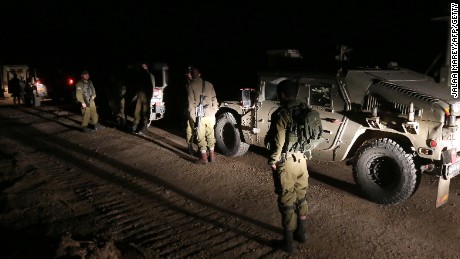 Israeli soldiers patrol the Golan Heights after airstrikes killed militants allegedly trying to plant a bomb.
CNN Israeli airstrikes target alleged militants on border
This is the image the media runs with after Israel allegedly bombed via air or land, not sure, militants with explosives?
The strikes, that may not have took place at all, are alleged to have happened on the Israeli side of the border?
The Israel Defense Forces said the airstrikes were carried out in the occupied Golan Heights against four militants who crossed into the area from Syria.
Bloomberg-
Israel Kills Armed Militants From Syria in Strike on Golan
Same image showing nothing of substance- same story
Oddly enough this morning there were reports questioning the previous airstrike also?
Mentioned here:
Syria-New Israeli Airstrikes? Syrian Opposition genuflects to Israel & Angelina Jolie Performs
The latest?
Doubts cast over Israeli airstrike against Hezbollah in Syria
So, did Israel actually launch a strike? Who, if anyone at all, was killed? Is this an entirely contrived narrative? Just what is fact and what is fiction in these multiple conflicting narratives?
The first casualty of war is always truth. If anyone can fill in some blanks, please do?