Children addicted to smartphones & tablets-
Nearly half of youngsters are addicted to their tablets and smartphones, according to parents in a new poll.

Some 47 per cent of mums and dads said their children spend too much time in front of their screens, while 43 per cent said this was akin to emotional dependency.
Damaging children one smartphone and tablet at a time- Making anti social miscreants out of your own offspring. That's not helping your children, it's harming them. And it's harm you as a parent are responsible for.
Is Technology Ruining Our Ability to Read Emotions? Study Says Yes
"The researchers provided sixth grade students with a pre-test to establish their baseline abilities to read emotions. The students were shown photographs and videotaped scenes where the audio was silenced. The participants were then asked to infer people's emotional states based on facial expressions and non-verbal cues.

Half the students were then sent away to a camp where they lacked access to digital media. They spent their time doing traditional camp activities – hiking, archery, and learning about nature. The control group went about their daily activity as usual including their normal access to digital media (which for these students averaged about four and a half hours on the typical school day).

After five days, both groups participated in a post-test. The kids who went to camp showed significant improvements in their abilities to recognize emotions. The control group only showed a slight improvement. The authors concluded that the increased face-to-face interaction improved the campers' social skills"
Oblivious
that image is embedded in your child's brain- think that's healthy?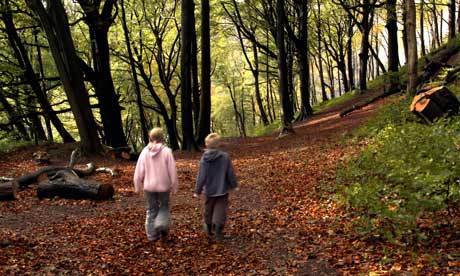 Children outdoors
These problems being reported on? They are real. I see them every day. Poor communication. Small children, toddlers, with their faces planted in their mommies cell phone or Ipad. Mommies are generally worse then daddies, sadly. It's twisted. There is an entire whole huge, real world , all around us. The world that sustains us all. And far too many of us are not participating in it. Often, I walk. In a number of different places and spaces. It is rare to see a child walking with their parents
engaged in the real world
. It is rare to see (un)accompanied children in the woods admiring the beauty all around them. It is rare to see any children interacting with nature. Anywhere. Just admiring all there is to admire. It's not healthy. It is abnormal. On the occasion when I do see a family all together walking, the kids always appear happier and carefree when compared to the children I see having their vibrance & exuberance destroyed by electronic devices. And society is and will continue to suffer for this. Sorry if this is offensive to anyone. It's not intended to be. It's just an observation of the world I see around myself. The real world. The one I actually pay attention to and actively participate in.

One last observation.
When we woods walk and we do run into parents and children, over all I find the children happier and chattier. Freely so. Just animated & brimming with energy. Like the picture I borrowed from another blog. That little boy portrayed perfectly the happy children we see out of doors- with their families. Having a great time.
When we see the children with their faces planted in a device- they don't look up and if they do their eyes have a distant weird glazed over look. Sigh...