Lots going on present day- So a quick round up of interesting news items!
U.S. envoy visited Kurdish- Annexed Syrian north
This surely has to do with the impending move to create that continuous Kurdish area, annexed violently, from Syria.
Covered in two previous posts: "Kurds Gear Up for Major Offensive Against ISIS" aka Annexing Syrian Territory And
Narrative Prep for NATO's Invasion of Syria via (NATO Occupied) Turkey
Brett McGurk, the United States' new envoy to the coalition it leads against Islamic State
- This is also a NATO visit. And, it is a significant visit!
"We can confirm that Special Presidential Envoy Brett McGurk completed a two day visit to northern Syria this weekend to assess progress in the campaign to degrade and destroy ISIL," the U.S. official said, using an acronym for Islamic State.

"This visit and the discussions he had are in keeping with the Special Envoy's efforts to continue looking for ways to increase coalition pressure on ISIL," the official said.

Fred Hof, a Syria expert with the Atlantic Council think tank, said to his knowledge this was the first declared visit to Syria (annexed territory) by a U.S. government official since the February 2012 closure of the U.S. embassy in Damascus.

The Syrian Kurdish official told Reuters McGurk landed at a Kurdish-controlled airport being used by U.S. military helicopters for logistical purposes and deliveries.

McGurk was received by officials including the prime minister of one of three autonomous regions, or cantons, the Syrian Kurds have set up in northern Syria.

In a statement posted on Youtube, Akram Hasso, head of the administration of Jazeera province, said McGurk's delegation was 17 strong and included representatives of France and Britain.

The trip by Brett McGurk, the U.S. envoy to the coalition against Islamic State, may anger neighboring Turkey ......
I would say that visit is intended to send a message to Turkey's leadership-
I want to share some picture's at this time:
This isn't Syria. If you thought it was, it would be understandable, but it's not.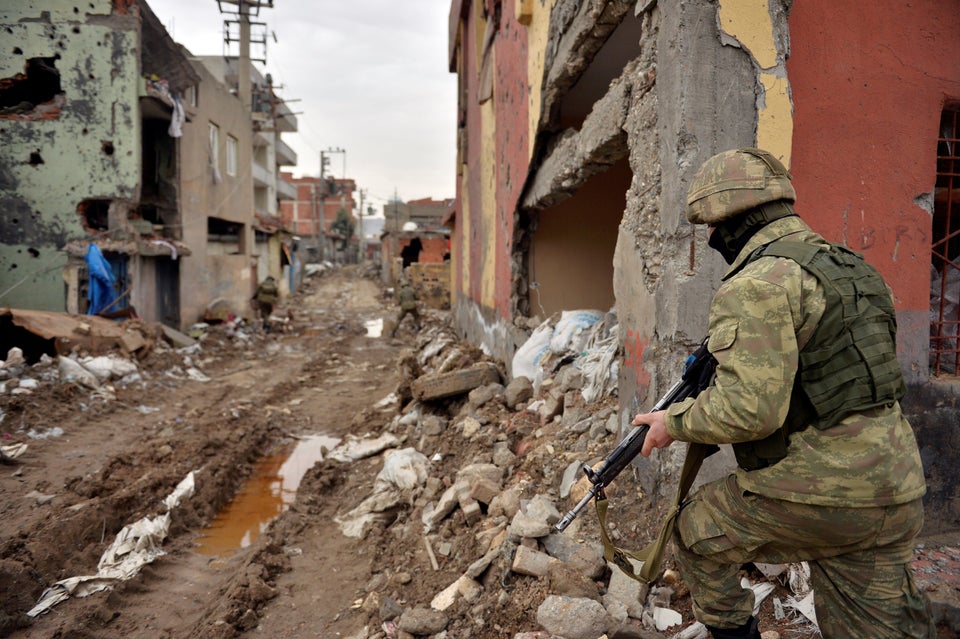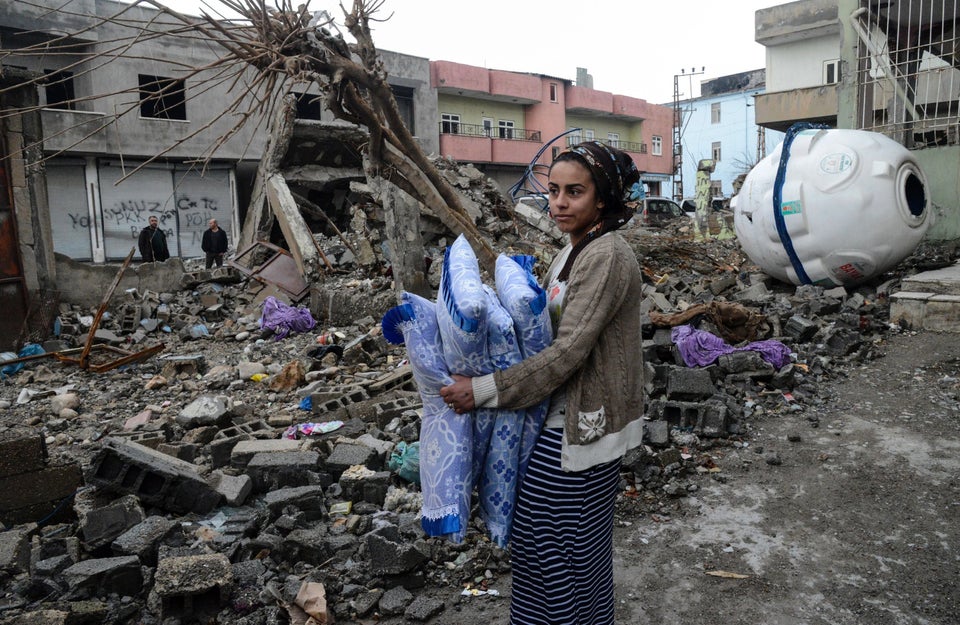 Those images are from Turkey. Can anyone really believe Turkey is not being covertly destabilized by NATO proxies the PKK and special forces from multiple other nations
"We were oppressed by both sides," Ramazan Duruk, 56, who lived under curfew for 12 days in the town of Silvan last November, told Human Rights Watch. "This should not be a war zone. The population lives here. We keep saying this to both sides."
Exactly as I'd mentioned previously- The PKK set up shop right in the residential areas in order to provoke a response from the Turkish government! But the regular Kurds that reside in that area are not blaming the Turkish government alone- They are saying both sides are oppressing them.

Covered that topic previously in this post: PKK's War of Choice lacks Kurdish public support in Turkey- YPG Terror in Syria Foreign nationals employed by the PKK as snipers?
-
One Serbian sniper was recently identified.
This is not a first for this reporting, but, a first time mention at the blog. The Serbian embassy did not deny this news, their statement was something like this activity is not officially condoned and it is not part of their official business in Turkey
The statement indicated that the Republic of Serbia strongly opposes any participation of its citizens in any armed conflicts in third countries. "The National Assembly of the Republic of Serbia has passed a law that sharply sanctions any such activity. Bearing in mind that the allegations cannot and should not be in any case or way related to the official policy or activities of the Republic of Serbia and its institutions. The embassy expects to be officially informed about the case by the Turkish side so the relevant Turkish and Serbian institutions can work together on its clarification in the aim of the fight against terrorism," the statement from the embassy said.
Russia wants information from NATO and the Pentagon, not Turkey, regarding cross border shelling
It's self evident why the request is being made to NATO and the Pentagon. Since NATO and the Pentagon have been running the show out of their NATO occupied territory and NATO airspace. Jens Stoltenberg made it abundantly clear that it was NATO's airspace recently violated, allegedly.
Recall?
NATO Confirms Russian Intrusion into NATO Airspace- SAA gains in Aleppo
Russia would no more ask Justin Trudeau for an explanation of Canada's involvement in the middle east then they would ask Erdogan? Neither leader is in charge of their occupied territories.
"Russian Defense Ministry is waiting for explanations from representatives of NATO and the Pentagon of the actions of Turkish military which the ministry accuses of shelling the Syrian territory, official spokesman Igor Konashenkov said on Monday"
Finally a warning to Iraq's Kurdish leadership courtesy of the PKK
On 29 January, two improvised explosive devices (IEDs) targeted a gas pipeline in the Shwan area of Kirkuk province; the pipeline feeds power stations in Erbil and Chemchemal, Sulaimaniyah province.

Independent energy company, Dana Gas, announced its gas plant at the Khor Mor field was offline for a few hours as a result.

No group has claimed responsibility for the attack, however a Kurdistan Region Government official in the Kurdistan Democratic Party (KDP), which administers Erbil and Dahuk, Nadhim Harky, stated it would have been impossible for Islamic State to access the area since it

falls within Kurdish-controlled territory.
KDP states not Islamic State. Who could it have been?