h/t anonymous commenter:
Italy sees a big spike in arrivals..... Readers here already knew this was happening.
In plain talk: The United Nations and the NGO's choose, by simply refusing, to get involved with the right of return of ethnically cleansed persons, under the deal made with Turkey.
This has nothing to do with Turkey not abiding by the agreement. Rather the UN, which is the shiny happy face of NATO, simply ignored the agreement made and the compliant No Good Operations went along with the plan!

The people moving operation shipped out to the next base of operations in order to continue the free flow of ethnically cleansed persons into Europe. That new base is Italy. Yup!
Bloomberg catches up to the blog, finally!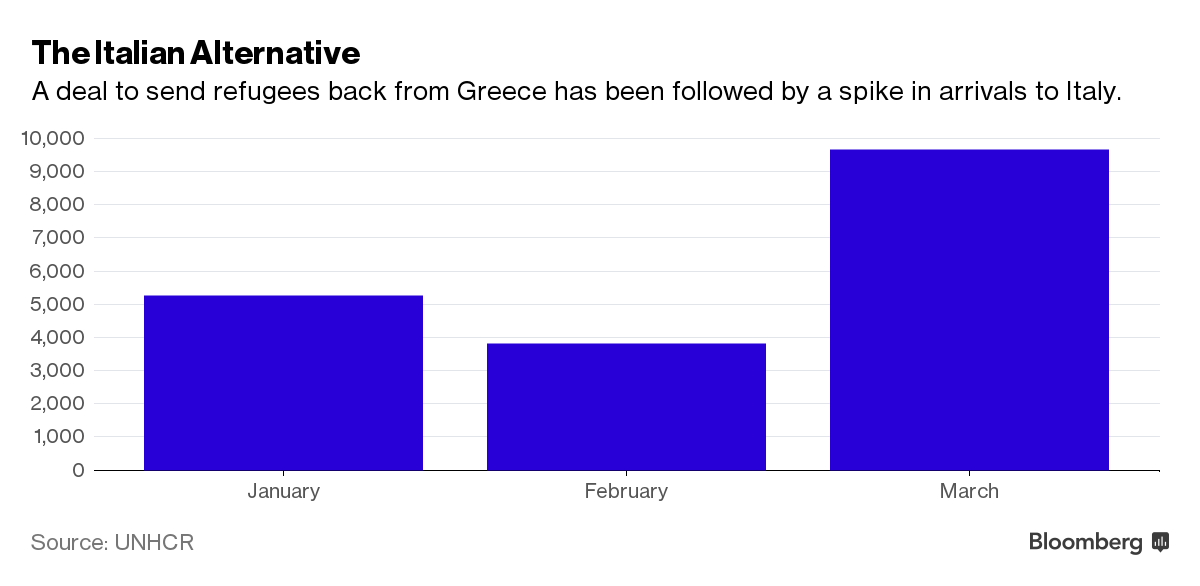 The latest figures signal that may be happening, with March showing a jump in the number of refugees heading to Italy where there is no agreement in place for immediate deportation. During the course of the month, 9,676 migrants made the journey to Italy, compared with 3,828 in February and 2,283 in March 2015, according to the UN.
The movement of these ethnically cleansed persons has been a NATO op from inception to, the not as of yet, completion. The US deployment of B-52 bombers is definitely going to exacerbate the situation.
From earlier today:
Speaking further about Germany, Bloomberg (above) is reporting this:
"Germany, one of the countries that introduced temporary controls last year, is scaling back passport checks on the Austrian border and may end them by May 12 if the number of refugees crossing remains low, German Interior Minister Thomas de Maiziere told Austrian public broadcaster ORF"
It's obvious
the refugee count will not remain low
and
is not going to remain low
-
Germany is going to freely bring in these persons, with no passport checks at all-
And late yesterday: