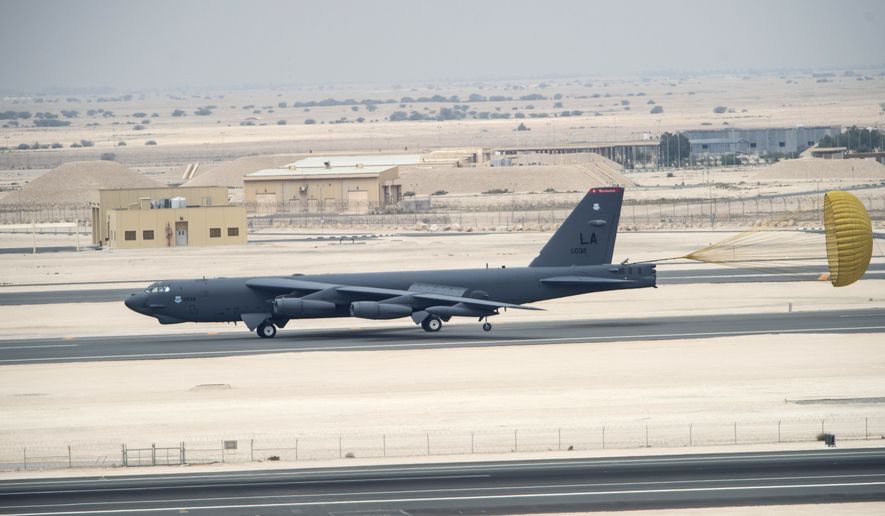 A U.S. Air Force B-52 Stratofortress aircraft from Barksdale Air Force Base, Louisiana, arrive at Al Udeid Air Base, Qatar, Saturday, April 9, 2016. The U.S. Air Force says it has deployed the bombers to take part in the U.S.-led bombing campaign against the Islamic State group. It is the first time the Cold War-era heavy bombers will be based in the region since the 1991 Gulf War, when they operated from neighboring Saudi Arabia
This cannot be considered a good sign for the people of the area!
Washington Times
The U.S. Air Force has deployed B-52 long-ranger bombers to the Middle East, for the first time since the Gulf War ended, to conduct strikes against the Islamic State in Iraq and Syria, officials said Saturday.
An unknown number of B-52s will be based at Al Udeid Air Base in Qatar, the U.S. Air Force Central Command said in a statement.
"The B-52s will provide the coalition continued precision and deliver desired airpower effects," Lt. Gen. Charles Q. Brown Jr., commander, U.S. Air Forces Central Command and Combined Forces Air Component said, Fox News reported.
The announcement comes a day after Secretary of State John Kerry said the U.S. would "turn up the pressure further" against the Islamic State during a surprise visit to Baghdad Friday to meet with Iraqi Prime Minister Haider al-Abadi.
B-52's imply carpet bombing. Carpet bombing harkens back most vividly to Vietnam. Where the
honourable
(facetious) US military carpet bombed civilians in a manner that could only be considered a crime against humankind. All of human kind. Including the abundant use of napalm.
Though I am aware of the carpet (fire) bombing of
Germany
and
Japan
also. Probably elsewhere
I feel sickened by the evil being planned presently:
Related:
Don't Miss: