In light of the happenings at Charlottesville, Virginia. And all this tossing around of the KKK and Nazi labels. While considering the infiltration of all groups as mentioned in the previous post? *Charlottesville, Virginia: The Three Ring Circus Show with Grand Finale
It seemed both necessary and timely to relink this post from April of 2013
" McCandlish Phillips, a former reporter for The New York Times who wrote one of the most famous articles in the newspaper's history — exposing the Orthodox Jewish background OF a senior Ku Klux Klan official"
Just think about that. Let that idea roll around in your mind. Today's news is all about alleged white supremacist/nazis having it in for followers of judiasm...
WaPo 'Jews will not replace us': Why white supremacists go after Jews
And yet,
in reality
we had an Orthodox Jewish Grand Dragon, member of the American Nazi Party exposed, by a New York Times reporter..
Keeping in mind that history repeats. Always.
Is there any reason to believe today's KKK is not infiltrated with some followers of Judaism, who then, as now, can use the existence of the KKK to justify certain advantageous legal safeguards?
Keeping in mind that history repeats. Always.
Mr. Phillips's most renowned article appeared on Page 1 on Sunday, Oct. 31, 1965, under the headline

"State Klan Leader Hides Secret of Jewish Origin."

It was a rigorously reported profile of Daniel Burros, a 28-year-old Queens man who was the

Grand Dragon of the New York State Ku Klux Klan, a chief organizer of the national Klan and a former national secretary of the American Nazi Party.
Mr. Burros, the article went on to document, was also a Jew — a former Hebrew school student who had been bar mitzvahed at 13.
The article remains a case study in a reporter's perseverance in the face of intimidation. It is also a case study in the severe, unintended consequences that the airing of fiercely guarded truths can have for the guardian: despite threatening to kill Mr. Phillips if the article went to press, Mr. Burros, in the end, killed only himself.
State Klan Leader Hides Secret of Jewish Origin; Klan Leader Here, Hiding the Secret of His Jewish Origin, Preaches Anti-Semitism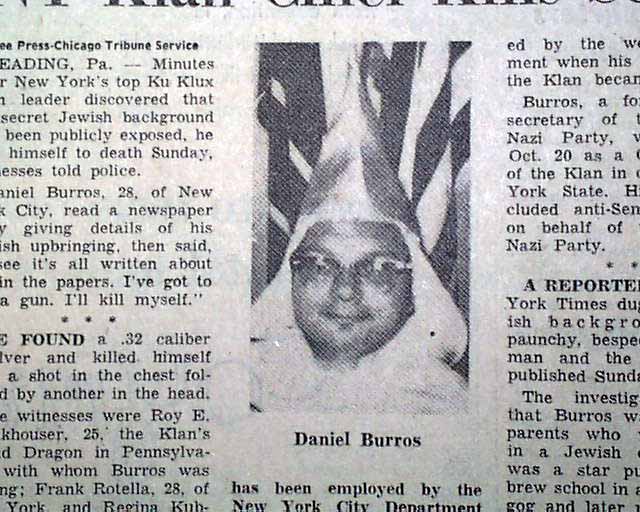 Jewish KKK Grand Dragon/ American Nazi Party Member & Official
Read the rest at the relink to the 2013 post.