And he's been there since Tuesday. Quite accidentally I stumbled across some very minimal coverage of this news just this morning. Turkish media is reporting on it. 5 eyes media, alt and msm, not so much. Given the strategic importance of the Turkish/US relationship, as it relates to NATO minimally, I would have thought there would have been more coverage.....
Pence and Yildirim Today
What will the spin will be afterwards?! Should be interesting
PM Yildirim is meeting with VP Mike Pence today.
Prime Minister Binali Yildirim met U.S. Vice President Mike Pence at the White House on Thursday.

The meeting, which is closed to the media, started at 11 a.m. local time (0400 GMT).
Turkey's Foreign Minister Mevlut Cavusoglu, Energy Minister Berat Albayrak, Turkish Ambassador to the U.S. Serdar Kilic and Justice and Development (AK) Party Deputy Chairman Mehmet Mus were with Yildirim in the meeting.

Both leaders are expected to discuss economic and military ties as well as latest developments in Syria and Iraq.
Some contentious issues are also expected be examined, including the refugee crisis, ongoing visa row, Daesh, the PKK/PYD terror groups and the Fetullah Terrorist Organization (FETO).
What's been going on since Tuesday?
Yildirim and company met with US "opinion formers" aka opinion makers
What was discussed?
Meeting at Turkish embassy in US
Ahead of a meeting with Vice President Mike Pence, Turkey's prime minister met senior figures from the Turkish community in the U.S.

Wednesday evening's two-hour meeting with more than 30 opinion leaders at the Turkish ambassador's residence was closed to the media.

Binali Yildirim arrived in Washington on Tuesday and is due to travel to New York later Thursday.

His trip comes as relations between the U.S. and Turkey have been blighted by disagreements over a number of issues.
The most recent -- the visa crisis sparked by the arrests of Turkish employees at U.S. missions in Turkey -- has eased after both countries resumed issuing visas to each other's citizens on a "limited basis" on Monday.
However, other issues remain, such as U.S. support for a group in Syria that Turkey has listed as a terrorist organization and the extradition of the man said to have orchestrated last year's attempted coup in Turkey.

Yildirim is accompanied by Foreign Minister Mevlut Cavusoglu, Energy Minister Berat Albayrak and Justice and Development (AK) Party Deputy Chairman Mehmet Mus
Who attended the Wednesday evening meeting?
Among those who met the Turkish delegation were leading figures from Washington-based think tanks such as the Heritage Foundation's Luke Coffey, American-Turkish Council President Howard Beasey and Amanda Sloat from the Brookings Institute.

Todd Foley, vice president of the American Council on Renewable Energy, and Turkish Heritage Organization President Ali Cinar also attended.

The prime minister later met U.S. journalists and faced questions focused on U.S. support for the PKK/PYD in Syria and Turkey's call to extradite Pennsylvania-based preacher Fetullah Gulen.
U.S. Journalists were pretty tight lipped about their Q&A session

. Defense One did give it some notice.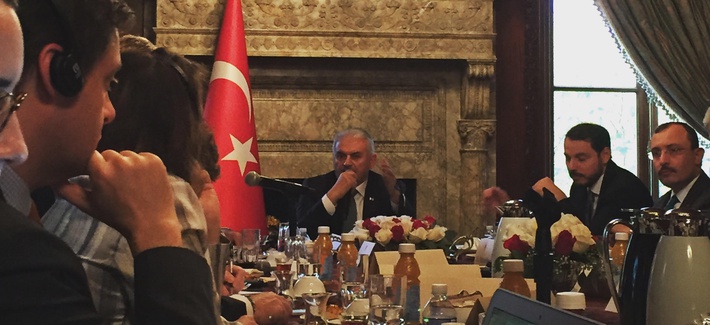 Yildirim speaking to US reporters Nov. 8th and Turkish Embassy
Yildirim, who is visiting Washington this week, said that the U.S. justification for arming Syria's Kurdish YPG forces, and other groups that comprise the U.S.-trained Syrian Democratic Forces, had expired now that ISIS had been defeated.
Turkey considers the YPG a terrorist threat akin to the armed-separatist Kurdistan Workers Party, or PKK. The prime minister said Ankara would not lend his support to the notion of SDF forces, backed by U.S. troops, remaining in control of parts of Syria through post-war stabilization.

"This has had a very negative impact on relations with the United States," said the prime minister, who is in Washington for meetings with Vice President Mike Pence, members of Congress, and other U.S. officials.
The YPG and PKK "are terrorist organizations, Marxist-Leninist organizations," he told reporters Wednesday at the Turkish ambassador's residence, through a translator. "And unfortunately, the friend, the ally of the United States resorted to them as if it needed to."
Last month, the top

U.S.

special operations commander in Iraq and Syria said he believed that the

U.S.

will need to keep troops in Syria for months to come, as the Syrian Democratic Forces shift security responsibilities for liberated areas to stabilization forces and civilian councils. Maj. Gen. James Jarrard said that the size and type of those forces is a decision for civilian leaders, and that he expected

U.S.

troops to support the

SDF

until

ISIS

is wiped out, and beyond.
As everyone continues to ignore

the US plan to occupy Syria

- Yup, that big giant elephant in the room is still present, but, never ignored here!
Defense One continued:
Yildirim rejected that plan. "Where else have we seen this in the world…using one terrorist organization to defeat another terrorist organization?" he said in Washington. "They justified this as a necessity for the United States to neutralize

ISIS

, and once neutralization was reached they were going to part their ways with this terrorist organization."
"But there will be a greater threat in the region because

YPG

,

PKK

have more weapons, thanks to our American friends. …They have heavy weapons, tanks, artillery," he claimed. "These weapons need to be taken back so they aren't used against innocent people."
Yildirim alleged the

U.S.

was supplying "heavy and light weaponry," including 3,500 trucks to both the

PKK

and

YPG

. "Then we see attacks happening in Turkey…239 of our soldiers have been martyred and tens of hundreds of our citizens killed by these weapons."
It's been covered here, countless times, the arms shipments to PKK/YPG!
WaPo
Strained relations between the United States and Turkey will not improve unless Washington takes steps to address Turkish concerns over its actions in Syria and its failure to extradite a Turkish cleric sought by Ankara on terrorism charges, Turkish Prime Minister Binali Yildirim said in Washington on Wednesday.
Yildirim said he would take up these and other issues in a meeting Thursday with Vice President Pence, in hopes that the two countries can "start a new era" of cooperation.
The US has no intention of easing the strains between the two nations- They have done everything imaginable to encourage them. Intentionally.
The Justice Department has said it is still studying evidence presented by Turkey, which so far has not been deemed sufficient to present to a federal court that must make the final decision on extradition.
"The head of a terrorist organization" — Gulen — "is being hosted by our ally, our friend, and nothing is being done," Yildirim said.
But Yildirim said that Turkey remains disappointed in the Trump administration. "It's sad," he said. "Nothing has changed" since relations nose-dived under former president Barack Obama.
As I've stated repeatedly, for years now, the US no longer desires it's decades old ally Turkey
Flashback November 2015:
Carving Turkey After a NATO Roasting- Claims vs Reality
Long term readers are aware that more then a year ago, I started a series of posts on the impending NATO destruction/destabilization of Turkey.
Yes, that is correct, more then a year has passed since I posted :Kurd/ ISIS Symbiosis- The impending destruction of Turkey. (2014) & Pt.2- Kurd/ ISIS Symbiosis- The impending destruction of Turkey (2014)