Charles Manson, dead at 83- Helter Skelter became synonymous with this man and the multiple murders he's alleged to have orchestrated- but did NOT participate in.
Helter Skelter
1:in undue haste, confusion, or disorder
2 :in a haphazard manner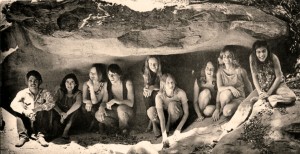 The "family"
Psychology Today:
The Cult of Personality?
"Manson has stood out as being of particular psychological fascination and revulsion because of his alleged ability to exercise such a mental hold over others, getting them to perform brutal slayings under his influence."
Because Mr Manson didn't actually, physically kill any of the persons he actually did serve time for "murdering". Odd, that fact?

Manson orchestrated a group of followers who went on a murder spree that took place between July and August 1969. They killed actress Sharon Tate, who was 8½ months pregnant and married to movie director Roman Polanski, but was stabbed multiple times as she begged for the life of her unborn child.

Four other people at Tate's home were also savagely murdered while the very next day, a couple in Los Angeles, Leno and Rosemary LaBianca, were also slain by Manson's followers. The killings became known collectively as the Tate-LaBianca murders.

Manson was not there at any of these killings, but was nonetheless convicted of murder for directing his followers to murder. Does such ability to control others lie within a particular personality, or is it more the result of particular psychological needs in followers which get manipulated and exploited by a devious personality?
We'll get to where Manson was at the time the murders took place...... Near the end of the post.
How Charles Manson Brought an Abrupt End to the 60's
Charles Manson, the notorious cult leader who directed a series of brutal murders in the 1960s, has passed away at age 83.
Authorities said Manson died from "natural causes," a stock phrase often used to describe celebrity deaths.
Yup, Charles Manson the celebrity.
Radio Australia
Charles Manson, the notorious cult leader who directed his followers to commit a string of brutal murders, came to represent the worst excesses of a divided society spinning out of control, and a generation at war with its elders, writes Mark Bannerman.

For much of his life before turning to murder he indulged in petty crime and violence, spending much of life in jail.

In jail he learnt how to take punishment and to manipulate everything and anyone to his own purpose.

In 1967, finally free, he headed for San Francisco recruiting future followers, many of them young homeless women drawn to the city with the hope of peace, love and free drugs.
Soon they were back in Los Angeles following the man they would come to see as their leader and saviour.

At first his plans involved becoming a pop star. He wrote songs and befriended Dennis Wilson from the Beach Boys. Wilson tried to get him a recording contract introducing him to record producer, Terry Melcher.
Coincidentally? Or not.

: Charles Manson's Hollywood
Charles Manson became convinced his best chance at rock stardom was impressing Terry Melcher, a record executive who had made stars out of The Byrds, and who was also the son of one of old Hollywood's most wholesome, carefree Establishment stars, Doris Day. Terry and his girlfriend, Candice Bergen, had long lived at 10050 Cielo Drive, and sublet the house to Roman Polanski and Sharon Tate months before the murders.
We are all aware the Mr Polanski is a pedophile..
Flashback 2009:
Roman Palanski, former Laurel Canyon Resident, arrested???
BBC- On this day
"The crucial point here was that Manson did not physically kill anyone. Although he had gone with six Family members on the second night to the LaBianca's home, he had not used a weapon.( Was he really present?)
Instead he had successfully manipulated his followers to commit the most terrible slaughter.
An abrupt end to the Summer of Love
When it came time to prosecute Manson this fact made life very tough for the prosecution.

Conspiracy to murder is a difficult charge to prove.

What Manson had not counted on was locking horns with a brilliant prosecutor, Vincent Bugliosi.

Bugliosi laid out the evidence describing what Manson had told his followers about the Beatles songs and the need to commit "Helter Skelter".
Does that strike anyone, other then me, as cross promotion? Product Placement? To help sell the White Album...To promote whatever messages the music was delivering. And yah there is science, rarely discussed, but widely known, behind that concept.
Flashback
: Music has Charms to Aggravate, Incite, Distress and Soothe the Savage Breast
Charlie's Angels?
Musick has Charms to sooth a savage Breast,
To soften Rocks, or bend a knotted Oak.
I've read, that things inanimate have mov'd,
And, as with living Souls, have been inform'd,
By Magick Numbers and persuasive Sound.
What then am I? Am I more senseless grown
Than Trees, or Flint? O force of constant Woe!
'Tis not in Harmony to calm my Griefs.......
Being careful not to paint Manson as insane, Bugliosi argued Manson did not believe his own story but used it to brainwash his people.
It was a brilliant legal strategy. The court accepted the argument and the evidence set out before it, and Manson and three of his followers were locked up.

Although Bugliosi was appalled by Manson and the people who followed him, he admitted watching him and studying his life, the prosecutor was astonished by his power to bend people's wills to his own service.

As a prosecutor in more than a hundred major cases, he admitted that while there may have been more horrific murders than the ones Manson engineered in US criminal history, it was his ability to

influence others at a distance

that singled him out.
Charles Manson's Ohio Roots
Kathleen was also absent for much of Manson's early life. She was imprisoned with her brother in 1939 for hustling men in bars and setting them up for her brother to beat and rob, according to a 1970 Enquirer article.

The young boy was sent to McMechen, W.V. in 1942 to live with extended family. He and his mother ended up in Indianapolis in 1945 after she was released.

His mother put him up for foster care, but a court stepped in and sent him to a series of boys' homes and reformatories.

In a New York Times article from 1970, one of Manson's friends from the homes recalled how charming the boy was at such a young age.

"Charlie had to be persuasive, it was the only way he could survive. Otherwise, he would have been dead long ago." said the unidentified friend.

Manson ran away from the boys' homes repeatedly and was placed in a series of penal institutions including the Federal Reformatory in Chilicothe. He was paroled in 1951 at the age of 21, followed by other brushes with the law.
Stealing cars, pimping, and forging government checksin the late 1950's landed the Manson in federal prison in Washington state until 1967.
Manson then traveled to the Haight-Ashbury neighborhood of in San Francisco, gathering a devoted following of hippies who followed the manipulative man throughout southern California.
Did he go to Haight Ashbury? And gather a devoted following of hippies? Or did he settle straight into the Laurel Canyon neighbourhood?
TIME
At the time, (of the murders? Cause the article sure reads that way!) Manson was in police custody in connection with a different crime (auto theft) but police were hoping to bring charges against him for conspiracy and murder in these cases. They did so shortly after, and Manson was found guilty of those crimes in early
1971.
According to TIME's reporting Mr Manson was in police custody when the killings took place.
How could he have been charged with the murder?
How could he have "influenced" the alleged killers while incarcerated? Of course it's been reported he 'influenced them from afar". Is that credible? Requoting from above
" his ability to influence others at a distance that singled him out."
Excerpt from original late 60's reporting
Last week Los Angeles police announced that they had solved the five murders and three others as well. If they are correct, the alleged murderers were even stranger and more bizarre than their crimes. The police case was based on the tale of an accused murderer, Susan Denise Atkins, 21. She sketched out a weird story of a mystical, semi-religious hippie drug-and-murder cult led by a bearded, demonic Mahdi able to dispatch his zombie-like followers, mostly girls wearing hunting knives, to commit at least eight murders and, police say, possibly four others.

Three members of the gang were arrested last week: Charles Watson, 23, Patricia Krenwinkel, 22, and Linda Kasabian, 20. The police also were seeking murder indictments against two other "family" members. The suspects, as well as the thin, vacuous Miss Atkins, were all members of a hippie-type gang who styled themselves slaves to their guru-type leader. Miss Atkins, a prosecution witness who hopes to save herself from the gas chamber, claimed that she was present but did not participate in the murders committed by the gang. At least eight members took part in one or another of the murders, say police, although the leader, Charles Manson, 35, did not participate in the killings himself, but confined himself to directing them.

Miss Atkins said that Manson had ordered the Tate murders on Aug. 9, the murder of Musician Gary Hinman on July 25, and those of Mr. and Mrs. Leno LaBianca on Aug. 10. Hinman was allegedly murdered because he would not turn over $20,000 that Manson thought he had. Miss Atkins and another Manson follower are charged in that murder. The LaBiancas were picked at random from among the affluent, she said, the night after the Tate murders, just to prove that the killers had not lost their nerve. The Tate victims did not even know Manson. They died, she said, because Manson, an aspiring songwriter, nursed a grudge against Doris Day's son, Terry Melcher, who refused to have one of Manson's songs recorded. Miss Tate had rented the Melcher house, and Manson ordered everyone in it killed, presumably not even knowing who the tenants at the time were—or caring.
I'm including an older David McGowan interview - Half of it touches on the Manson murders
If you want to read more about this topic, I have read & recommend: