There are reports this morning that Abdullah Saleh is dead. His death looks to have come at the hands of his former allies, who it seems may have had very good reason to distrust his reinstallment into power Surely time will tell us, with certainty, if Saleh is dead or has simply fled.
Was commenting at Greencrow's on this topic and thought I might as well get a post together myself.
Bloomberg
Shiite Houthi rebels earlier this year accused Saleh of holding secret talks with the United Arab Emirates, a close Saudi ally and member of its coalition in Yemen. The Houthis said Saleh -- who denied the charge -- crossed "red lines" and denounced his description of them as a militia, a term the Saudis use to challenge their legitimacy.
The Houthis announced Saleh's killing in a statement on Monday, calling it "the end of the crisis of the treasonous militia." The Houthis said they had "complete control" of Saleh's "hideouts" in the capital and provinces. The al-Mithaq newspaper affiliated with Saleh earlier denied "rumors" of his death.

Fighting between Saleh's forces and Houthi rebels backed by Iran escalated over the weekend, with the thud of tank artillery and other heavy weapons piercing the air in the capital, Sana'a. Houthi spokesman Mohammed Abdulsalam claimed progress, saying fighters had wrested control of homes belonging to Saleh's son, Ahmed, and nephew Tarik, the commander of the former president's forces. Saleh has lived underground since his home was bombed by coalition airstrikes.
The Guardian
-
Former Yemen president Saleh 'killed in fresh fighting'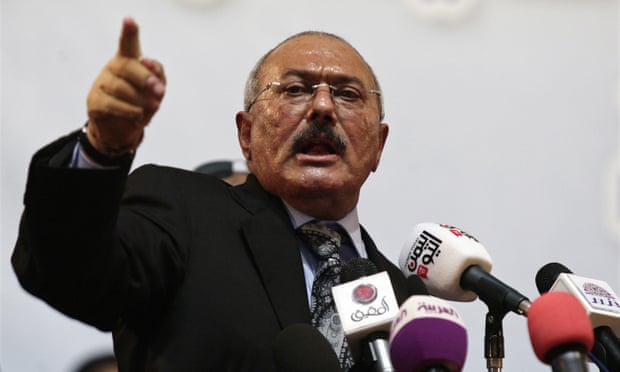 Former Yemeni president Ali Abdullah Saleh severed his alliance with the Houthis at the weekend. Photograph: Hani Mohammed/AP
The news below is from two days ago:December 02: News of Bahrain
Aden : In a major blow to Houthi insurgents, former Yemeni President Ali Abdullah Saleh yesterday said that he was ready for talks with the Saudi-led coalition fighting in Yemen.

Saleh said in a televised speech that he would be ready to "turn the page" if the coalition lifted a blockade on northern Yemen and halted attacks. The call came as his supporters battled Houthi militia for a fourth day in the capital Sanaa while both sides traded blame for a widening rift between allies that could affect the course of the civil war.

Together they have fought the Saudi-led coalition, which intervened in Yemen in 2015 aiming to restore the internationally recognized government of President Abd-Rabbu Mansour Hadi after the Houthis forced him into exile.

"I call upon the brothers in neighbouring states and the alliance to stop their aggression, lift the siege, open the airports and allow food aid and the saving of the wounded and we will turn a new page by virtue of our neighbourliness," Saleh said in a televised speech, indicating a major change of stance.
"We will deal with them in a positive way and what happened to Yemen is enough," he added.

The Houthis, however, has accused Saleh of betrayal and vowed to keep up the fight against the Saudi-led coalition.

"It is not strange or surprising that Saleh turns back on a partnership he never believed in," the group's political bureau said in a statement. "The priority has been and still is to confront the forces of aggression."

Heavy fighting

Residents of Sanaa described heavy fighting on the streets of Hadda, a southern residential district of the Yemeni capital where many of Saleh's relatives live, early yesterday, with sounds of explosions and gunfire heard while the streets were deserted.- Agencies
Yemen's Interior Ministry confirms death of Saleh- Including images which I won't post here
Yemen's Interior Ministry, governed by the Supreme Political Council, issued a statement on Monday confirming the death of Saleh.

Reports also said that the ousted Yemeni president was fleeing to a UAE-held district in Ma'arib, carrying confidential documents.
Parading a bloodied body around sends a definite message...
Contrary to claims made elsewhere it seems we may be looking at an escalation in Yemen.
Hadi ordered his forces, today, to retake the capital city of Sana'a from Houthi rebels
Yemeni President Abedrabbo Mansour Hadi ordered on Monday his forces to retake the capital Sana'a from the Houthis militants as clashes continued to rage in the city.

"The president has ordered Vice President Ali Mohsen al-Ahmar, who is in Marib (east of Sana'a), to activate military units and advance towards the capital," an official in the presidency told AFP, speaking on condition of anonymity.

He ordered his vice president to start the offensive on several fronts in Sana'a, especially the Kholan region.

The Yemeni military has already mobilized seven brigades in Marib in order to head to Kholan and advance on Sana'a.
Don't Miss: