Tillerson went to Turkey. He said he'd work on the Manbij situation... "work on it"
Yah, yah! There will be a 'working group" which will begin working no later then mid march- That's a whole month away............
Sweet Nothing's

..... affectionate

but

unimportant

or

meaningless

words spoken to a "lover" (or not)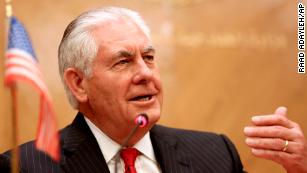 Manbij: "It's geographically important. That's why the US has left a troop presence in Manbij to ensure that that city remains under control of our allied forces and does not fall into the hands of others," Tillerson said. "So that will be a topic of discussion in terms of how we go forward to ensure Manbij remains within our control because of its strategic importance."



He said the working group on Manbij will begin work no later than mid-March.
If you've been a long term reader here you know that the US has been paying lip service to the Turks regarding Manbij for a long, long time now. Going back to the Obama administration!
Covered August 2016- Yup, August 2016- 18 Months ago
1st: US, Keep Your Word on Kurd Withdrawal from Manbij:

Çavusoglu said:

"The U.S. and the President Barack Obama personally promised that PYD members in the SDF would be withdrawn to the east of the Euphrates River. Now the U.S. must keep its promise, and we expect them to. We are maintaining our communications regarding this matter."


Foreign Minister Mevlüt Çavusoglu reminded U.S. President Barack Obama on Monday that he had personally made a promise to withdraw the Syrian PKK affiliate Democratic Union Party's (PYD) armed People's Protection Units (YPG) to the east of the Euphrates once the Manbij operation
No reason to believe US sweet talk regarding Manbij all this time later- I don't believe it. Quite certain Turkish leadership isn't buying the LIE either. Why would they?
The US says they will stay in Syria's Manbij
US-Turkey relations were frayed over a number of issues recently, namely the US' continued support for the YPG and the US troops in Manbij in support of YPG. The US promised Turkey it would withdraw the YPG from the city after Daesh was defeated, but it has been one-and-a-half years and the YPG is still in Manbij.
YPG is the Syrian affiliate of the PKK, which is designated as a terrorist organisation by Turkey, the US and EU and has been fighting the Turkish state for more than 30 years.
Janes- Analysis of Syrian S 200 Survival Undermines Israeli retaliation claims
Saved this yesterday- today I'm getting a 404 error- wonder why?
My saved images are good..
Analysis: Survival of Syrian S-200 undermines Israeli retaliation claims
Jeremy Binnie, London and Sean O'Connor, Indianapolis - Jane's Defence Weekly
16 February 2018
Sat image showing intact s-200 complex
Assuming map released by IDF
Key Points

The IDF said it destroyed Syrian SAM systems after an F-16I was shot down on 10 February
An important S-200 complex appeared to be undamaged after the engagement
A map released by the IDF on 11 February shows Iranian and Syrian targets that it said were hit the day before in retaliation for a UAV incursion and the shooting down of an Israeli F-16I fighter. It implies that both S-200 (SA-5) sites in southwest Syria were hit. (Israel Defense Forces)A map released by the IDF on 11 February shows Iranian and Syrian targets that it said were hit the day before in retaliation for a UAV incursion and the shooting down of an Israeli F-16I fighter. It implies that both S-200 (SA-5) sites in southwest Syria were hit. (Israel Defense Forces)
Analysis

Satellite imagery showing one of two S-200 (SA-5) long-range air defence systems in southwest

Syria was not neutralised on 10 February raises questions about the effectiveness of Israeli airstrikes on that day.
Link-
The United States Could Be on the Verge of Fighting Turkey in Syria
I personally believe the US and Turkey are and have already been fighting in Syria. Mentioned that last year.. I just love the admission included in this piece that the US supports terrorists
This means sometimes we support terrorists, which usually have turned out to be al Qaeda affiliates. This is because al Qaeda shares an interest with the U.S.: both of us want to destroy the Islamic State. (it's not quite that clear cut, except the US does support terrorists)
Turkey has been helping us fight the Islamic State, but has also been fighting our Kurdish allies in that fight. (Kurdish "allies" who are actually PKK terrorists, who also intermingle with ISIS which still means.... the US supports terrorists)
Russia has been helping Assad fight the rebels, who again are backed by the U.S.(and the US supports terrorists, again!) military. Our confrontations with Russia have become much more frequent. In fact, Russian military contractors might have been part of a recent attack on U.S. military advisers in Syria.
Iran has also backed Assad with weapons. It's fighting a proxy war with the U.S., and, yes, Israel, which has recently launched attacks into Syria.
Iraq is fighting the Islamic State, too, but Iran is also influencing that fight and doing its best to destabilize the Iraqi government and army.
Russia and Turkey have an uneasy alliance, mostly because of oil resources and transport. Turkey controls the Bosporus Strait, which connects Russian Black Sea ports to the rest of the world. (talked that point up incessantly)
Last December a Turkish citizen (was it a Kurdish Turkish citizen?) assassinated the Russian Ambassador to Turkey, in Ankara. He said he did so in the name of Syria.
Turkey just wants the Kurds to go away. We want the Kurds to stay strong.
But Turkey also doesn't want the Islamic State carrying out any more attacks there. Last year on New Year's Eve an IS-inspired attacker shot up a nightclub in Istanbul.
Russia props up Iran's nuclear program. It needs cheap oil from Iran, and really from all of these places.
So it seems that in all of this, a U.S.-Turkey conflict, a direct confrontation between two allies, would complete some sort of weird circuit. The region, obviously, can't sustain that, because things are bad enough there. The risk of escalation is high, as is the risk of misunderstanding leading to greater conflict. The more that people start shooting at each other, the more difficult it becomes to tell who's on your side.
At this point, the United States is looking pretty lonely. At least we've got a reality show host at the helm.
The US isn't looking lonely at all... they're looking imperial. And dangerously irrational.
TASS- Lavrov stated this a short time ago, he said it again this week ... I've said it for years
"They [the United States] seem to be seeking to isolate a vast part of the Syrian territory from the rest of the country in violation of Syria's sovereignty and territorial integrity," he said.

"A US taskforce and other units are illegally staying in Syria, without any invitation from Damascus (the legitimate government) or a United Nations Security Council mandate," he added.
Lavrov speaking some more
Washington has been staking on Syrian Kurds, supplying Kurdish groups with weapons and ignoring Turkey's position, Russian Foreign Minister Sergey Lavrov said in an interview with the Euronews television channel on Friday.

Turkey's position, in his words, is that some of Kurd groups operating in Syria are branches of the Kurdistan Workers' Party, which is listed as a terrorist organization in a range of countries. "Turkey has repeatedly said it would do its utmost to prevent the Kurds from taking control of the border between Syria and Turkey," he said. "Despite that, the Americans have been arming, I would say

, heavily arming,

Kurdish units

totally ignoring Turkey's position.

From the very beginning of their activities in Syria, the Americans have been staking on Kurds and

turning a deaf ear to Turkey's protests."
Exactly! You may recall Tillerson's other lie was that America hadn't 'heavily armed' the PKK so they didn't have anything worth taking back from them..... Suuuurrreeeeee. Gee I wonder how it is the PKK/YPG are shooting down helicopters and destroying tanks ? Must be all those AK's? (facetious) At least Lavrov is giving us the straight goods here!
"A couple of months ago, the United States suddenly announced its plans to establish 30,000-strong, mostly Kurdish, force to safeguard the border security zone between Syria and Turkey," Lavrov said. "Later on, they made clumsy attempt to disavow their own statements that facts indicate the this disavowal did not change their intentions. Then, Turkey announced what it announced (on January 20, the Turkish military launched the Olive Branch Operation near Syria's Afrin, home to about 1.5 million Kurds and refugees from other Syrian regions)."
According to the Russian top diplomat, Turkey's operation in Afrin was no big surprise for him. "

Washington was simply turning a deaf ear to Ankara's repeated warnings," he added
Recall me saying I couldn't understand all this claimed surprise at Turkey's move?
One can never be certain, of course(unless privy to insider info) but to think Turkey was never going to secure their own border???
Makes no sense.
*I covered the "border force" creation January 7/2018
US Plans to Recognize Annexed Syrian Territory as Kurdish
Bullbiscuits to the nonsense of the US not supporting Afrin based PKK/YPG
Flashback
: US Considers Air Support To Afrin Kurds- 2016
"The US military will look into the possibility of supporting from the air the Afrin Kurds' advances in northern Syria against Daesh, Operation Inherent Resolve spokesman Col. Steve Warren told reporters on Wednesday.