Most recent reports have
Syria retaking about 25 percent of Ghouta:
"Syrian government forces have seized about one quarter of the rebel-held enclave of eastern Ghouta in recent days, activists say"
Started everything below yesterday, finishing it up today!

I'm dividing this Reuters article into two sections:

Ghouta

: Ghouta, is in my opinion Aleppo redux with some differences, but, lots of similarities.
Since Usrael/UK have not been able, thus far, to intercede on behalf of their proxies. It looks as if Ghouta will be taken back by Syrian government forces in fairly short order. Barring any interference from Usrael/UK

So that's good news for Syria!
"BEIRUT/ISTANBUL (Reuters) - Syrian government forces gained more ground in an assault on eastern Ghouta near Damascus on Saturday as they seek to defeat the last major rebel enclave near the capital, a war monitor and a news service run by Lebanon's Hezbollah said.

The Syrian war, which has killed hundreds of thousands of people since 2011, has escalated on several fronts this year as the collapse of Islamic State has given way to other conflicts between Syrian and international parties.

The U.N. Security Council demanded a 30-day countrywide ceasefire a week ago, but this has failed to take effect.

Damascus, backed by Russia and Iran, has been waging one of the deadliest offensives of the war in eastern Ghouta, killing hundreds of people in a fierce air and artillery bombardment over the last two weeks.

Ground forces including the army's elite Tiger Force have been attacking from the eastern edge of the besieged enclave, where the United Nations says 400,000 people live.

The Observatory said they had taken almost complete control of the town of al-Shayfouniya on Saturday.

The Jaish al-Islam rebel group said in a statement its fighters had withdrawn from positions in two areas, one of them in al-Shayfouniya, due to intense bombardment. It accused Syrian leader Bashar al-Assad and Russia of waging a"scorched earth" campaign.
Terrorists making accusations...
The military news service run by Hezbollah, an Iran-backed Lebanese group that fights on Assad's side, named

three other areas it said the Syrian army had captured at the eastern and southeastern rim of the rebel enclave

.

With no sign of decisive Western pressure to halt the assault, eastern Ghouta appears on course to eventually fall to the much more heavily armed government side, which has recaptured many other areas using the same military tactics.
Russia has called for daily, five-hour"humanitarian" ceasefires in eastern Ghouta, and says rebels have prevented civilians from leaving. Rebels deny this. The U.S. State Department has called the Russian plan a"joke"."
The U.N. High Commissioner for Human Rights said in an emergency meeting of the United Nations' Human Rights Council on Friday that events in eastern Ghouta likely included"war crimes and potentially crimes against humanity".

Damascus says it is fighting terrorists who have escalated their shelling of government-held areas of the capital.
The Observatory says the government bombardment of Ghouta has killed more than 600 people since Feb. 18, while intensified rebel shelling of government-held areas has killed 27.
So reminiscent of Aleppo. Finally Syria prevailed and Aleppo was taken back.
AFRIN :
I'm still not buying into the PKK/YPG meme of Damascus sending reinforcements to assist the forces in Afrin. If something doesn't make sense to me.. in a logical sort of way- it's difficult for me to accept as truth.
That said I've entertained a concept regarding the what, why and who of Afrin rebels.
It was Saleh Muslim that tipped me off to this possibility!
Caveat: Saleh Muslim could also be fabricating, aka lying, entirely to sow discord.
First we'll continue reading Reuters reporting:
On another front in the multi-sided war, Turkey said it had captured a Kurdish

(Syrian)

town in the northwestern Afrin region where it has been fighting the Kurdish YPG militia since January, helped by allied Syrian fighters.

The Syrian Observatory for Human Rights said the Turkish campaign was gathering pace, and Turkish jets hit pro-government forces for the third time in 48 hours in the area, killing 36 of them. The pro-government forces are allied to the YPG.

Turkey has rejected Western calls for it to suspend the Afrin assault in line with the U.N. ceasefire, which does not apply to Islamic State, al Qaeda and groups associated with it, or other groups deemed terrorists by the Security Council.
It seems to me, based on reports this past week that Turkey has been making solid advances in Afrin. They've taken losses because they are fighting in close quarters but over all they've advanced. The western noise via the media suggests things aren't going well for the Usreal proxies in Afrin. France &US telling Turkey to call off the operation. (above) YPG/PKK/SDF calling on the UN.
flashback:
The SDF call on the UN to Stop Turkey?!?!
The successful advancement looks a challenge to the idea of Damascus sending in reinforcements for the YPG/PKK/ SDF. These reinforcements are (1) either of the shoddiest militia men imaginable or (2) that enough weren't sent (3) the reinforcements are NOT present in Afrin to shore up the YPG/PKK.
Here's where we get to the claims made by Saleh Muslim
Saleh Muslim
:
Shia militants in Afrin sent thanks to Russia
"

Salih Muslim has told Euronews that Shia militants in the Syrian region of Afrin were sent with the help of Russia.

"We have no agreement or direct communication with the regime," Muslim said"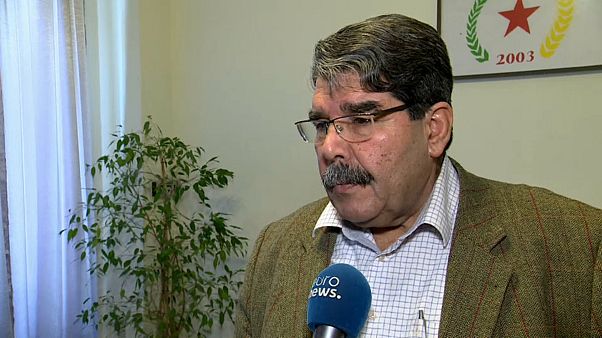 Saleh is saying Russia sent the militia men into Afrin and that PKK/YPG/SDF have no agreement or direct communication with Damascus aka "the regime". Still Turkey's advance continues.
Here's what might be occurring?
1-Militia men that Russia facilitated passage for into Afrin are taking up the rear, after the Turkish forces?
2- These militia men could act as a check on Turkish forces ??
They will ensure that Turkey respects Syria's territorial integrity? As well as the US backed Kurdish proxies?
3- If Russia sent them it seems quite likely there is going to be cooperation or at the very least a mutual understanding between Turkish military and the militia???
4- This could explain Turkish advances this past week????
5- Or Saleh is trying to sow discord? Among the Astana participants??
I put the original source through translate
Saleh Muslim: "

Defending that Russia allowed the Afrin operation, Muslim said that the only force to stop the TSK's air strikes is Moscow:

"Russia plays his game, because it gave the green light to Turkey's operation. The only countries Russia could stop these attacks. They green light for air strikes to Afrin and they pursue their attitude. Moskova- have some kind of agreement in Ankara. But Russia We have an office in Moscow, an official office, we are in liaison with the Russian authorities, but we can not answer our questions in this matter.

"
Muslim states the only force that can stop Turkey's airstrikes is Moscow- And they haven't moved to block Turkey at all. It's quite obvious that Russia and Damascus, both, gave the green light for Turkey's operation. Saleh states there is an agreement between Moscow and Ankara- I've thought that from the start of Operation Olive Branch
Saleh also states that the Kurds do meet or talk with some Russian authorities (no names) but these contacts have not answered their questions regarding the Turkish green light.
Personally I'm still questioning these Shiite militia men being sent to aid the YPG/PKK due to the fact that the Kurds had very obviously attempted to shore up their own forces by bringing in their own fighters from elsewhere.
I covered that in previous post relinked below:
Covering the 'civilians' entering Afrin from as far away as Sinjar, Iraq also the reports that Kurdish fighters handed over parts of Aleppo so they could head to Afrin. And somewhere else on the blog the reports of the US flying "ISIS" out of eastern Syria to parts unknown at the same time as these militias were coming to Afrin
Reuters: "The Observatory said Turkish warplanes struck the pro-government"popular" forces at a camp in Kafr Jina.

The Syrian Democratic Forces (SDF),

a YPG-led militia alliance, said in a statement that Turkish air strikes had targeted positions held by the Syrian army's"popular forces" f

rom 5 a.m. (0300 GMT) until 10 a.m. (0800 GMT).

It did not say where or give a death toll"
SDF/YPG/PKK should be able to provide the location of the airstrikes if they were cooperating with these forces? They gave no locale and no death toll estimated or otherwise.
Reuters continues: "Turkish Prime Minister Binali Yildirim said his country's forces had captured the town of Rajo from militants, while the military said in a statement that the army had taken control of seven settlements including Rajo on Saturday.

The Observatory said Turkey was in control of about 70 percent of the town, which lies about 25 km (16 miles) northwest of Afrin city.

Yildirim said:"Our soldiers, special forces, gendarmes and Free Syrian Army fighters are advancing towards Afrin step by step."
Saleh in the translate link blathers on about respecting Syrian sovereignty. Bullbiscuits!
" But we see as Turkey's attacks are a violation of the sovereignty question for northern Syria. Syria 's sovereignty must be preserved"
Saleh and PKK/YPG have taken Syrian oil fields.Taken the water.

Control the dams. Impeded electricity production. Killed and displaced thousands and thousands of Syrian of all faiths including Christians. Allowed the building of an occupation force by US/French/Canadian/UK Special forces and many other mercenaries. I'm to believe he respects Syria's sovereignty and wants it's preserved? Really?