Cause they sure aren't "fighting ISIS". Nor are they "fighting terrorism".
But then again, they never were!
It seems to me team USrael has made both provocative and suggestive of more to follow moves in Syria's north these past couple days-
First the REBRANDing of SDF/PKK:
Rebranding is a marketing strategy in which a new name, term, symbol, design, or combination thereof is created for an established brand with the intention of developing a new, differentiated identity.
SDF, really PKK, has become a toxic brand. Therefore a new presentation is necessary to justify the always desired balkanization of Syria for that Israel 2.0. Earlier today I'd posted part of an oped from FrontPage Magazine. FrontPage Magazine: Time to Get Tough With Turkey. The earlier posting included yet another reminder of PKK child recruitment practices.
This latest information has me thinking that the US may be planning a provocation of sorts, which they will then be reported to the world as an unprovoked attack by Turkey (Turkish forces) against a democratic, freedom loving brave warriors who fought ISIS, and are all peace and love. Or some such gibberish like that. At this point nothing that occurs between Turkey/Usreal can be considered as unprovoked. The US and Turkey have been at odds for years now. Should Turkey make a move to secure their borders the Usrael war machine via their media will present this as a completely unwarranted and irrational move by Turkey.
US officials say they're not conducting 'presence patrols' in Manbij, Syria, but new photos show otherwise
But after Military Times reached out to U.S. officials, the photos were quickly removed from DVIDs, the Defense Department's media distribution website.

"I have pulled those photos and cutlines for review and correction. I will release them for reposting at a future time to be determined," Col. Thomas Veale, public affairs director for OIR, told Military Times.
You can read a discussion here regarding presence patrols- They seem to be both provocative and preventative- I guess, depending on the objective at hand? Or the reason for the presence patrol?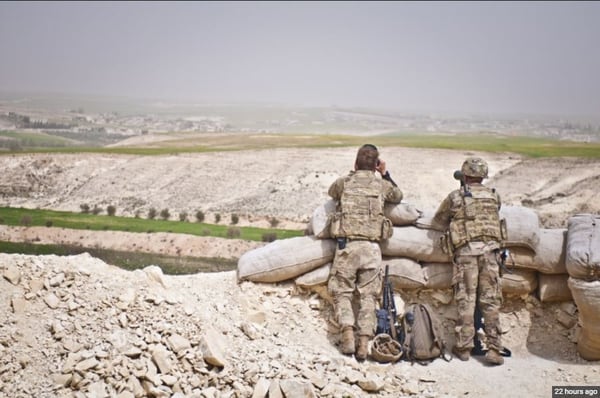 Additionally, Military Times was told by officials that the forces were only "conducting security within their area of operations" and the term
"presence patrol" does not accurately describe what's happening in the photos.
But according to Jennifer Cafarella, a senior intelligence planner at the Institute for the Study of War
, Inherent Resolve is obscuring the purpose of these patrols by using ambiguous language.
"They're trying to use terminology to manage the Turkish reaction," she said. "The intended effect — regardless of the framing — is to deter Turkey from attacking."
But is that really the intended purpose- Is it deterrent? Or is it provocation?
A big part of deterrence is ensuring a message has clarity

, and

by obscuring the point of a patrol, U.S. officials might not be ensuring their Turkish counterparts understand the point,

she said. In this way, OIR's shift in language could be poor messaging.
So deterrent or provocation? What is the US doing?
Another possibility, though, is that U.S. officials are changing their position on Manbij.
"Either they are failing at deterring or they are deciding to go with a different message," Cafarella said.
Coalition forces have been in the vicinity of Manbij since around August 2016, when they supported locals in the liberation of the area from the Islamic State.
"We have maintained a relationship with the Manbij Military Council (MMC), which was created to defend Manbij from Daesh," an OIR official said, using the Arabic term for ISIS.

In a statement last week, Inherent Resolve officials called the MMC a "mixed Arab and Kurdish council."
Now, though, statements from Inherent Resolve describe the MMC as mostly Arab.

"The MMC is a primarily Arab force made up of Manbij locals," the new statement reads.

It also notes that "the predominantly Arab council has maintained security and stability."
The difference in ethnic makeup may seem innocuous to most Americans, but it is a linchpin in the dispute Turkey is lobbying the United States over.
Turkey began a military offensive over its border into the Syrian city of Afrin in order to eliminate Kurdish fighters it considers terrorists — and Turkish President Recep Tayyip Erdogan has threatened that the operation will soon extend to Manbij.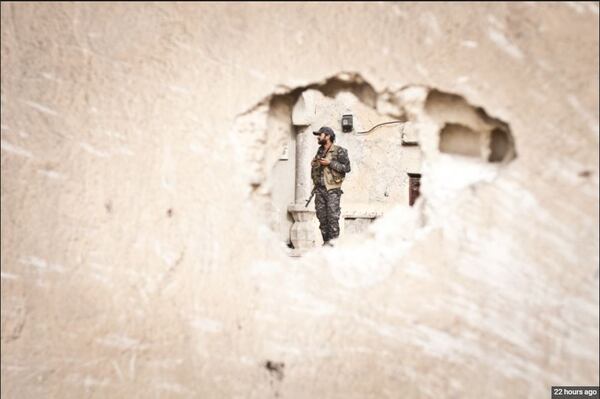 Now, it appears that U.S. officials are attempting to "de-emphasize the level of YPG involvement in military and governing structures in Manbij in order to portray the situation as predominantly Arab and to portray the Turks as the aggressor in any possible endeavor," Cafarrella said.
In the end, Cafarrella said that the "United States is correct in that most of the Manbij Military Council in terms of volume is Arab, but they are subordinate to the YPG chain of command, or at a minimum are subordinate to YPG leadership."
She added that there have been recent protests in the Manbij area by Arabs against the MMC, "for abuses against the Arab population."

"Because that whole structure is still dominated by the YPG, its ideology and its goals," she said.
It seems to me the US has something planned outside of Manbij. The fact that they've scrubbed images, and appear intent on sending mixed messages to the outside world and Turkey, simultaneously, indicates they are attempting to create a state of confusion which they can take advantage of.