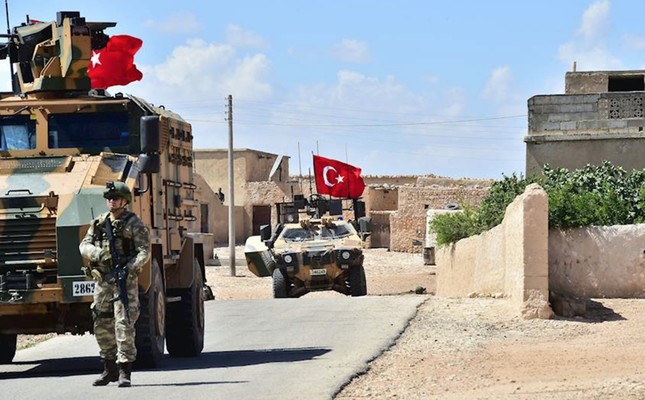 Turkish Soldiers Patrolling Near Manbij- Not In Manbij
Daily Sabah Oped
Excerpts with commentary and additional information.
DS: "In a very lackluster manner, the results of the much-anticipated Turkey-U.S. working group meetings, that culminated in talks focused on the issue of Manbij, have begun to tear at the seams. To some this may come as a surprise; while an avid observer of the Syrian file knows this is not at all a surprise"
You can put me in the avid observer category- coming apart at the seams is not at all a surprise!
To leave or not to leave?
DS: "Fast forward to November 2016 and Brett McGurk, the U.S. envoy for the Global Coalition to Defeat Daesh, was announcing another YPG retreat from Manbij. The conflicting reports are obvious even to a novice observer. Just two months previous to McGurk's statement another international anti-Daesh coalition spokesman was also claiming that the YPG was leaving Manbij. An astute observer would question why the YPG withdrawal from Manbij was being announced more than once?"
How often has this duplicity been discussed here? I've lost track, but, it's definitely been covered going back years and years
Including mentions of Brett McGurk as the Lawrence of Kurdistan
" McGurk's role in all this somewhat resembles the role of TS Lawrence, or Lawrence of Arabia, 100 years ago. Some see McGurk as a kind of "Lawrence of Kurdistan."

DS: "Throughout 2017 the Turkish government was hopeful that the incoming Trump administration would follow through with its campaign promises and reconsider its faulty strategy in Syria – supporting one terror outfit to defeat another. A matter Turkish officials have repeatedly addressed with both the Obama and Trump administrations.

Then in January 2018 Turkey launched Operation Olive Branch continuing to pursue its goal of clearing the border areas from terror groups. In Afrin, the obvious target was the PKK and its Syrian terror affiliates. This time around the situation was a bit different since the international coalition did not have direct access to these locations – at least that was the assumption. In this regard, Deputy Prime Minister Bekir Bozdag warned in a televised interview that "If we happen to see American soldiers in YPG uniforms, they are a target. Let them not confront us." U.S. troops are known to be travelling in the same convoys, sometimes wearing YPG uniforms, during the U.S.-led international coalition training and support operations in northern Syria."

The one difference on the ground in Syria's northwest vs the northeast was the proximity of Russian forces to the territory. Turkey got Russian and undoubtedly Syrian permission to fly over the area. Americans weren't even going to ask. Americans were undoubtedly embedded with PKK/YPG in Afrin- but with no ability to fly over the area and bomb everyone, the Americans, Brits, and French forces embedded with the PKK thugs in Afrin... FLED!
That's right. They left. Rather then have a PR disaster on their hands they ran!
From Manbij to Qandil?

DS: Interestingly, on June 6, a pro-Saudi publication Okaz, published an interview with Syrian PKK leader Fehman Hussein, known by his nom de guerre Bahoz Erdal, from the Qandil mountains. The Turkish military is currently engaged in an offensive in northern Iraq moving steadily toward the PKK's mountainous enclave. It was thought that Hussein, born 1969 in northeastern Syria, was killed near Qamishli in the summer of 2016.

(Yet, he was alive and in Qandil!)

His interview, conveniently timed with the announcement of a YPG withdrawal from Manbij, clarifies a number of issues. Hussein claims he was in Syria in 2014 for three months on a social visit; offered advice and ammunition to the YPG in fight against Daesh; and warned Turkey of an increasingly violent fighting season this summer. Some of these facts are confirmed and clarified by Talal Sillo, the defected SDF Spokesman, who explained the intricate relationship between the PKK, YPG, and SDF; as well as Hussein's role in relaying orders from the PKK command to the SDF. Hussein's positions as a military commander for the PKK in Syria and his heading of a group known as the Kurdistan Freedom Hawks (TAK) as cover for the PKK presence in Syria is well known to security officials since 2012.

Readers here should recall Talal Sillo- The whistleblower that nearly no one paid any mind to what he was reporting. Even though, he was connecting the US directly to well known terrorists- Not that his testimony was needed.

Least not in my opinion.

The connections were obvious.
One would have thought that would have been BIG news in the alternative/empire challenging media- But it wasn't. Since there really isn't much alternative empire challenging alternative media save for a few very small bloggers.

American Duplicity

DS: "Despite reaching an agreement on a road map for withdrawal and future operations, the fate of Manbij and eastern Syria remains unclear. American forces have numerous bases in northeastern Syria and are the main force protecting the YPG from a Turkish operation similar to that of Operation Olive Branch and Operation Euphrates Shield. Iraqi airstrikes in Syrian territory; Turkish concerns about the YPG taking more territory from Daesh with the U.S. help; ongoing Turkish operations in northern Iraq towards the PKK's historic mountain base, and a shifting geopolitical playing field all complicate the possible scenarios following the Manbij road map meetings.

What is clear, however, is that the United States is unwilling to fulfill its promises of pulling out of Syria, supporting a terror group that threatens a major ally – the second largest military in NATO – and taking much needed steps towards normalizing relations with Turkey.Mattis recently announced that talks would take place in Germany to discuss the implementation of the Manbij withdrawal road map. He described the first phase of the plan as efforts to identify where the Turkish and American military forces are positioned and then possibly conducting joint patrols in the area. Is it possible that they will use these new armored vehicles to transport the YPG fighters out of Manbij? If so, where will they take them? Qandil?

One thing is for sure, the road to clearing the Manbij pocket from terror elements is getting windier day by day"

The author of the oped is entertaining the idea that even if the PKK exits Manbij, US forces will stay in place and continue on as guarantors of the Kurdish annexation project. The US will move the fighters to Qandil as reinforcements to terrorize Turks/ destabilize Turkey from yet another position. Entirely possible. The Americans are that duplicitous and allies do come and go. Except for Israel and the UK.