Here's one you may have missed. Certainly, I did!
"On August 12, the leaders of Azerbaijan, Iran, Kazakhstan, Russia, and Turkmenistan will meet in the Kazakh port city of Aqtau, reportedly to sign a new convention on the legal status of the Caspian Sea.
An 18-page draft of the agreement, posted briefly on Russian Prime Minister Dmitry Medvedev's website in June and obtained by RFE/RL, lists 24 articles, including territorial waters, maritime borders, rules for navigation, fishing rights, environmental matters, and, importantly, use of the sea's resources.
The Caspian seabed hides some 50 billion barrels of oil and nearly 9 trillion cubic meters of gas in proven or probable reserves. At current market prices, that is several trillion dollars' worth of energy resources; with further exploration, it could turn out to be much more."
Guardian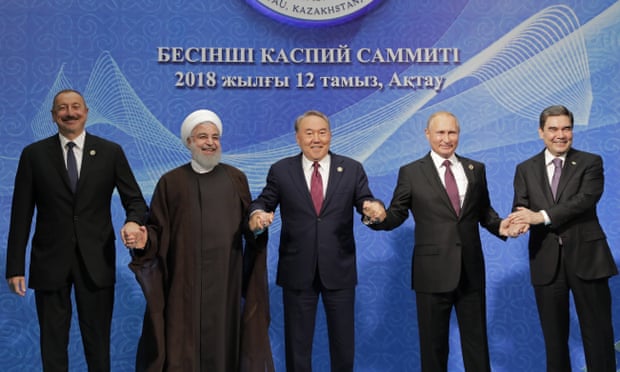 "But they were not meeting to publicly agree a united response to the act of "economic warfare", as Russia described the sanctions.

The two presidents were in the small Kazakh coastal city of Aktau to sign a legal convention on the Caspian Sea.


After more than 20 years of fraught diplomatic efforts, the five littoral Caspian nations – Russia, Iran, Kazakhstan, Azerbaijan and Turkmenistan – agreed upon a legal framework for sharing the world's largest inland body of water, which bridges Asia and Europe and has reserves of oil and gas as well as being a habitat for sturgeon.
Diplomats described the document as a regional constitution.
Putin told a room where presidents and foreign ministers were present: "Our summit is exceptional if not truly epoch making."
I like maps..
Stratfor has more
Tabriz Talks- what's this all about?
Can Tabriz Talks Usher in a Turkey, Russia & Iran Alliance?
"Any resolution in Syria begun as a result of the Tabriz meeting would notably lack another outside player, the United States"
Regarding the upcoming talks Sept. 07/18 which look to be about more then just Syria
"What happens after Turkey's President Recep Tayyip Erdogan meets with Russia's Vladimir Putin and Iran's Hassan Rohani in Tabriz on September 7?
How will the meeting affect Turkey's relationship with the United States?
Ankara and Washington are increasingly at odds although the United States has long regarded Turkey, NATO's sole Muslim member, as a stalwart regional ally. (LOL)
Could the September 7 meeting be a game changer?
Erdogan, Putin and Rohani will have much to discuss. All three countries are subject to US sanctions, which are inflicting varying degrees of suffering on their economies.
Turkey is the most recent member of the trio to feel Washington's economic wrath. Defence issues are roiling the bilateral relationship; members of Congress and the Trump administration have objected to Turkey's plan to acquire a Russian S-400 antiaircraft system even as Turkey receives Lockheed Martin F-35 fighter jets. American lawmakers are worried that if Turkey deploys the S-400, it would expose weaknesses in the F-35 stealth aircraft and Turkey would share the vulnerabilities with Russia.
Another element of worsening relations is Turkey's detention of US evangelical pastor Andrew Brunson, indicted on charges of having links with the outlawed Kurdistan Workers' Party and the Fethullahist Terrorist Organisation, which Ankara blames for the failed 2016 coup."
Brunson is all CIA. All the time.
"Consequently, on August 1, the US government announced sanctions focusing on Turkish individuals and companies allegedly involved in corruption or human rights abuses. The sanctions specifically affect Turkish Justice Minister Abdulhamit Gul and Interior Minister Suleyman Soylu. Their departments are blamed for the incarceration of Brunson, whom US President Donald Trump has labelled a "patriot hostage."
Trump has doubled tariffs on Turkish metal imports and reiterated he would give no concessions for Brunson's release.

Deteriorating US-Turkish relations have been a prime factor in the Turkish lira's decline, about 40% this year.
While no agenda for the Tabriz meeting has been published, it is likely that the economic damage inflicted by unilateral US sanctions will be a priority.
If mitigating the consequences of US fiscal punishment is a prime issue for all three countries, another factor is the American military presence in the Middle East. Both Russia and Iran are staunchly opposed to it.
On August 12, Russia, Iran, Turkmenistan, Kazakhstan and Azerbaijan signed the Convention on the Legal Status of the Caspian Sea. Significantly for Washington, the agreement stipulates that no outside countries would be allowed to establish military bases on the Caspian. This would effectively block the United States and NATO from a regional presence.
Both Iran and Russia have an interest in blunting US naval force projection — Iran in the Persian Gulf and Russia in the Black Sea. Turkey is effectively an arbitrator in the latter because the 1936 Montreux Convention recognises Turkish sovereignty over the Bosporus and Dardanelles and stipulates conditions for the Black Sea naval presence of foreign powers. These constrictions have stymied US military ambitions in the past, most notably in the 2008 Georgian and 2014 Ukrainian crises."
I've written repeatedly about the Bosporus and Dardanelles and water way access or denial.
"At the time, the US Navy was unable to "fly the flag" as it wanted.
Turkey's view of current US policy was made very clear by Erdogan in an opinion piece in the New York Times a few weeks ago. He warned Washington to "give up the misguided notion that our relationship can be asymmetrical" and urged it to "come to terms with the fact that Turkey has alternatives." All of this must happen "before it is too late," Erdogan said.
In the military sphere, these "alternatives" could see Turkey downgrade participation in NATO or abandon it altogether. It could turn towards the Russian- and Chinese-dominated Shanghai Cooperation Organisation security alliance.
As for fiscal alternatives, Turkey could abandon efforts to join the European Union and seek affiliation with either the Eurasian Economic Union or BRICS — the grouping of the emerging economies of Brazil, Russia, India, China and South Africa.
Turkey, Iran and Russia have the potential to achieve an accord on the Syrian war. However, any resolution begun at the Tabriz meeting would notably lack another outside player in Syria, the United States.
The stakes for the US regional presence are substantial as Turkey, Iran and Russia confer."
From earlier today!