As Trump carries on the Obama legacy- Dems and Repubs. Same/Same.
Record-setting 2016 US-Israel military aid deal enters into force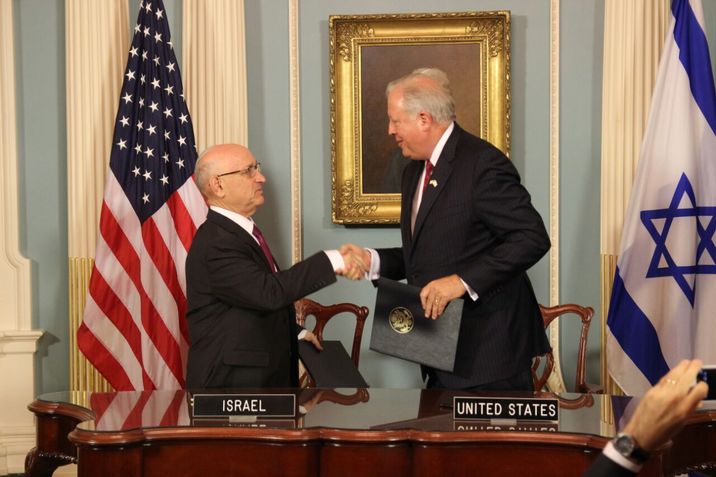 Is that Joe Biden?- Zionist Extraordinaire
A historic military aid package signed between the United States and Israel in 2016 entered into force on Tuesday, the US State Department announced, providing Israel a whopping $38 billion in US military financing over the next decade.
The agreement, signed under the administration of former US President Barack Obama, is the largest-ever military aid deal signed between the two countries.
"Today, as we enter the new fiscal year, the ten-year period of the $38 billion Memorandum of Understanding (MOU) signed by the United States and Israel in 2016 begins," a State Department statement said.
The deal covers the period from 2019 to 2028 and will see Israel receive $3.3 billion per year in foreign military financing -- up from $3.1 billion currently -- and $500,000 in funding annually for missile defense.
Although the new MOU provides Israel with an average annual increase of $800 million in military aid, it requires Israel to phase out an arrangement that allows up to 26.3% of the aid package to be spent in the Israeli defense industry in favor of the US industry.
"The United States unconditionally affirms Israel's right to self-defense, and this MOU is a concrete demonstration of our commitment to Israel's capacity to defend itself with a qualitative military edge over all potential regional adversaries," the State Department said.
IDF
Israel's 'David's Sling' Missile Defense System

"Israel is a valuable and capable ally to the United States that today faces dangerously escalating regional threats, first and foremost from the Iranian regime's sponsorship of terrorist groups seeking to attack not only Israel but also American interests," the State Department said.
"Israel is also threatened by the reckless proliferation of destabilizing weapons systems into the region that increase the possibility of an escalated conflict in an already dangerous and volatile theater," it added.
Congress earlier this month passed a bill to enshrine the deal into law, ensuring that future presidents could not suspend the aid package as a means of pressuring Israel and establishing a special mechanism to fund the deal separate from the annual budget, protecting it from future budget disputes between Congress and the White House.
The bipartisan legislation must still be approved by the Senate, after which it could be submitted to President Donald Trump to be signed into law.
In addition to the $38 billion aid package, US Congress in March of this year approved a record-setting $705 million budget for Israel's missile defense programs for 2018.