Very quick recap: I've been following the

Epstein, Safra, Browder, Russia plunder strand

, which did indeed connect into Sir Robert Maxwell via daughter Ghislaine. But quite likely, in my opinion, directly to Robert Maxwell himself. Robert Maxwell definitely connects into the plunder Russia crowd. I happen to agree with an opinion espoused by WizOz that the plunder of Russia most likely figures large in the Epstein's mysterious wealth. And the accumulated wealth of many others. Through, what is most probably, dirty dealing and money laundering. Because money laundering figures very large in the entire plunder Russia scenario from the time the USSR collapsed.
If you've missed the previous installments in this series- please read or review
This 2017 article looks at Robert Maxwell and his involvement with PROMIS software and of course so much more- brought to us by MuckRock- with much thanks. Excerpted below- please read entirely at link provided below:

Robert Maxwell- Sir Robert Maxwell
Sir Robert Maxwell is mostly remembered as the Czech-born British media mogul who owned the Daily Mirror and was a Member of Parliament. Less remembered is that he was an alleged spy for both the U.K. and Israel, ( covered in a previous post) and was accused of ties to the Mossad abduction of Mordechai Vanunu - accusations which he denied shortly before his apparent suicide. All but forgotten, however, are his alleged ties to the PROMIS affair, thanks in no small part to the FBI withdrawing his file from public view. The withheld materials describe Maxwell accessing an NSA database with information on tapping government databases, which is precisely what U.S. and Israeli intelligence are accused of modifying PROMIS to do.

According to FBI documents first obtained by William Hamilton of Inslaw Inc., the original creator of the PROMIS software which was stolen by the Justice Department, the FBI was contacted by employees of Sandia National Laboratories regarding Robert Maxwell and his company's access to government databases based on information from the National Security Agency. As a result, the FBI opened a counterintelligence investigation to the matter. According to court documents and a FOIA appeal filed by William Hamilton and Inslaw, portions of these documents were suddenly reclassified by the FBI in response to Inslaw's FOIA request.

Hamilton's appeal letter to the DOJ, later entered by Inslaw into the court record by Inslaw as Exhibit A, alleges that the FOIA request had originally been assigned to FBI FOIA specialist Karen Browning. Inslaw alleged that on November 19, 1993 they had "learned from Ms. Browning that the Inslaw FOIA had been taken away from her and placed on a section chief's desk." The section chief apparently then assigned it to FOIA specialist Sue Knopka, which due to poor communication from the FBI, Inslaw apparently assumed was the FOIA section chief on whose desk the FOIA request had been placed. On December 9th, Ms. Knopka apparently informed Inslaw that her review had been completed, and her work was being re-reviewed by others (which is not uncommon). Inslaw alleged that according to the document's marginalia, much of the material was declassified on December 13th, and re-reviewed on December 21st - at which point portions appear to have been reclassified and re-redacted.

The marginalia appears to confirm Inslaw's statement, with stamps declaring that the information was "UNCLASSIFIED" on 12/13/92 and "Classified" on 12/21/92, with portions redacted for b7C to protect "personal information in law enforcement records." Notably, the "personal information" redacted primarily consisted of file numbers responsive to an FBI search and the subject of those searches.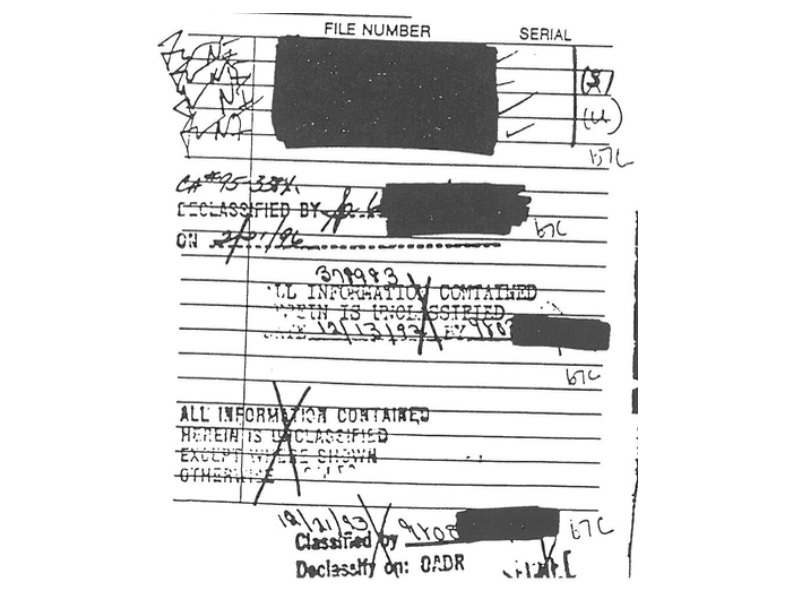 In 1994, Hamilton and Inslaw filed a new FOIA request, for which they received 20 pages. They appealed the subsequent redactions and withholdings, which were later upheld by the DOJ. Nine years later, the materials were re-reviewed and released with a conflicting set of redactions. In these versions of the documents, released in early 2013, all mentions of NSA involvement are redacted. However, the search slips are no longer as redacted - while the subject remains remains redacted - now for privacy per both b7C and b6 - the file numbers are no longer hidden.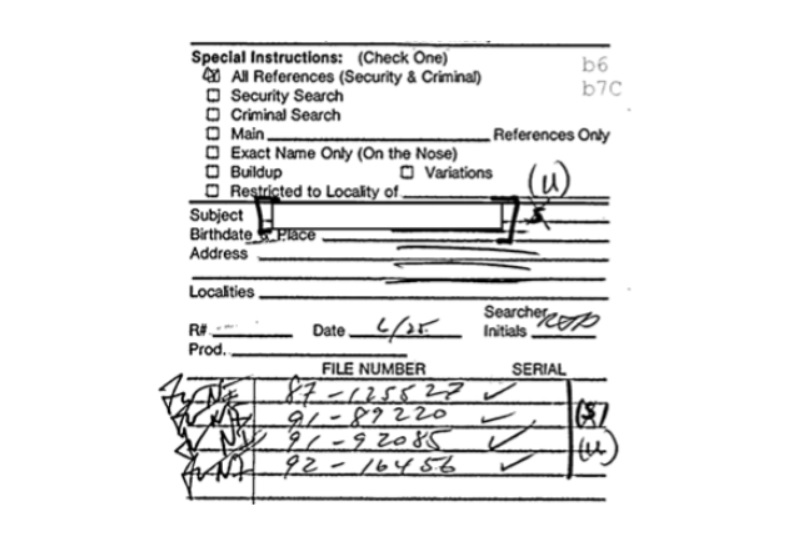 In response to a new FOIA request filed by the author, the FBI agreed to release additional materials on Robert Maxwell to their FOIA reading room, which had previously excluded the materials provided to Inslaw. These documents, reviewed by the FBI in April 2017, are more redacted and have more with holdings than the versions from 1992, 1994, or even just four years prior in 2013. Not only was every mention of the NSA withheld for referral, the entirety of every page which so much as mentioned the NSA was withheld - a stark increase over just a few years prior. Additional details are withheld on spurious grounds, such as the claim that the Bureau is prevented from disclosing the file number and the subject of the file being released, on the grounds that its disclosure "would disclose techniques and procedures for law enforcement investigations or prosecutions … [and] such disclosure could reasonably be expected to risk circumvention of the law."
As we can read with every request for information, the information became ever more inaccessible.
You can find more information at the MuckRock link- as this is a very in depth bit of detective digging..
According to documents released in CIA's CREST database, the Agency had been in touch with Maxwell's company,

Pergamon International

, about potentially using their services just days before the FBI opened a counterintelligence into them.
But that's not all!
Not to be missed is the information dating back to the 1950's- and the interest expressed, urgently, in publishing "The Journal of Nuclear Science" to be done by Maxwell's Pergamon Press, of course.
Does get one thinking about the transfer of information regarding nuclear technology, to Israel, that eventually turned Israel into a nuclear power. Attention to that fact, brought to the world by Mordecai Vanunu. Maxwell playing a role in his kidnapping.
Whew! What a rabbit hole..
How far down the rabbit hole will you dare to go?