Was there a message from Russia to Turkey in the alleged convoy strike? Given all the communication between the two countries over these many years? It couldn't be said with certainty that there was.
As stated in the previous post-
Idlib Convoy Airstrike Won't Rattle Turkish Russian Cooperation & "Chimerical "Attack in Ghouta?
How disappointed the 5/6 eyes perception managing alt and main stream media, must be?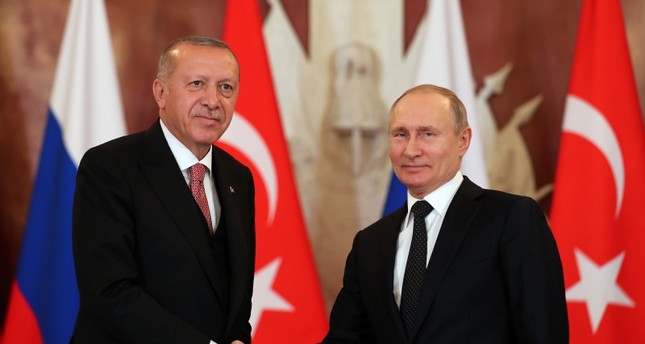 Relations continue on between Turkey and Russia. Bombs as messages? Bloody noses and black eyes aside. Diplomacy continues on, thankfully and as expected.
Putin and Erdogan discussed , today, a number of regional issues, ahead of the upcoming Astana meeting.
Diplomacy is better then death, destruction and environmental destruction. Those carbon cult believers should keep that in mind.
TASS
MOSCOW, August 23. /TASS/.

Russian President Vladimir Putin has held a telephone conversation with his Turkish counterpart Recep Tayyip Erdogan

to discuss efforts to establish a Syrian constitutional committee, the Kremlin said in a statement on Thursday.



"In light of the fifth summit of the Astana process guarantors [Russia, Iran and Turkey -

which is scheduled to take place in September,

the parties touched upon issues related to the Syria conflict, including efforts to establish and launch a Syrian constitutional committee that are being carried out by Russia, Turkey and Iran together with the United Nations," the statement reads.


According to the Kremlin press service

, the two leaders also discussed the fight against terrorism in Syria, issues facing the Middle East and bilateral cooperation.
Syrian constitutional committee
On January 30, 2018, participants in the Syrian National Dialogue Congress, held in the Russian Black Sea resort of Sochi, decided to establish a constitutional committee that would work on the country's new constitution.

The 150-member committee is supposed to include representatives of the Syrian government and opposition, as well as civil society members. Each of the three groups will hold one-third of seats in the committee.
Daily Sabah:
According to a statement by the Turkish Presidency, both leaders discussed the latest developments in Syria and Libya.

Erdogan told Putin that Assad regime attacks and violations of de-escalation deal in Idlib were causing a major humanitarian crisis and posed "very serious" threat to Turkey's national security.

Another statement by the Kremlin said both presidents agreed to "activate mutual efforts with the goal of liquidating terrorist threat" in Idlib.
Turkish FM Arrives In Lebanon to Discuss Bilateral and Regional Issues
Or Lebanese Media report
President of the Republic, General Michel Aoun, on Friday said after meeting with Turkish Foreign Minister, Mevlut Cavusoglu, in Beiteddine that many questions have been risen vis-a-vis the international community's continued disregard for the pressing return of Syrian refugees to their homeland.

"We are committed to the dignified return of Syrian refugees," Aoun said. "Those who have already returned from Lebanon have not been subjected to any sort of maltreatment or harassment," Aoun confirmed to his Turkish visitor.
Also related:
Turkish Foreign Minister Çavusouglu said on Friday that we have no besieged forces in Idlib but there are clashes between regime militia and opposition factions at a press conference with his Lebanese counterpart Gebran Bassil in Beirut, during an official visit to Lebanon.