This soon to come guerilla warfare/irregular warfare is exactly what I'd expect to occur. Hubby and I were discussing this the other day. Turkey's made a great deal of progress in a short time. Which is suggestive to me, that much like their ISIS symbiotic partners, the PKK Kurds are employing the same tactic of walking or running away. The exception being ISIS always walked away when the PKK came there way and didn't come back. That will not be the case with the Turkish or Syrian Army. There will be attacks. There is NO deal between the PKK Kurds and Damascus. So everyone will be fair game. And the US will be present and supportive through it all.

Also a reminder to readers ISIS and other destabilizing forces employed tunnels all through Syria to make their entry and take territory.

Tunnel warfare was a huge part of the destabilization of Syria. Including in the south along the border with Jordan and Israel.

Keep that thought in mind as we read about Kurds using the same tactic, in quite likely many of the same tunnels.
Foreign Policy
As Turkey continues its onslaught of northeast Syria, the Syrian Kurds are using a sophisticated network of tunnels and other battlefield tactics to recapture some of the territory seized by Turkish-backed forces, Foreign Policy has learned.

Four current and former U.S. officials who have worked closely with the Kurdish-led Syrian Democratic Forces (SDF) confirmed that the group built a defensive network of tunnels beneath key towns throughout northeast Syria as a contingency against a Turkish invasion. Now, with U.S. troops evacuating and no U.S. air support, the Kurdish fighters are successfully using the tunnels to defend the border towns.

The Kurdish fighters "are famous for developing innovative ways to fight a more advanced army," said a senior U.S. administration official, adding that "the Turks have been surprised by their effectiveness."
Not sure how the US administration official can make that assessment? He's hopeful or full of admiration, more then realistic.
Turkey has fought PKK for decades. They have a good idea what they are capable of.

In the last 24 hours, the SDF has recaptured much of the border town of Ras al-Ain and pushed Turkish proxy forces from the strategic M4 highway, which runs through northern Syria and Iraq, according to a source with the Syrian Democratic Council (SDC), the SDF's political arm. During the battle for Ras al-Ain, the SDF killed 103 fighters with the Free Syrian Army, a decentralized band of Syrian rebels with links to violent extremist groups, the source said.

Gen. Mazloum Abdi, the SDF's commander in chief, was seen in Ras al-Ain last night after it was recaptured, the SDC source said.
Tunnel Warfare. Lafarge, Terrorists and a US Military Base
An article from 2014 regarding tunnel warfare in Syria
The tunnel strategy was first seen around Damascus, the capital, and the central city of Homs
BBC covered the tunnel strategy as well
And there was quite a scandal regarding Lafarge and the supplies of cement for tunnels to ISIS. The plant located in Northern Syria now houses a US military base and supplies the PKK.
The whole US/France/ Lafarge/ISIS/Kurd connection was a news item I couldn't give good cover too. Turkish media covered it extensively because they could see the writing on the wall.
Turkey's security concerns continue as Lafarge contracts with terrorist groups in Syria remain secret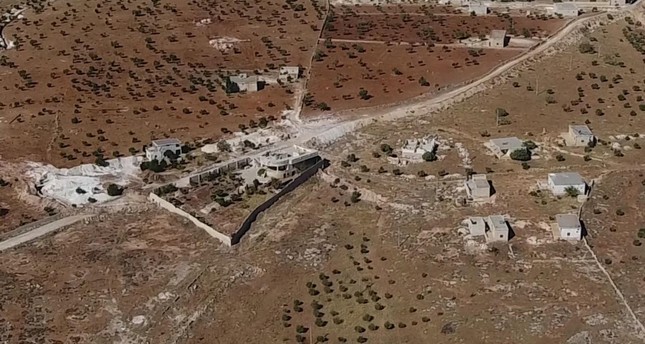 Lafarge Cement Plant in Syria
In February 2015, French cement giant Lafarge's plant in Syria was captured by the PKK's Syria affiliate YPG and later transferred to the U.S.-led coalition, including British and French forces.
The way of "doing business" for the sake of "business" reveals the influence of economic actors on a battlefield as in the case of French cement giant Lafarge, which was accused by French authorities of financing and bribing "armed groups" in Syria during its operations from 2012 to 2014 with an amount of $15 million. While company officials were charged with financing Daesh terrorists, and the plant reportedly ceased production in 2014, there are still a couple of questions that French politicians, the judiciary, Lafarge authorities and the U.S.-led coalition forces must answer. Because the cement factory in Syria was used as an infrastructural resource base by armed groups from 2012 to 2014 and recaptured by PKK's Syria affiliate the People's Protection Units (YPG) in February 2015, the secrecy haunting the current status continues to raise questions regarding Turkey's security concerns as the area is now controlled by the YPG. Accordingly, the question to be asked remains: Who or which actors have supplied and continue to supply cement for the construction of tunnels, towers and trenches in Afrin, which are used as military bases for the YPG?
DW: France's Lafarge Cement charged with crimes against humanity in Syria conflict
France's Lafarge Cement charged with crimes against humanity in Syria conflict
Cement giant Lafarge is to be investigated in France, facing charges of crimes against humanity and financing terrorists via its Syrian subsidiary. The company says it will appeal the charges.
French magistrates decided on Thursday to put cement giant Lafarge — now a part of the Franco-Swiss LafargeHolcim group — under formal investigation for complicity in crimes against humanity in the Syrian conflict.
Three judges in Paris ordered Lafarge to put up over €30 million ($35 million) as a security deposit ahead of the trial.
Lafarge's subsidiary Lafarge Cement Syria (LCS) is alleged to have paid armed groups, including the "Islamic State" (IS), through middlemen to keep a factory open in war-torn Syria.
It has also been charged with endangering the lives of former employees at the cement plant in Jalabiya, northern Syria.
Lafarge is to appeal the charges, which are the most serious against any French company in many years.
One of the plaintiffs in the case, the French rights group Sherpa, said it was the first time that a parent company anywhere in the world had been charged with complicity in crimes against humanity.
Sherpa is a Paris-based association that was set up in 2001 to protect and defend victims of economic crimes.


Former employees charged
Lafarge is alleged to have paid nearly €13 million to IS and other militant groups to keep the Jalabiya plant running, long after other French companies had pulled out of Syria.
Lafarge will be fine. They were just doing their part as a good coalition of the killing member.
The supplies of cement etc., to ISIS and the Kurds is part and parcel of doing business globally. Part of that military industrial profiteering we despise so well.