Because these protests are taking place in the heart of Shiite territory in Iraq.
Newstateman
Mass protests consisting mostly of young Shia men against corporate and state corruption, frequent power cuts, dirty water supplies and unemployment.
As with the ongoing uprisings around the world, the protests in Iraq, which have spread to all the major towns and cities of the Shia south, have no formal organisation and no identifiable leaders.

One would have to be stupid to believe there is no formal organization and no leaders- they are there. At this point in time I'd be willing to suggest some of the leadership can be found in the US military. And their friendly Sadr militia. Shia militias. Rebranded, according to wikipedia, as the Peace Company or Peace Brigades
RT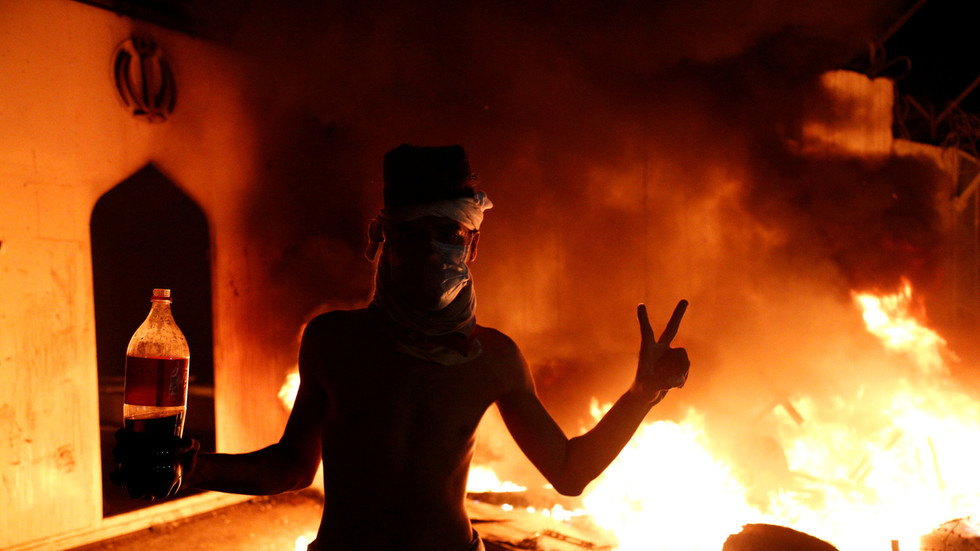 "Protesters in the Iraqi city of Najaf have stormed the Iranian consulate and burned the building to the ground. The destruction comes after two months of continuous protests in Iraq, during which 350 people have died.

A crowd of protesters lit the building ablaze on Wednesday. Diplomatic staff within managed to escape beforehand, Reuters reported. After attempting to disperse the crowd, authorities in Najaf issued a curfew.
Video footage shared on social media shows protesters cheering as the building went up in flames, smoke spewing out of the walled compound housing the consulate."
— Arab News (@arabnews) November 27, 2019
Among their many grievances, the protesters claim that Iraq's government is under the thumb of Tehran. During the past two months, these demonstrators have called for the downfall of Prime Minister Adel Abd-al-Mahdi's government, blaming the PM for widespread corruption and unemployment.
Government buildings across the country have been torched, and skirmishes between police and protesters have claimed 350 lives. With the security situation deteriorating, six people were killed and another 15 injured on Tuesday, as three explosions rocked Baghdad.
Wednesday's arson attack is not the first time protesters have targeted the Iranian government's presence in Iraq. As many as four protesters were killed by Iraqi security forces earlier this month when they stormed Iran's consulate in the Shia holy city of Karbala. The protesters in Kabala replaced the consulate's Iranian flag with an Iraqi one, and pelted the building with molotov cocktails, until police dispersed the crowd with gunfire.
Colour Revolutions cause civil strife. Turn neighbours against neighbours. And someone's looking to widen the divide.
TIME
Protesters have largely kept away from threatening Iraq's economy, but in the southern city of Basra daily closures of the two main Gulf commodities port has caused disruptions to trade activity, a port official said.
Protesters continued to cut major roads to Umm Qasr and Khor al-Zubair ports on Wednesday, reducing trade activity by 50%, according to the port official who spoke on condition of anonymity because they were not authorized to speak to reporters.