Continuing on..
The report below is gone from Epoch Times. Down the memory hole. Gee I wonder why?
Big Brother in action? Not politically correct? Too much truth?
I'd say, in my opinion, all of the above.
Fortunately I'd saved the disappeared article and more!
"Australia's current bushfires have been caused by increased fuel loads, not climate change, according to bushfire expert and leading scientist

David Packham

.
Packham, an Order of Australia recipient and former Commonwealth Scientific and Industrial Research Organization (CSIRO) bushfire expert, warned Victoria's Inspector-General for Emergency Management five years ago that "a massive bushfire disaster will occur" if the annual fuel reduction burning target of 5 percent was not doubled or tripled.
Fuel levels have since reached their most dangerous levels in thousands of years, Packham added.
Packham's prediction has proven true as Australia grapples with massive bushfires across the country. Across six states, more than 6.3 million hectares have been burned. Comparatively, around 800,000 hectares were lost during the 2018 California fires, reported the BBC.
At least 25 people have died in the fires, reported News Corp.
In an interview with 2GB's Jane Marwick in December 2018,

Packham said he was surprised to hear former fire chiefs lay the blame for Australia's devastating bushfires on climate change"
https://www.2gb.com/podcast/scientist-david-packham-on-whats-really-causing-the-bushfires/
"Anybody who knows anything about the principles, and a little bit about the science of bushfire behavior, knows that that is not the case," he said. "I can't believe that they're saying things that they didn't believe just to push a semi-religious myth about climate change."
According to Packham, fuel is the main component for a bushfire; the amount of fuel determines fire ferocity and the rate at which the fire moves. Other components include hot, dry, windy weather and ignitions.
Fuel is the main component for any fire. Not just a bush fire.
"For example it is very hot and very dry, and sometimes very windy in the center of Australia. But there's no fuel," he said. "Occasionally there is fuel after a very good year when they have a lot of rain. The next year becomes a problem in the center of Australia, and huge fires take place there, because now at last there's fuel."
Burning is the most

"economic way to control the fuel over the big areas of Australia," which was "controlled beautifully by the original inhabitants of Australia"

Packham added.
However, Associate Professor Philip Zylstra, from Wollongong University's Center for Sustainable Ecosystem Solutions, told The Sydney Morning Herald that fuel loads and state government management were not responsible for the fires as "more [burning] has been done in the past decade than in many, many decades."
Zylstra added that an increase in fuel load burning would instead blanket cities and towns with smoke and create "huge risks" of accidental property damage and mortality.




Packham told 2GB that traditional ways of burning did not involve "scorching the earth" but involved "trickling" little fires, such as over the surface, with no damage to tree crowns.
"You might do an area and might do say 70 percent of the area, so there's 30 percent of the area where the bigger animals can just go back and sit until the fire has gone through," he said.
NSW Rural Fire Service Commissioner Shane Fitzsimmons said on Jan. 8 that one impediment to hazard reduction burning was the weather.
He added that as the fire season lengthens, a "shrinking window of opportunity" exists for favorable burning periods. Fitzsimmons believes fuel burning to be "absolutely an important factor when it comes to fire management and managing fire in the landscape but it is not the panacea," reported SBS News.
Last month, New South Wales Premier Gladys Berejiklian blamed arsonists, lightning strikes, unseasonably warm weather, downed power lines, car crashes, and prolonged drought as causes of the Australian fires, reported the Australian Associated Press.
On Jan. 7, the Victorian Aboriginal Heritage Council issued a statement asking Victorians to work with Indigenous Australians in bushfire management. "We must work together with all Victorians to ensure country management is sensitive and practicable," chairperson Rodney Carter said.
Australian Prime Minister Scott Morrison said on Jan. 5 that he will meet all state leaders to discuss clearing more land and conducting more hazard reduction burns, which were "run and overseen entirely by state governments."
So, Epoch Times disappearing of the opening article could not have been due to inaccuracies. Nor was it 'fake news'. Since, the report posted below, from 2017, contains the same information. Nearly 3 years ago. David Packham was speaking very clearly about the enormous dangers of poor forest management. One has to consider that this negligence was intentional knowing full well the inevitable outcome.
David Packham February 2017 interview 'Victoria's never been in a more dangerous situation'
"The fire danger index was right through the roof. I remember saying, 'I hope I'm wrong about this'. It was clear it was going to be a monumental day."
What has happened in the eight years since Black Saturday infuriates David's scientific mind — it has been applying itself to bushfires since the 1960s when, as a chemist, he first came to understand the physics in terms of heat and mass transfer.
"I have a lot of suppressed anger about all this. But what can I do?"
He hesitates to call it paranoia. But certainly, a preoccupation. A sense of impending, preventable disaster.
"The situation is very, very serious. This state has never been in a more dangerous situation in the last 30,000 years. We are sitting, truly, on a little pile of gun powder and smoking cigarettes.
"What we are looking down is the fires that have taken place that culminated up into Black Saturday, fundamentally all the early ones which burnt about a third of the state in 2003 and 2007, all took place north of the ranges in areas where there weren't too many people exposed.
"Black Saturday exposed a few more, but not really great numbers, compared to places like say Eltham, Warrandyte where you have not a few hundred or the odd thousand but tens of thousands of people exposed."





The Packhams' house in Rosedale, in Victoria's Latrobe Valley, contains an extensive library of bushfire-related books and reports. In truth, there's little need to consult the shelves: David's memory is encyclopaedic.
In retirement, life is full. There is flying his French-made plane, the yacht docked in Paynesville, black and white photography. Not to mention the four acres of grapevines to tend.
The 77-year-old lives on 17 hectares that encompass both river flats and a patch of the last remnant rainforest for possibly 50 kilometres around. In the fern gullies, he's waging a constant battle against blackberries and wombats.
Perhaps somewhat curiously for someone so attuned to the bushfire threat, he's chosen to live directly opposite a massive pine plantation.
The forest represents an enormous fuel source that starts 75 metres from his front door and stretches for 20 to 30km in each direction.


Since Black Saturday, David has been issuing his own fire weather predictions via an email list of subscribers, a practice borne out of a sense that the public wasn't getting accurate, unfiltered information on which to base their decisions on high-risk days.


He says the official messaging has improved, but laments that bushfire policy is still far from adequate, particularly when it comes to preventative burning.
"One of the most difficult things about this issue is there is no acceptable political solution. The only solution that is going to work is to do what the Aborigines did for tens of thousands of years," he says.
"That is totally unacceptable to

urbanised

Victorians. They do not understand fire.

They do not understand the role of fire in the environment, the necessity of fire."
Urbanised dolts! And for god's sakes I'm urbanised but do understand this concept, perhaps because I spend time in the woods, foraging and gathering herbs and , oh yah, I read! Informing myself about the real world. My home. The planet that sustains me. Grrrr......
BBC: Misleading Maps on Australia's bushfires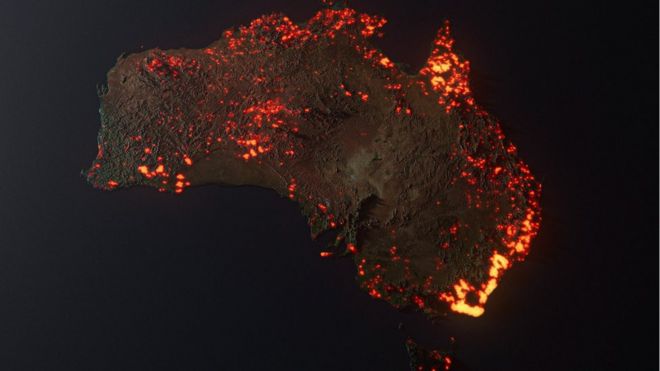 An Artists VISUALIZATION.- NOT REAL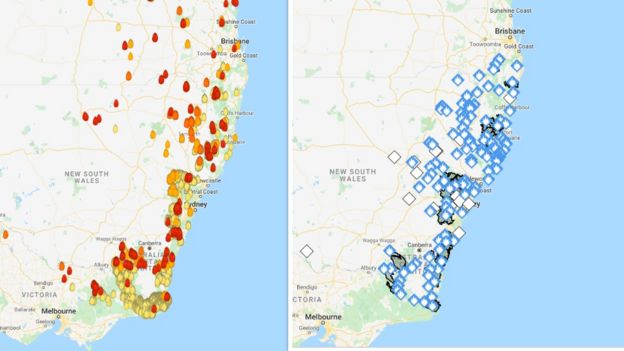 Another widely shared map of flame icons dotted across the country claims to show "all the fires burning in Australia".




It is taken from the Australian government website MyFireWatch, which uses satellite data to map heat sources.
However the data incorporates "any heat source that is hotter than its surroundings... This may include gas flares, refinery furnaces or highly reflective large industrial roofs", according to its website.
All agenda. All the time.