In June of this year the Turkish ministry of Justice had requested the extradition of Gulen. Now they are asking that he be arrested/detained until deportation.
Daily Sabah
An official request has been sent by the Justice Ministry to the U.S. on Wednesday for the provisional arrest of Fetullah Gülen, a key suspect linked to the July 15 failed coup attempt.

In June,

the ministry requested Gülen's extradition in four separate files sent to the Foreign, Interior and Justice Ministries of the U.S.
Erdogan told Biden during the US official's visit to Turkey in August that the U.S. could "at least" detain the FETÖ leader.
Gülen lives in self-imposed exile in the U.S., and state prosecutors in Turkey accuse him of leading a long-running campaign to overthrow the democratically-elected Turkish government through the infiltration of state institutions, in particular the military, police and judiciary, forming what prosecutors term a "parallel state."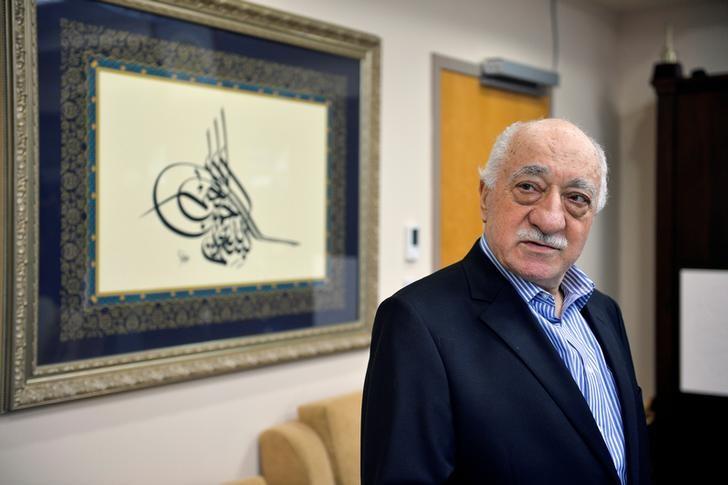 Gulen
Reuters
Turkey has made a formal request to the United States for the arrest of U.S.-based Turkish cleric Fethullah Gulen on charges of orchestrating an attempted military coup on July 15, Turkish broadcaster NTV said on Tuesday.

Turkey blames members of Gulen's religious movement for the failed putsch two months ago, in which rogue soldiers commandeered tanks and fighters jets, bombing parliament and seizing bridges in a bid to take over power.

Turkish President Tayyip Erdogan discussed the issue with U.S. President Barack Obama at the G20 summit in China earlier this month. A senior U.S. administration official said at the time that Obama had explained to Erdogan that the decision would be a legal, not a political one
August 25/2016: US needs to show solidarity with Turkey by extraditing Gulen
Given the fact that it has been over a month since the failed coup and Turkey still hasn't received any heads of state doesn't help the cause of our alliance or the social ownership of our relationship.

This perception needs to be reversed and the Turkish-American alliance should once again be put on a solid foundation. For this to happen, our American friends should understand what we have been through and what kind of a terrorist group we are facing.
The Turkish parliament, presidential complex, intelligence headquarters, and the headquarters of the Special Forces were bombed by this FETO terror cult. To put it into perspective, the United States equivalent of what has taken place in Turkey would be as follows: cultish rogue elements nestling within the state with a particular concentration in the Pentagon bombing Congress, the White House, the CIA headquarters, and special forces headquarters and killing more than 240 people and injuring over 2,000 on orders coming from the leader of terror cult who resides in a faraway country.
Turkey is seeking to do what American would have done under these circumstances: exact justice. Justice, and our alliance, requires that the US government extradite coup leader Fethullah Gulen, who resides in Pennsylvania. America should seek to understand the trauma and political psychology of the Turkish people in the aftermath of this bloody coup attempt.

As the chairman of the Turkish-American Friendship Society in the Turkish parliament, I can assure you that we are committed to this alliance. But our commitment is neither uncritical nor unconditional. This alliance requires solidarity and responsibility. Extraditing the leader of this terror cult to Turkey will prove that the American commitment to this alliance is a bedrock: this is an assurance that Turkey's society and political class at large needs to receive.
It's September 13/16. Turkey had already requested extradition (prior to the coup) today they want him arrested and detained.
Will the US give up their man to demonstrate their commitment to a NATO ally
? Or, as I have documented, have they already betrayed Turkey with the intent to destabilize that nation in order to remake the ME?
Related:
From Earlier:
Yesterday: