Breaking news
Perhaps as many as 10 dead. Possibly up to 50 injured.
Several updates already- scroll down
RT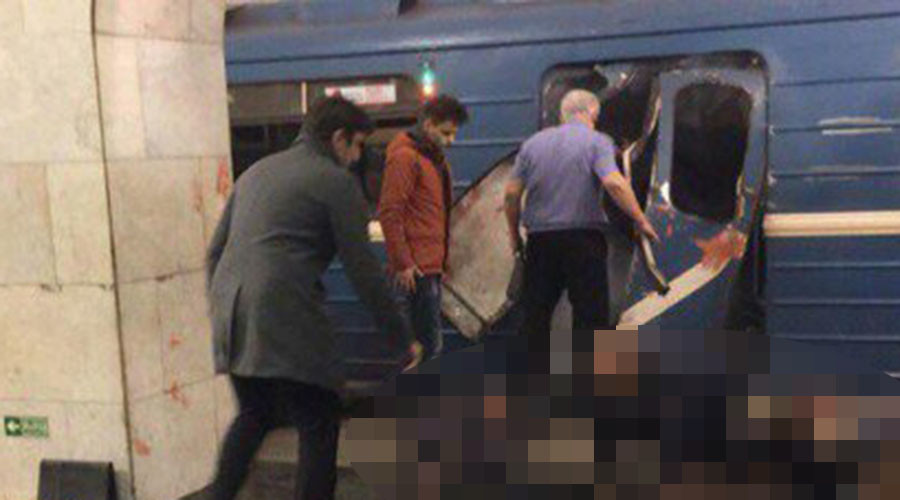 A suspected IED explosion inside a car of the St. Petersburg Metro system has resulted in casualties among passengers. The entire transit system has been shut down as bomb squads and rescuers are responding to the emergency.

The explosion happened as the train was travelling between the stations Tekhnologichesky Institut and Sennaya Ploshchad of the St. Petersburg Metro, the National Antiterrorism Committee confirmed, adding that there was an unspecified number of fatalities from the blast.
Preliminary reports indicate that some 10 people may have been killed and 20 injured in the blast, news agencies said citing sources close to the investigation.
Russian President Vladimir Putin has pledged a thorough investigation.
"The causes of this event have not been determined yet, so it's too early to talk about [possible causes]. The investigation will show. Certainly, we will consider all variants, common, criminal, first of all, of a terrorist nature," he said.
— Philipp Kireev (@mynameisphiIipp) April 3, 2017

All of the metro stations have been closed for passengers.


Some of the images show several bodies lying next to the damaged car, with blood apparently spilt on a bench.
Link for updates from RT
UPDATES Begin:
Putin was either present or going to be in St Petersburg today:
Vladimir Putin is visiting St Petersburg, as deadly explosions are reported to have injured scores of people.
The Russian president was due to meet with his Belarusian counterpart, Alexander Lukashenko, in the city when the explosions happened. It isn't clear whether Mr Putin was already in the city at the time of the blasts.
Lukashenko expressed condolences
ST. PETERSBURG, 3 April (BelTA) - Belarus President Alexander Lukashenko has expressed condolences to Russia President Vladimir Putin over the victims of an explosion in the St. Petersburg metro system, BelTA informs.
"It is awful that it happened in these moments. In such moments you always hope to avoid a worse outcome. Unfortunately, we faced such problems in Minsk," the Belarusian head of state said.
Interesting at this time very little to nearly no coverage out of US or Canada
9:26 est - Twin Blasts?
Two Russia metro blasts kill at least 10: source
MOSCOW // At least ten people have been killed in explosions that hit the St Petersburg metro system on Monday, according to a source in the Russian city's emergency services.
There were blasts in two train carriages at two metro stations, St Petersburg emergency services said.
News agency Interfax cited a source as saying at least one of the blasts involved a device filled with shrapnel. The agency also said that 20 people had been injured.
So same train, explosives in two carriages?
Update 9:37 am est
Not two blasts?
At least 10 people were killed in an explosion in St Peterburg's metro system on Monday, Russian authorities said.
The blast happened in a train in between two stations, a source in Russia's emergency services said. Russian media reported earlier that there were two blasts.
Just 1 blast, confirmed according to RT's latest - which seems about right from the earliest reports and the available footage
14:22 GMT

A self-made explosive device has been defused at another St. Petersburg Metro station – Ploshchad Vosstaniya, Russia's National Anti-Terrorism Committee said.