I'm still not feeling the warmth here in Southern Ontario, Canada- Official gardening date just two weeks away-

Can't even get the tomatoes to "harden off "

- Smaller then usual thanks to the lack of sun and heat..... Wind direction from the north east = colder then normal
Lake Erie levels, still high, above average- No heat- No sun for evaporation.
Also noticing a complete lack of spring bird babies- I should be seeing ducklings and goslings. And fierce Geese parents keeping everyone well away from their precious babies- But I'm not.
At one of the local parks, (St Johns- look it up/Pelham) there was a goose (Canada) that had a nest, sitting on her egg/s- This week we went back- No adult goose. No nest. No goslings.
I'd mentioned in the comments previously about the lost nest and egg in my front tree. NO robin babies. No mourning doves. Nothing. The cold is making it very difficult for the birds to successfully do what they do. Incubate their eggs. Raise their young.
I'm sure this is occurring elsewhere, but people aren't paying attention. Too busy staring at their hand held zombification devices to notice the real world.
Here's the same type of news in Finland:
Cold weather is keeping birds from nesting and delaying blossoming of wild berry bushes in Finland's north
The cold is being reflected in the late arrival of migratory birds. According to Jukka Jokimäki, a researcher at the University of Lapland's Arctic Centre, the institution's annual count of migratory birds is now on hold because so few have come as far north as the Arctic Circle.

"At the beginning of April it looked like we'd have an early spring, but migration has been at a standstill and is around a week and a half late. Wagtails are the only insect eaters being seen. Wading birds are missing altogether, which is understandable since all of our ponds and lakes are still covered by ice," reports Jokimäki.
btw: We were supposed to be having a "warmer then normal spring"
But, Eastern Canada — especially Ontario, Quebec and the Maritimes — can look forward to a "warmer than normal" spring.
Summer arrives in a little more then 5 weeks and were yet to see spring- Here's hopin'!
France's Top Vineyards Suffer Biggest Loss in Decades
Worst freeze since 1991 to cut Bordeaux volume by up to 40%
Champagne, Burgundy vineyards suffer for second straight year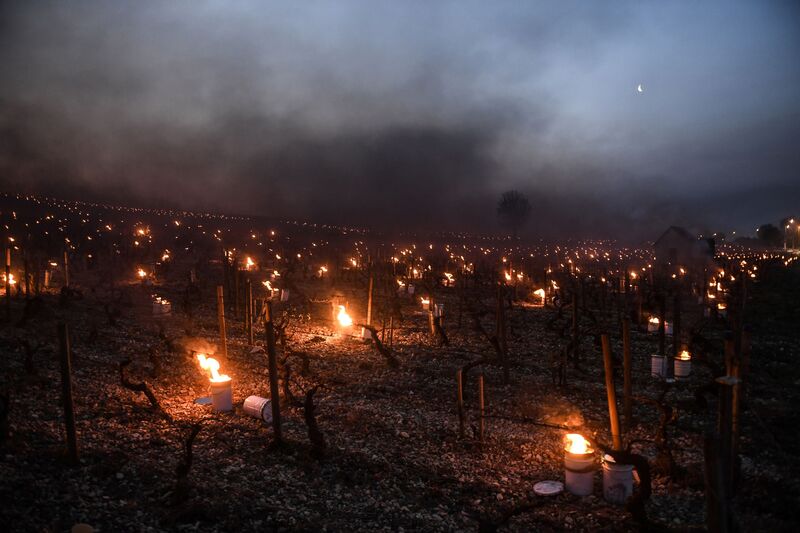 Heaters in a French vineyard in April
In the predawn hours of April 27, as temperatures across Bordeaux plunged below freezing, the normally dark and deserted vineyards suddenly sprang to life. Armies of workers decamped into the fields, fires raged and giant fans and helicopter blades whipped up the icy air.

The invading enemy: A frost that threatened one of the world's most valuable crops, the grapes that produce $4,000 bottles of Chateau Petrus and other prized wines.
The cold, which caused at least 1 billion euros ($1.1 billion) of damage in what France's winemakers call the biggest disaster in a quarter century, is the latest blow to a French industry that exported 8.25 billion euros worth of wine in 2016 but has lost share globally in recent years. As frost ravaged vineyards from Bordeaux to Burgundy to Champagne, a grower's fate depended on resources, planning, location and not least, luck.
Among the shivering workers in Bordeaux that night was Ines de Bailliencourt of Pomerol estate Chateau Gazin, who quickly realized she was facing the biggest frost menace to her vines since the great freeze of 1991 that wiped out 90 percent of the vineyard. This time she says the estate was better prepared to ward off the cold, lighting hundreds of giant, heat-producing candles to warm the vines.
Oh my god- Did those candles add carbon to the air- That carbon surley warmed everything up, right away! Not! But I'm sure the heat generated by the fires or heaters may have at least saved some crop. From the cold!
"We were lucky," said De Bailliencourt, whose family has owned Gazin for the past century and sells its wine for $50 to $100 a bottle. "We lit fires everywhere. It was a first for us."
Fires- Were they wood fires? Natural Gas? Oh no, that's carbon- We're going to fry. (me rolling eyes and being obnoxious)
Saint-Emilion
Less than 10 kilometers (6 miles) to the south, just below the historic town of Saint-Emilion, others were facing greater losses. Unlike Gazin, on the region's plateau, Chateau Canon

La Gaffeliere sits on low-lying ground near a railway line and was more vulnerable to pockets of freezing air forming below the slopes

.

More than 70 percent of the vines in the estate were damaged, according to Magali Malet-Serres, who works at the winery.





Some other Bordeaux chateaus say they lost almost everything. Other regions suffered less but this is the second straight year of deep freezes for Burgundy

, where the regional wine board said in a statement that 3,000 hectares (7,400 acres) of vineyard out of a total of 28,500 hectares was affected.
Frost affected as much as 60 percent of the Bordeaux wine-growing areas and will cut volume of the 2017 vintage by as much as 40 percent

, according to the Bordeaux wine federation FGVB. That means at least 1 billion euros in lost production from that region alone, out of normal annual revenue of 3.5 billion to 4 billion euros, the organization said.
1945, 1961
Bordeaux vintners were quick to note that great years like 1945 and 1961 were also hit by frost, with the surviving grapes ripening to perfection. The prospect of tighter supply could fuel demand for the region's lauded 2016 vintage, just as the annual "en primeur" sale of futures gets under way.

In Champagne, as much as one-quarter of vines owned by the region's 15,000 growers might be damaged, according to the industry's trade body in the U.K. Because most Champagne is a blend of vintages, houses such as Laurent Perrier and LVMH-owned Moet & Chandon can tap into the equivalent of 200 million bottles kept in reserve tanks, along with a further 1.3 billion bottles aging in cellars. Producers say that will tide them over for now, but if the run of bad luck continues next year, shortages will appear.

While France was most affected, April's frost damage spread across much of wine-producing Europe, damaging the vineyards that produce riesling in Germany, sparkling wine in southern England and Prosecco in northern Italy. Some Mediterranean regions were spared, though the cold also killed off apples, cherries and other crops.
So that's wide spread cold, then?
"It's a frost like we haven't seen since 1991," said Paul-Francois Vranken, chief executive officer of Vranken-Pommery Monopole SA. "We're worried."



In France's Burgundy, growers were well-organized after a deep frost last year.

This time around, when the forecasts predicted another freeze, they arranged a text-message chain and delivered hay bales to strategic spots. Beaune-based grower and merchant Alex Gambal woke at 5 a.m. on April 29 to clear skies and plunging temperatures. By 6:45 a.m., he said, bonfires created a purple haze across the vineyards.
"It was all hands on deck," Gambal said. "Some of the old-timers compared it to 1957 and 1981.

But a lot of them said they had never seen anything like it."
My neighbours to the south east:
Vortex to bring episodes of chilly air, frost to northeastern US into next week
The weather pattern responsible for unseasonably chilly conditions, and in some cases frost, will continue over the northeastern United States into part of next week.
People with outdoor plans will have to deal with conditions more typical of early April or March for an extended period. Jackets, long sleeves and blankets will continue to be put to use.