But what? And to whom did it belong?
North Cyprus is the location of the Turkish enclave on Cyprus
Not certain what specifically to call this area?
Remember Cyprus is divided between Greek/Turkish and British influence, claims and interests.
Bear in mind this locale ties into the Eastern Mediterranean Gas situation written about most recently...
Gas Heats the Eastern Mediterranean
and Mediterranean Hot Zone- Danger Abounds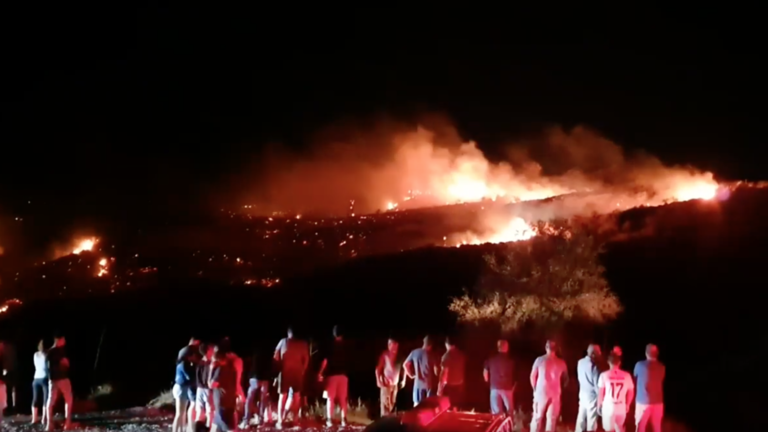 Clip from video available at RT
RT
An unidentified object crashed and exploded in Northern Cyprus at the same time as Israeli jets were carrying out overnight strikes on Syria. Local authorities believe it could have been a misfired missile or a downed combat jet.

A massive explosion rocked the breakaway Turkish Republic of Northern Cyprus on Sunday night, causing a large fire early on Monday. The blast occurred in the Tashkent area, some 20km from Nicosia, and was heard for many miles around.

Footage from the scene shows an intense blaze and much debris scattered throughout the area. Local authorities immediately started investigating the crash but ruled out that the wreckage was that of a Northern Cypriot aircraft.
As the day progressed, government officials "hinted at not something stemming from our soil." It could have been caused by "one of the bad sides of the war in the region falling into our country,"said Mustafa Akinci, the Turkish Cypriot leader.
Kudret Ozersay, the foreign minister, was more specific with his guesses. "

Initial findings indicate the object that caused the explosion was either an aircraft carrying explosives or a direct explosive [missile],"

he wrote on Twitter.

— ELINT News (@ELINTNews) July 1, 2019
Notably, local residents told Cypriot media that they had witnessed a light in the sky, followed by three loud explosions.
The incident happened shortly after Syrian air defenses were activated to repel an air raid that Damascus blamed on Israel. According to state media, at least three soldiers were killed and seven others were wounded in two consecutive attacks on the Damascus and eastern Quneitra countryside, even though the Syrian air defenses reportedly managed to intercept most of the Israeli projectiles.
Social media users immediately rushed to analyze the blurry videos and pictures, coming up with various explanations and wild guesses.
— T-VINE Magazine (@1TVINE) July 1, 2019


Haven't a clue what happened and at this time, there is not enough information to make any intelligent speculations..
Although the Guardian is reporting..
Missile from Syria-Israel clash lands in Cyprus
Surveying the area
A missile has landed on the side of a mountain in Cyprus in what officials say could be a spillover of an Israeli strike on Syria and a counter response.
The impact occurred at about 1am (10pm GMT) in the area of Taşkent, also known as Vouno, 12 miles (20km) north-east of Nicosia, with the explosion setting hills ablaze and being heard for miles around. There were no casualties.
An Israeli airstrike was under way against Syria at the time. Syrian state media said the country's air defences had fired in response to the attack.
Cyprus is west of Syria. Israeli warplanes fired missiles targeting Syrian military positions in Homs – about 193 miles from Nicosia – and the Damascus outskirts overnight in an attack that killed at least four civilians and wounded another 21.
More at the Guardian link