As they were when it was ISIS in Syria's northeast- so they are now that it is the PKK.
Indeeed the US has been involved all along with the theft of Syria's oil. Alongside their Kurdish majority proxies, same as before.
Newsweek: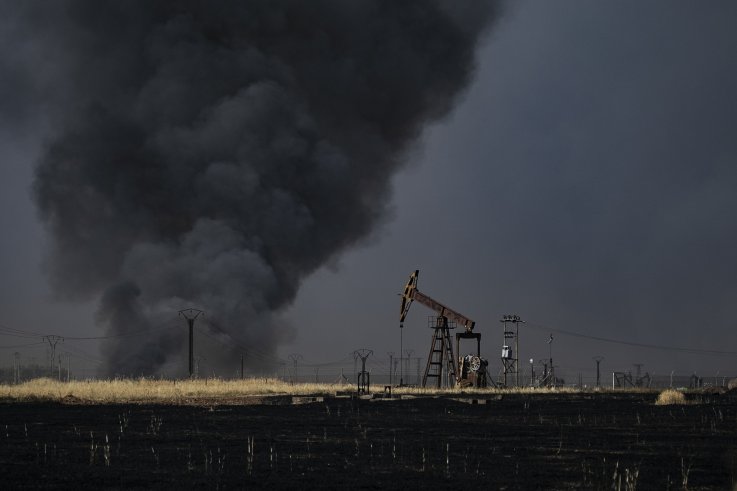 Smoke from a blaze rises next to an oil well in an agricultural field in the town of Al-Qahtaniyah, in the northeastern Al-Hasakeh province near the Syrian-Turkish border, June 10
"A senior Russian military official has accused the United States of stealing oil from parts of Syria held by allied insurgents and of using the revenue to sabotage the war-torn country's government.
Colonel-General Sergei Rudskoi, chief of the Main Operations Directorate of the Russian military's general staff, told reporters Monday that the U.S. has mobilized about 2,700 "militants" in a 34-mile, self-styled deconfliction zone near the southeastern border crossing of Al-Tanf.
He said these insurgents, including those from Maghawir al-Thawra and the Army of Free Tribes, were being transferred from Al-Tanf via U.S. Air Force helicopters in order to conduct "sabotage, the destruction of oil and gas infrastructure and commit terrorist attacks against government forces" in areas such as Al-Sweida, Palmyra and Al-Bukamal.
"Aside from training militants, the U.S. structures in Syria are involved in plundering oil facilities and deposits in the area across the Euphrates that belongs to the legitimate Syrian government. Lately, U.S. private military companies have been observed to actively beef up their personnel. Today, the mercenaries of the private military companies in Syria exceed 3,500 people," Rudskoi claimed.
He argued that these companies had "organized the production and sale of Syrian oil from the Conaco, Al-Omar and Tanak oilfields located east of the Euphrates River" as part of "a criminal scheme" to "loot the national wealth of Syria."
Much of these proceeds were said to be "spent on maintaining illegal armed groups, bribing the sheiks of Arab tribal unions and fomenting anti-government sentiments."
Rudskoi claimed Monday that the alleged U.S. private military company operations in Syria were being "carried out under the guise of aviation of the international antiterrorist coalition" and "represents a smuggling business taken by the Americans from ISIS."
He said "the continued supply of arms and military equipment by the United States to the eastern bank of the Euphrates also causes considerable concern" as, "in exchange for assistance in oil smuggling, the United States is 'beefing' up both Kurdish and Arab formations with arms, and they subsequently use them against each other."
Rudskoi warned that this was "only exacerbating the situation in the war-torn region" where some tensions have built up between the U.S.-backed, predominantly Kurdish administration and majority-Arab population. Washington officials have repeatedly stated that they wished to respect Syria's territorial integrity, but Assad — whose own oil industry was sanctioned by the U.S. and its allies over alleged war crimes — has warned that he would retake Syrian Democratic Forces-held areas by force if they were not handed over through dialogue."
From earlier today:
A little more on that report
"Turkey has twelve "observation points" in Idlib.

(As does Russia and Iran)
Al-Nusra has previously accused Turkey of having supplied Russia with the coordinates for attacks on its commanders and their close-by armed groups.
In the framework of agreements with Russia,

Turkey has contributed to the Syrian regime gaining control over cities such as Aleppo, Dara and East Ghouta, in which armed groups were strongly present."