Considering multiple scenarios about the Saudi attack while not discounting the possibility the Houthi fighters may have pulled this off. Maybe? However, Saudi Arabia employs some very stringent security around it's facilities. So questions have to be asked.
Link
"After the smoke clears and markets calm down, the technological sophistication and audacity of Saturday's attack will linger over the energy market"
This bothers me a bit... Technological sophistication and audacity.
Ottawa Citizen
"The Houthis' military spokesman, without providing evidence, said drones hit refineries at both Saudi sites, which are more than 1,000 km (621 miles) from the Yemeni capital Sanaa, and pledged a widening of assaults against Saudi Arabia."
More then 1000 km's and no one noticed? Did the drones originate somewhere closer? Possibly and we'll cover that information in short order. Briefly, speaking "preliminary reporting" indicates the attacks originated much closer to these oil facilities in Saudi Arabia...
If that is the case how did these attacks go unnoticed from the suspected closer location?
Russia doesn't miss when drones attack their base in Syria. How could Saudi Arabia?
There is stringent security present around these facilities! How did they not see the drones?
How did the American military miss the drones flying in from more then 1000 kms away?
The American military is based in Saudi Arabia alongside Saudi forces. Possibly near the oil facilities? How did the drones get past them?
Thinking, also, about the fact that the US provides Saudi Arabia with intelligence for the attacks on Yemen... how did they miss the drones? With their eyes in the skies? And everywhere else?
Just putting it out there as a possibility.. ARAMACO"s long awaited IPO is set to launch. In as little as 6 weeks. And oil prices are set to rise based on this attack taking place, despite the fact that Saudi Arabia got the situation under control very quickly.
About the attacks originating closer to the facilities.... "preliminary reporting" says the drones originated from Iraq.
CNN
"Preliminary indications are that the attacks likely originated from Iraq, a source with knowledge of the incident told CNN. Iran wields significant influence in

southern Iraq, which is situated much closer than Yemen to the affected Saudi sites."
VOA
Reports have the drones coming from Iraq. Not from Yemen. Looking at the map and distance these drones would have to cross over vast swathes of Saudi Territory it's seems less likely the drones did originate in Yemen. Iraq is interesting to consider as the launching location for these drone attacks, but, again, how would the US have missed these launches taking place in Iraq? Since the US pretty much rules Iraq?
Drones not likely launched in Yemen
Hilal Khashan, who teaches political science at the American University of Beirut, told VOA that he suspects the drones may not have been launched from inside Yemen because the Houthis don't have drones capable of flying as far as Saudi Arabia's eastern province.
Iraq as the launch point for the drones is surely being pushed to blame Iran and justify the continued occupation by the US in that area, yet,

the US already has an out sized influential role in Iraq...

Again, how would these drones have gone unnoticed?
"OIL RESERVES



Aramco, the world's biggest oil company,

had in 2017 liquids reserves of 260.2 billion barrels of oil equivalent, which are larger than the combined reserves of Exxon Mobil Corp, Chevron Corp, Royal Dutch Shell Plc, BP Plc and Total SA, and which have an estimated reserve life of 54 years."
Guardian
"Saudi Aramco is preparing for what Saudi Arabia hopes will be the world's largest-ever public listing and the fuel for crown prince Mohammad bin Salman's ambitious plan to transform the Saudi economy by 2030.



But

achieving the $2tn evaluation it hopes for will require the market to shrug off concerns about weakening long-term demand for the fossil fuel, as well as the ongoing US-China trade war

and the prospect of a global economic slowdown."
Keeping in mind: Saudi Arabia largely supplies Asia. China and India are two of their biggest markets
Bloomberg
"It's been at least three years in the making, but it's just dawned on investors what a share sale by Saudi Aramco would do to the Arab world's biggest stock exchange.

The Tadawul All Share Index almost wiped out this year's gains after the kingdom picked banks for the sale, spurring market players to realize the initial public offering really is happening. The energy giant could list as soon as November, a person with knowledge of the matter said.

"All local index constituencies should suffer outflows," said Slava Breusov, a senior analyst with the emerging and frontier equities team at AllianceBernstein in New York.

The IPO is part of Crown Prince Mohammed bin Salman's efforts to modernize the economy and diversify the nation's revenue from oil, including turning the bourse into a gateway for foreign investment. The kingdom spent years relaxing rules for foreign traders and aligning its market with global peers, culminating in its inclusion in MSCI Inc. and FTSE Russell's developing-nations equity benchmarks."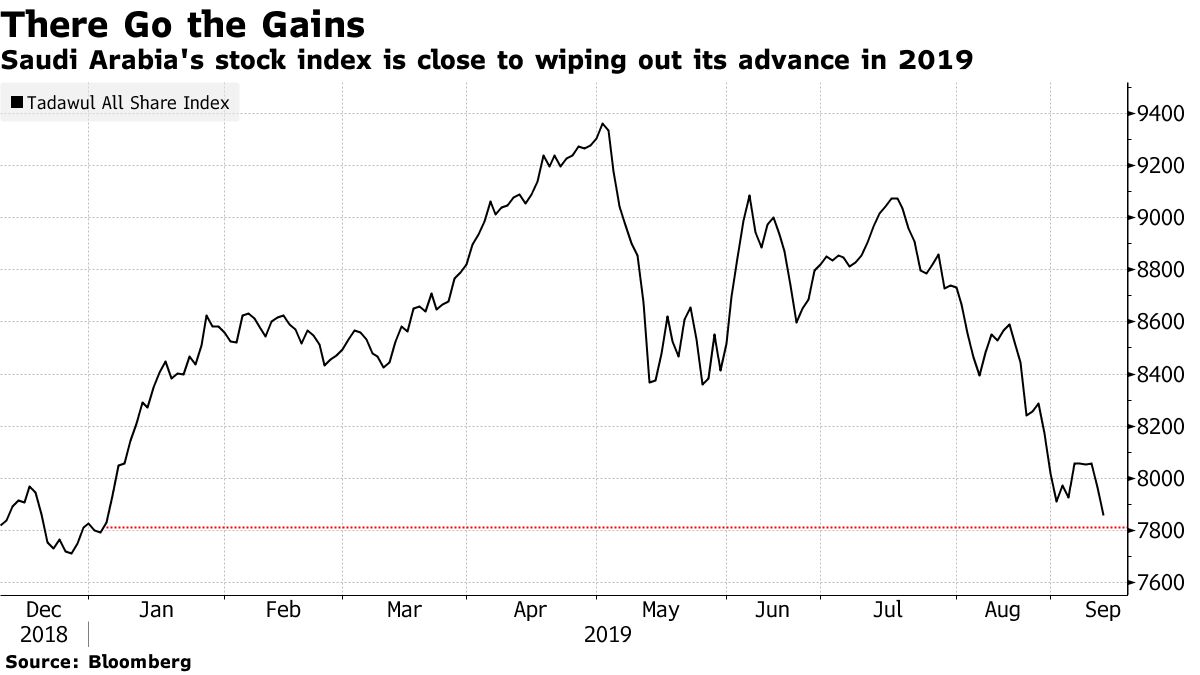 The world's most profitable company is planning a listing in Riyadh, and potentially another internationally. The energy giant is considering first selling around a 1% stake through a listing on the Saudi stock exchange, with the possibility of offering another 1% on the local bourse at a later date, one person with knowledge of the matter said.

"Barring some sort of liquidity injection by the Saudi government, I would expect an Aramco local listing to be a drain on the rest of the market as Aramco's behemoth size crowds out other local investments," said Adam Choppin, an investment officer at FIS Group in Philadelphia.
What It's Worth

Prince Mohammed in 2016 valued Aramco at about $2 trillion, which means floating 1% would be valued at about $20 billion. That would account for about 4% of the market. To be sure, Bloomberg Intelligence values Aramco at $1.1 trillion because of the likelihood that Saudi Arabia will need to limit its output, and other analysts have said about $1.5 trillion. Brent crude at about $60 a barrel isn't enough to fund the the kingdom's budget, which needs prices at $80 a barrel or more.

But even if Aramco's worth is lower than the kingdom's estimates, it would still dwarf other equities. Its profit in the first half of the year was more than four times the combined earnings of 170 Saudi publicly traded companies that reported earnings, according to data compiled by Bloomberg.
More Than Four Times Bigger
Aramco's profit dwarfs combined figure for listed Saudi companies in 1H
*Includes 170 Saudi companies that reported earnings for the fiscal first half of 2019, excludes REITs
And assuming the company's valuation is about $1.5 trillion, a 1% listing would put Aramco at 5.2% of the main stock index, according to Mohamad Al Hajj, an equities strategist at EFG-Hermes in Dubai. That would dilute the dominance of other market heavyweights, such as Al Rajhi Bank, which currently accounts for 15% of the index. The equity would receive roughly $1.9 billion in inflows from MSCI and FTSE passive trackers alone, almost a tenth of total foreign inflows into the Saudi bourse so far this year.
Considering the size of Aramco's IPO and its expected weight in indexes, the company will have a significant effect not only on the local gauge, but also on global indexes," said Alliance Bernstein's Breusov.