Putin and Erdogan Meet 11:00 am Moscow Time
Putin expressed his condolences for the loss of Turkish soldiers.
Syria army has suffered major losses
Diplomacy necessary- Putin does not want relations between Turkey and Russia damaged. Is aware Erdogan is of the same mind
Turkish-Russian ties in defense & trade at highest level, Erdogan says as he meets Putin
Kremlin.ru
President of Russia Vladimir Putin: Good afternoon, Mr President.
Thank you for coming to Russia. As usual, we have things to discuss. The situation in the Idlib zone in Syria has deteriorated so much that we need to have a direct and personal discussion.
First of all, I would like to express our sincere condolences over the death of your military personnel in Syria. Loss of life is always a big tragedy.
Regrettably, as I have told you by telephone, nobody, including the Syrian military, was aware of your troops' location. At the same time, there were casualties among Syrian servicemen as well. The Syrian army reported major losses.
Therefore, we need to discuss everything and analyse the current developments so that, first, this does not happen again and, second, that this does not damage Russian-Turkish relations, which I know that you value as well.
As you requested, we are ready to begin our talks one-on-one, and then our colleagues, who are with us in this room, will join us, if necessary.
Once again, welcome to Moscow.
President of Turkey Recep Tayyip Erdogan (retranslated): Yes, Mr President, I would like to also thank you for your welcome.
As you know, we were going to hold this meeting in Turkey but due to your ongoing work on constitutional amendments, we decided to accept your invitation and come here. Certainly, this meeting on Idlib talks is very important.
The situation in Idlib is indeed very tense. I know that the entire world is watching us today and I think that the action and decisions we take today will definitely have a mitigating effect.
This is a time when the relations between our countries have indeed reached a peak. Of course, this concerns the defence industry, trade and other areas; they continue developing.
We believe and say that we need to make progress in this area. In fact, this is our biggest task, to move forward and develop our relations. I believe we will succeed.
Once again, I would like to thank you for your welcome.
-Meeting started off one on one as of approx 11:30 am (Moscow Time) With delegate inclusion to follow.
- Two hours have passed and talks continue
- Three hours have now passed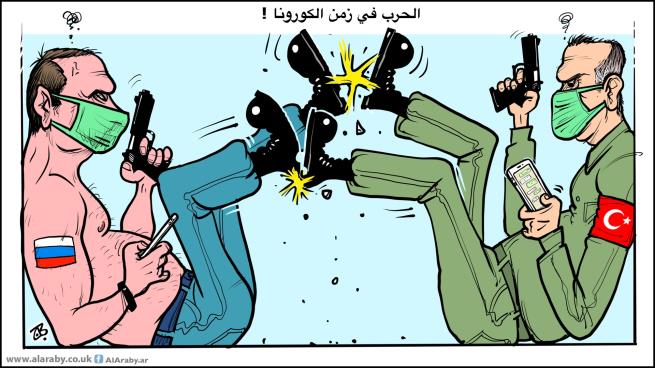 Playing Footsies??
From earlier today:
Erdogan And Putin Begin Summit- Ceasefire and Refugee Zone As Outcomes?
Yesterday: Assad's Rhetoric Change In Advance Of Turkish/ Russian Meeting?
Check back for updates!
The talks between Russian President Vladimir Putin and Turkish President Recep Tayyip Erdoğan continue for already 5 hours. ARMENPRESS reports, citing "Ria Novosti", first the two leaders had a private conversation, later members of the delegations joined them.
The main topic of the talks is the escalation of situation in Syria's Idlib.
Russian President Vladimir Putin and his Turkish counterpart Recep Tayyip Erdogan can make statements for the media after the talks in the Kremlin, Russian Presidential Spokesman Dmitry Peskov told TASS.

"We do not rule out such an opportunity," he said responding to a question on the issue.
The Russian-Turkish negotiations have been going on for nearly five hours now. The two presidents had a face-to-face meeting and were later joined by the delegations. The talks were initially expected to last four hours. The meeting has thus been going on longer than planned.