Insanity: Doing the same thing over and over while expecting different results.
If the justification of lockdowns is truly reducing covid positive tests, though this tactic has been demonstrated to be a loser, the question that begs asking, if one is sentient, becomes what is the real reason for this latest round of lock downs? Across Europe. In parts of Canada. What's the point?

Was lockdown sold on a LIE? Oxford scientist says Covid infections - and 'in effect' deaths – are 'flatlining' and the '4,000 deaths' graph used to justify restrictions has 'proven to be incorrect'

Carl Heneghan said mathematically the graph should not have been used to justify the new lockdown curbs
Professor Heneghan
The professor also told how coronavirus hospital admissions, cases and 'in effect' deaths are flatlining in UK
It comes as Sir Patrick Vallance and Prof Chris Whitty face questions from MPs over the 4,000 deaths figure
Meanwhile Britain yesterday recorded its lowest number of daily coronavirus infections in fortnight - 18,950
Coronavirus infections and hospital admissions are already 'flatlining' and graphs that the Government used to justify England's second lockdown were misleading with one 'proven to be incorrect', an Oxford expert claimed today.


Professor Carl Heneghan, from the university's Centre for Evidence-Based Medicine, has again hit out at the 'out-dated' estimates used by Boris Johnson and his top scientific and medical advisers to drag England into another national shutdown in the dreary TV briefing on Saturday night.
One, which suggested there could be up to 4,000 deaths per day by December, was 'mathematically incorrect' and should not have been used, he said.

Professor Heneghan, who has been an outspoken critic of the Government's lockdown strategy, said that trends in the country's epidemic have changed in recent weeks and stopped accelerating. Although deaths will continue to rise for weeks because of infections that have already happened, he said they would slow down accordingly.

Meanwhile, Britain yesterday recorded its lowest number of daily Covid infections for a fortnight on the same day Boris Johnson desperately tried to convince Tory MPs to back a draconian second lockdown.

Insanity reigns supreme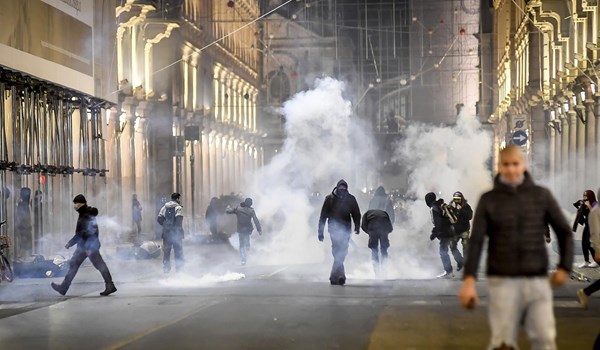 But the measures are stirring resistance, not just among libertarians who see them as an assault on personal freedom and conspiracy theorists who say the virus is a hoax, but from business owners and independent workers worried for their future.
The protests suggest mounting dissatisfaction with governments' responses to the pandemic and, amid a growing realisation that it will last for some time yet, alarm at the economic consequences even in countries such as Germany and France, where generous economic safety nets are functioning relatively well.
Italy, one of the hardest-hit EU countries this spring, has been the scene of violent protests for more than a week as the government brought in new measures including closing cinemas and theatres and ordering bars and restaurants to shut at 6pm.

There have been skirmishes between police and protesters in Florence and other cities, including Rome, Naples, Turin and Bologna, with clashes between riot officers firing teargas and demonstrators hurling Molotov cocktails, bottles and rocks and overturning bins.

The government is working towards yet tougher measures that could include a national 9pm curfew, a ban on inter-regional travel and the closure of shopping malls at weekends to try to slow an alarming rise in daily infections.