Oddly enough I was the only independent thinking, alternative blogger that saw this cooperation as a possibility.
"-Possible Outcomes?

1- Western Imperial Powers will Recognize "Artsakh" Talked about this here previously. This move will certainly set the region alight!

2- Turkey and Russia will send peace keepers in. The issue of territory will be settled once and for all. The same type of cooperation as we see in Syria. Iran may participate as well.

An Astana 2.0 if you like?"
Too much irrationality. Too much bias, dare I say racism? Hatred? Not sure. On the part of alleged objective, independent thinkers. That's how it appears.
Speaking for myself. I'm preferring diplomacy to blood letting. Turkey and Russia cooperating keeps NATO off kilter on one hand, while balancing international/global affairs on the other.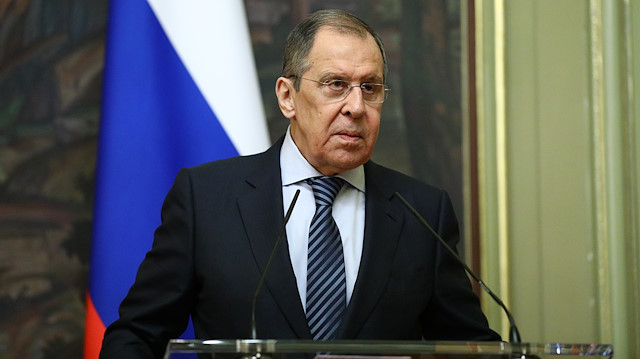 Sergey Lavrov

Russia and Turkey have a common objective in the Upper Karabakh region to monitor the peace deal between Azerbaijan and Armenia that ended weeks of armed conflict, Russia's foreign minister said on Thursday.
"We agreed with our Turkish partners to establish an observation center on the territory of Azerbaijan, which will not be located near the conflict zone," Sergey Lavrov told a news conference.
Responding to a question by an Anadolu Agency reporter on Turkey's efforts for ending the conflict through diplomacy, he noted that Turkish President Recep Tayyip Erdogan and Russian President Vladimir Putin have held several phone calls and share similar views on the issue.

He said Moscow will continue cooperating with Ankara in other areas, including Syria, adding that they were interested in solving problems at their borders and across the world.

Turkey's Foreign Minister Mevlut Cavusoglu said earlier on Thursday that Ankara will play an equally important role as Moscow in monitoring the peace deal through the peacekeeping center in Upper Karabakh.

A memorandum of understanding (MoU) setting up a joint Turkish-Russian center to monitor the peace deal was signed on Wednesday morning.
As some Armenians vacate the occupied territories they are burning homes, schools etc.
Macron and Pashinian talk
"French President Macron says ready to assist in Nagorno-Karabakh conflict settlement
The presidential press office reported in a statement early on Friday that President Macron held a telephone conversation with Armenian Prime Minister Nikol Pashinyan

Macron's ready to assist now? Where was he before? Making trouble that's where he was.
I trust Macron the least of nearly every political leader. Save for Trudeau and Chrystia Freeland. Macron is more meglomaniacal and duplicitous then Erdogan could ever aspire to be. Through my media based observations I find Erdogan, like Putin, more diplomacy oriented. The are both very pragmatic leaders.

Macron has enjoyed an incredible free pass from the main stream and alternative media! He doesn't deserve that level of obfuscation delivered on his behalf.
The role of a Macron led France in the destruction of Syria, gets a free pass, though France shares no border with Syria. Unlike Turkey, which does mean they do have legitimate border/territorial security concerns. France does not. Then there was the whole sale destruction of Libya, brought on by a Sarkozy led by France (Turkey was not involved) What's with that so called anti empire media? Why the free pass for France? Speaking of Libya the love affair the alt media has with Haftar is incredible. Incredibly disturbing that is.