Continuing on with some interesting reads regarding Armenia/Azerbaijan and Nagarno Karabakh............. More on Pipelines, Strategic Energy Corridors etc.,
Part 2 begins..

Not guaranteed, but, definitely a possibility. And one that has been discussed time and time again here.

These latest clashes may have unleashed a dangerous new geopolitical dynamic: heavy weapons fire near strategic transportation assets, military posturing between Russia and Turkey,

(haven't seen any yet?)

and lack of an appropriate mediation mechanism.

(A mediation mechanism exists)

In the absence of US or EU leadership, it may be up to Turkey and Russia to redirect Azerbaijan and Armenia away from the battlefield and toward the negotiating table.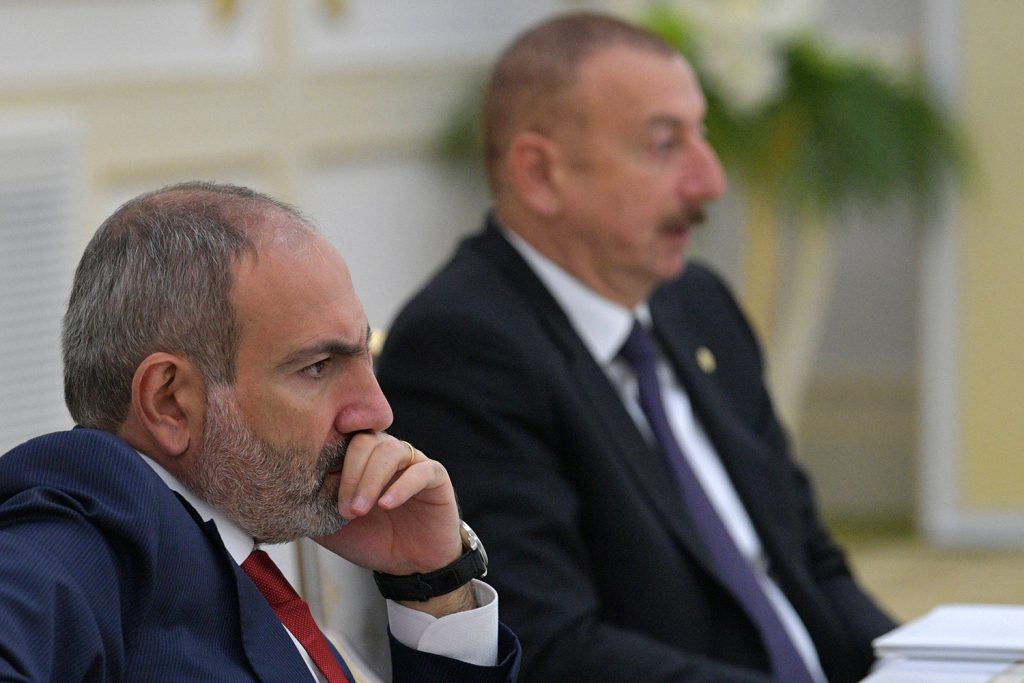 Pashinian and Aliev

This article goes back to an incident that took place in July of this year, covered in this report: What Armenia Won't Mention About Nagorno Karabakh & It's Occupation- Information Wars and more After reading a number of articles, it seems most likely to me that Armenia attacked the Azerbaijani soldiers on patrol. (An ambush comes to mind) This action resulted in aforementioned mass protests taking place in Azerbaijan. What we're focusing on is the location this incident took place, which is not near Nagorno Kharabak. We're focusing on Tovuz. And the incentive for Armenia to start trouble there. Hint: Financial and geo political damage to Azerbaijan.

Tovuz is different. It is one of the

last places

Baku would want to see fighting because it lies directly on strategic transportation lines that are essential to Azerbaijan's independence, economic vitality, and strategic significance.
These are the:

Baku-Tbilisi-Ceyhan and Baku-Supsa oil pipelines, delivering primarily Azerbaijani crude oil to Mediterranean and Black Sea ports (respectively);

South Caucasus natural gas pipeline, a key element of the EU's Southern Corridor that will soon pump Azerbaijani gas to the EU via Georgia and Turkey;

Azerbaijan-Georgia highway, part of Europe's second-longest road project, the E60, which connects France's Atlantic coast to Kyrgyzstan-China border;

Kars-Tbilisi railroad, providing similar strategic connectivity; and

Fiberoptic cables linking Europe with Central Asia and beyond.

This infrastructure is also strategically important to the United States and NATO. Washington has promoted these oil/gas pipelines for twenty-five years to help its European allies reduce their dependence on Russia, while also avoiding Iran. Meanwhile, the road and rail lines and airspace above comprise a crucial US logistics channel into Afghanistan, enabling one-third of all non-lethal supplies to NATO troops at the height of the Afghan war. And by providing alternatives to China's Belt and Road Initiative, these transit links can also help the countries of Central Asia and the South Caucasus maintain their own financial independence.

Washington is fickle.

It may therefore fall to Ankara and Moscow to fill a diplomatic vacuum and convince their respective allies to return to the negotiating table. Despite sharp differences with Russia and Turkey on many fronts, the United States and its European allies would be wise to encourage and shape such a forum. The alternative could be a mutual escalation of emotions and military tension between Azerbaijan and Armenia. While neither Armenia nor Azerbaijan could sustain a full-scale war, even a more limited armed conflict could knock out strategic assets on which NATO and the EU depend. The only beneficiaries would be Russia, Iran, and perhaps China and its Belt and Road Initiative.
Their have been attempted colour revolutions in Azerbaijan. Colour revolutions are always an option for change. Armenians should be aware of that! Colour revolutions. Coup attempts. Assassination. What ever it takes to get the job done for the globalist monopolistic interests. So far Aliyev has hung on to his position.
Reports on earlier colour revolution attempts in Azerbaijan:
It won't be difficult to find additional information should you be so inclined

The piece below from the MEI suggests that Russian and Turkish involvement would be a recipe for long term instability. That's subjective. How is the concept of instability being used? The general tone is anti Russian.

Russia is also Azerbaijan's largest trading partner within the CIS and the Caspian and the third largest global trading partner after Italy and Turkey. Russian officials won't say it, but Azerbaijan, with its vast energy resources and a more diversified foreign policy is also a bigger prize for Moscow. In addition, Moscow was unpleasantly surprised in 2018 by the peaceful anti-corruption Velvet Revolution in Armenia and in the immediate aftermath edged closer to Azerbaijan, even as it retained deep ties to Armenia. Currently, Moscow's delayed reaction may be partly motivated by a desire to punish current Armenian Prime Minister Nikol Pashinyan who led the Velvet Revolution.
For those of you who just don't get, can't grasp the idea that Russia is not solely and only 'wedded' to Armenia. . Please remove head from sand. Or run along and read at other places that deliver to and reinforce all your preconceived notions and illusory truths

Azerbaijan's Armed Forces have performed a slow but steady deep flanking maneuver in the valley of the Aras River, north of the Iranian border, defeating the opposing Armenian forces and repelling attempted Armenian counterattacks to cut off the advancing armor pincer (see EDM, October 19). Azerbaijani military units have bypassed the main Armenian defense fortifications and now may attack the heart of "Artsakh" (Armenian name for Karabakh) from the unfortified rear. Azerbaijani armor is in the vicinity of Lachin, a strategic town on the main supply road from Armenia proper to Karabakh. The Yerevan-backed separatist Karabakh leader, Arayik Harutyunyan, has announced that Azerbaijani forces are only five kilometers from Shusha and called for "everyone" to defend the city: "Who controls Shusha controls Karabakh" (Interfax, October 29). Armenian defenses and morale may be collapsing. The Karabakh cause could be lost; and with it may fall Pashinyan, seen in Moscow as a Western "stooge" (see EDM, October 8). If that was, indeed, one of the Kremlin's key strategic objectives, Russian efforts to impose an overall ceasefire might suddenly become more effective once the Armenian prime minister is replaced.
We've entertained the idea of Russia sitting on the sidelines, more then once, since Pashinian has repeatedly shown himself to be lacking in diplomatic skills, with no real desire to compromise and settle this issue. Despite Russia working for years at trying to accomplish just that.
Energy, as well as general transit and transportation, are important contexts of the current escalation of the Nagorno-Karabakh conflict.

Currently, the key transit energy infrastructure elements with international significance include two oil pipelines connecting oil-producing fields in the Azerbaijani section of the Caspian Sea to the Georgian Black Sea port of Supsa and the Turkish Mediterranean port of Ceyhan: the smaller, 100,000 barrel per day capacity Baku-Supsa pipeline, and the larger, million-barrel capacity Baku-Tbilisi-Ceyhan (BTC) pipeline. At present, around 700,000 barrels of oil flows through these two pipelines, supplying crude oil to Turkish, Israeli, and other Mediterranean refineries. The BTC pipeline currently carries mainly crude oil from ACG fields and Shah Deniz condensate from the Azerbaijani section of the Caspian Sea. In addition, other volumes of crude oil and condensate continue to be transported via BTC, including from Turkmenistan, Russia, and Kazakhstan.

Another important infrastructure network of international significance is the so-called South Caucasus Gas Pipeline, also known as the Baku-Tbilisi-Erzurum natural gas pipeline. It started with the production of 8 billion cubic meters (bcm) of natural gas annually at the Shah-Deniz field near Baku. Since 2007, it has been used to export gas to Georgia and Turkey. This pipeline, and the natural gas from the Shah-Deniz field, has provided Georgia with a much-needed alternative to Russian natural gas supplies, and has helped Turkey to diversify its supplies as well. This pipeline became a basis for the larger pipeline system crossing six countries: the Sothern Gas Corridor (SGC). This $45 billion project – the largest energy project in the world between 2014 and 2020 – allowed production of an additional 16 bcm per year. The largest recipient of the gas will be Italy. The system of pipelines has linked an upgraded South Caucasus Pipeline to the Trans-Anatolian Pipeline (TANAP) in Turkey, which is already bringing Azerbaijani gas to the western border of Turkey. The first supply of gas reached TANAP in Turkey in 2018. From there, natural gas will be directed to European markets via the Trans Adriatic Pipeline (TAP), which stretches between Greece, Albania, and Italy. Initially, 10 bcm of natural gas will be exported through TAP each year, but capacity can be increased to 20 bcm. For comparison, Russia, the main supplier of natural gas to the EU, plans to export 170 bcm to Europe in 2020.

The Southern Gas Corridor will be fully operational by the end of 2020, directly connecting natural gas fields in the Caspian to EU markets for the first time. Although initial volumes will cover only about two percent of total European demand, the project has the potential to expand substantially based on increased volumes from other fields in both Azerbaijan and Turkmenistan.

The picture is different for the Turkish market. Russia has traditionally dominated the Turkish natural gas market since the 1990's. In 2018, Russia sold 24 bcm of natural gas to Turkey, making it one of the most significant markets for Russia's Gazprom. Two major pipelines directly connect Russia to Turkey via the Black Sea. The Blue Stream Pipeline with the capacity of 16 bcm was commissioned in 2005. The Turkstream pipeline has a capacity of 31.5 bcm annually and began supplying gas to Turkey in January 2020. These two pipelines allow Russia to bypass Ukraine for its supplies to Turkey, Bulgaria, and other markets in Southern Europe, and serve not only commercial, but also major geopolitical objectives of Russia aimed at increasing dependency on Russian gas in Turkey and the Balkans.

On the other hand, the Southern Gas Corridor has allowed Turkey to buy more Azerbaijani gas at a better price. Turkey received more than 6 bcm of Azerbaijani gas between January and July of 2020, an increase of 24 percent compared to the same period last year. Turkey has contracts to purchase more than 12 bcm from Azerbaijan, and transit infrastructure crossing Azerbaijan and Georgia allows Turkey to receive these volumes of gas with no geopolitical strings attached. These realities led to a major drop of Russian gas sales to Turkey. Turkey is also buying more LNG from the United States and other sources, allowing major diversification from dependency on Russia. During the first quarter of 2020, Gazprom's share on Turkish market dropped below 10 percent, compared to 33 percent in March 2019.

To fully understand the energy context of the current conflict, it is important to also mention that development of pipeline projects connecting Azerbaijan to world markets became possible with major political and diplomatic support from the United States. For more than two decades, the United States has invested significant political and financial resources in the process of strengthening the political and economic sovereignty of countries of the Caspian. This effort facilitated the development of vibrant trade and transit between the Caspian region and the Black Sea and Eastern Mediterranean. Resource-rich Azerbaijan, Kazakhstan, and Turkmenistan, as well as transit and consumer countries like Georgia and Turkey, are the major beneficiaries of the functioning and expanding pipeline, railway, highway, and port infrastructure. Turkey acted

(past tense)

as a close ally and partner, working closely with the United States to enhance cooperation between regional countries, improving regional connectivity, as well as the region's connectivity to the rest of the world.

So far, Russia's response to the escalation of conflict is a major puzzle for observers. Some, in our opinion naively, assume Russia no longer has the bandwidth to intervene and impact the two sides. Looking in depth to the realities of the conflict, Russia is probably the only party that will benefit from a prolonged conflict from both an energy and geopolitical perspective. Potential military success of Azerbaijan weakens Armenia and its more reform-minded leadership, headed by Prime Minister Nikol Pashinyan, who came to power through one of President Vladimir Putin's much-despised color revolutions. To the extent that an Armenian leader can be anti-Russian, Pashinyan is perceived as anti-Russian and relatively more Western leaning compared to his predecessors. Reminding him of Russia's role in Armenia's security interests seems to be one explanation of the limited and slow Russian response to the conflict.

In contrast, Azerbaijan President Ilham Aliyev has never openly challenged Russia. Azerbaijan does not seek membership in NATO or the EU, does not challenge the leadership style of President Putin through democratic rhetoric, and maintains a strategic partnership with Russia as well. Russia could not ignore the careful approach of President Aliyev toward Russia and personally toward President Putin. Russia and Putin are mindful about perceptions. This understanding was reflected in President Putin's statement on October 22 at the meeting of the Valdai Discussion Club, which probably surprised some observers, but reflects the balanced approach Russia tries to maintain on the surface, at least for now: "Russia sees Armenia and Azerbaijan as its equal partners, it has always had special ties with both countries."

Recent related

If you've gotten through all this information. Checked links back to original source including, but not limited to, previous posts done by myself, it seems impossible to comprehend that you can believe the simplistic black vs white narrative that is largely presented in the main stream and alternative media. It's not Armenia = Ally of Russia = Good. Compared to Turkey = Ally of Azerbaijan and Islamist = Bad. It's so much more complicated then that. Clearly Russia understands this. As does Iran. Turkey. And all the neighbours in the 'hood.
Aliyev comes off as more understanding (ability to comprehend) of this situation. Pashinian is still coming off like the bull in the china shop. Why?
"The opposition said the elections were rigged and promised to hold protests until a new election was called."