Pretty amazing for a company that had produced literally nothing prior to this coronavirus.
Moderna said it has achieved sales of more than $11 billion from its Covid-19 vaccine this year and expects to show robust performances through next year.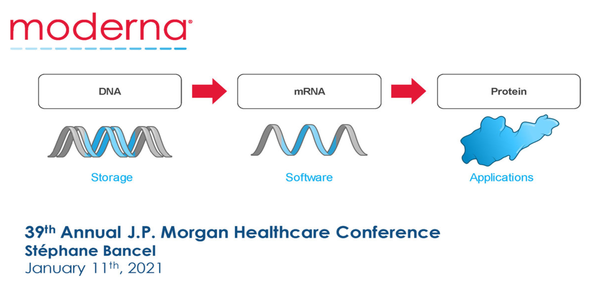 image from article provided for the conference.

Moderna has recorded $11.7 billion in Covid-19 vaccine sales in the New Year. (Moderna)

"Backed by the vaccine's strong presence in the global community, the company has already signed advance purchase agreements (APAs) worth $11.7 billion with customer deposits of $2.81 billion for future supplies in 2021," Moderna CEO Stéphane Bancel said at the 2021 J.P. Morgan Healthcare Conference.

Vaccine's strong presence in the global community...


Bancel added that the company is making more APAs for this and next year.

Based on contracts signed with governments, Moderna predicts that it will supply vaccines of 600 million to 1 billion doses in 2021 and up to 1.2 billion doses in 2022. Bancel stressed the Covid-19 vaccine's success has drastically elevated Moderna's status as a vaccine developer.

"Moderna's Covid-19 vaccine has received approval (emergency use authorization, not approval) by regulators in more than 30 countries, including the U.S. Food and Drug Administration, European Medicines Agency, U.K.'s Medicines, and Healthcare Product Regulatory Agency, Health Canada, and Ministry of Health of Israel," Bancel said. "The company is also in the process of winning nods for its vaccine in Singapore, Switzerland, and the World Health Organization (WHO)."

To increase vaccine production and meet the global demand, the company has been working closely with key suppliers for raw materials to produce the vaccine since February last year, Bancel added.

During the presentation, the Moderna CEO also announced plans to expand indications for the vaccine.

"We are conducting researches of the Covid-19 vaccine on adolescents aged 12-17, and is planning a study of those for children aged 1-11," Bancel said. "Moderna will also start an additional one-year study on adults from July.

As the pandemic has raised the public's awareness of the need for more infectious disease vaccines, Moderna will accelerate its development of vaccines for other infectious diseases, such as flu, Zika, and respiratory syncytial virus.

"Moderna hopes to start the phase 3 clinical trials of cytomegalovirus this year," Bancel said. "The project could bring in an addition of revenue of $2 billion to $5 billion for the company."

출처 : KBR(http://www.koreabiomed.com)