Daily Sabah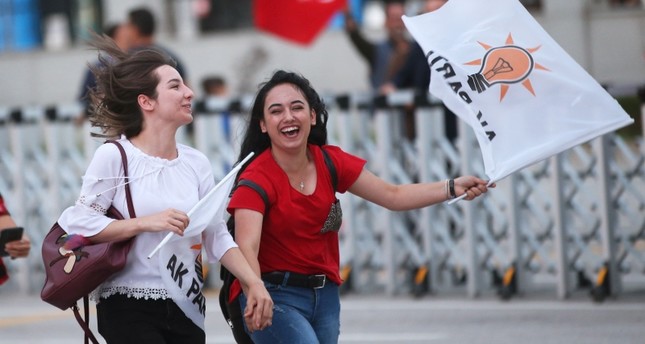 Supporters of Turkish President Erdoğan hold Turkish and AK Party flags and greet after closing voting for the Turkish presidential and parliamentary elections in Ankara, Turkey, 24 June 2018.
World leaders, including Palestine's Mahmoud Abbas, Azerbaijan's Aliyev, Hungary's Viktor Orban and Bosnia's Bakir Izetbegovic called Recep Tayyip Erdoğan late Sunday as the preliminary results suggested a victory for the incumbent president.
Waiting on the reports of Putin's call to congratulate
It'll be interesting to read about who calls and who doesn't call
Aliyev was the first head of state to call his Turkish counterpart after the results.
With almost 80 percent of votes counted in Turkey's presidential elections, incumbent President Recep Tayyip Erdoğan is predicted to emerge winner with a 54.4 percent lead.
Main opposition Republican People's Party's (CHP) presidential candidate Muharrem Ince received 29.8 percent of the votes.
Meanwhile, the newly formed Good Party's (İP) presidential candidate Meral Akşener gets 7.5 percent of the votes and the pro-PKK Peoples' Democratic Party's (HDP) candidate Selahattin Demirtaş has won 7.2 percent.
Following up on:
Also Russian airstrikes in Daraa assisting SAA- it's been a busy weekend
Related to: