While the farce is ongoing at the UN...
Israeli Panel approves new illegal settlement building in illegally occupied territory

An Israeli Interior Ministry committee has approved the construction of 1,100 new homes in east Jerusalem, which Palestinians want as the future capital of a state.
Palestinian negotiator Saeb Erakat condemned the move.
"This is what we call a unilateral action,"
he said in a phone interview.
"Israel doesn't want to stop settlement activities."
"Unilateral action".
There are some people that would consider this, what is colourfully called, and obviously applicable .. an "F U" action. I think everyone who reads here know what is meant by that.
"Israel doesn't want to stop settlement activities" -Stating the obvious.
Netanyahu defended the step in remarks published today in The Jerusalem Post. "This is nothing new," he said. "

We plan in Jerusalem. We build in Jerusalem. Period."
Netanyahu, stating the obvious, again. Israel just does whatever the hell it wants.
As if Netanyahu didn't win the obnoxiously confrontational prize for the day. The religious fantatics of Israel "encourage" Netanyahu to take it further-
Israel must annex West Bank, in retaliation for Palestine's statehood bid.
In letter to premier, leaders of several Knesset factions sa

y Israel must retaliate

against the Palestinians' 'unilateral' statehood bid at the UN, or risk losing it's deterrence.

Israel,
"the peacemaker"
, retaliate?
How very war like!
As an aside...earlier in the Obama Presidency we had the theatre of Obama being "tough" on Israel?
The reality?
Obama administration 'supplied bunker-busting bombs to Israel'
"Israel has received 55 US-made GBU-28 bunker-busting bombs, citing it as evidence that the US-Israeli military relationship is deeper than ever, despite the

(illusion of)

bad chemistry between Barack Obama and Binyamin Netanyahu.
It is certainly interesting that US-Israeli military ties were strengthened just as the two governments were falling out over settlements.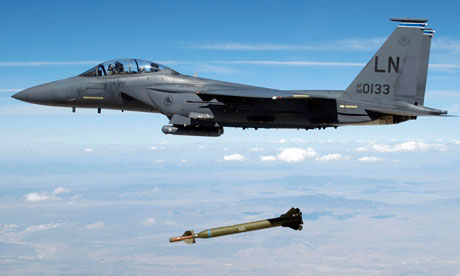 Image borrowed from Guardian article
The two government were never "falling out over settlements"
By the way the "falling out with Israel" show has now opened for a second successful run in Turkey, with Erdogan taking over the starring role that Obama played oh so
convincingly.