As my husband would say...
"It looks like he fell down"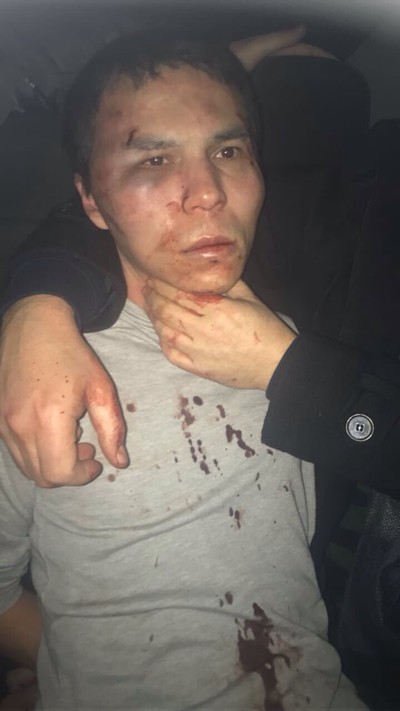 The publication of this image is yet another message- To whoever's killer this is. And it ain't ISIS!
And yes it looks to be the same man that made the video in Taksim Square- I'll repost the image below.
Daily Sabah
Reina nightclub attacker Abdulgadir Masharipov, who killed 39 people in a nightclub attack in Istanbul on New Year's Eve, was captured by Turkish security forces late Monday.

The Uzbek attacker was caught in a Daesh terror cell in Esenyurt district of Istanbul after a weeks-long intense hunt conducted by the Turkish Intelligence Agency (MIT) and Istanbul police. According to reports, Masharipov's 4-year-old son was with him in the cell during the arrest.
— DAILY SABAH (@DailySabah) January 16, 2017
After staging the attack on the nightclub, the terrorist went to a house in Zeytinburnu, where his wife and children were brought to. Masharipov then took his 4-year-old son and went missing.
Sad to think this man took his child to use as cover..
"We said goodbye to each other and he left the house," Masharipov's wife told anti-terror police during her interrogation.

Previous reports have said that after attacking Reina, Masharipov went to Zeytinburnu with a taxi and asked workers at a local Uighur restaurant to give money to the driver.

Uighurs were among those detained after the attack,

while the owner of the restaurant, identified as Şemsettin Dursun, has denied any connection to the attack.
>
The Uzbek attacker was caught in his Kyrgyz friend's house in Esenyurt district of Istanbul.
>
The assailant, who has been on the run since the Reina nightclub attack on December 31, was reportedly transferred to Istanbul Police headquarters.

The arrested suspect will be questioned, amongst other things, about possible links to "foreign intelligence services." Just before the raid, Turkey's Deputy Prime Minister, Numan Kurtulmus, once again voiced Ankara's suspicion that Masharipov could not have perpetrated the attack without outside help.

"It appears the Reina attack is not just a terrorist organization's act, but there was

also an intelligence organization involved,

"

Kurtulmus told A Haber broadcaster on Monday, Reuters reports. "It was an extremely planned and organized act."
An intelligence organization was involved! I do not doubt this one bit!
I had mentioned repeatedly this seemed most plausible- The attack had embedded in it so many warnings/messages to Turkey- A few of the more obvious ones I had caught, but, I bet there were more?
Santa Claus- completely bogus media planted story, but a message
The delivery of a "gift". Western style. Christianity vs Islam.
The video shot in Taksim Square
The suspect is pictured wearing a heavy hooded jacket and staring coldly into the camera, on a street thought to be just off Taksim Square, before the massacre on New Year's Eve.
The killer is taunting Turkey's leadership and Turkey, the nation.
Taksim square was the site of a large pro-Turkey gathering after the coup attempt
The Club at the base of the bridge renamed after the coup

It was earlier mentioned that this club has a wonderful view of the bridge across the Bosporus renamed for all those that died at the hands of coup plotters-



"The bridge is itself now haunted by history and named after the victims of the failed July 15 coup attempt after it became the site of fierce battles between plotters and protesters"
And finally Turk against Turk... Gulen against Erdogan.
A divided people- Divided nation
Uzbeki's and Uighers are Turkic people
Embedded messages....
Two Uighers had been arrested a few days ago..
In Istanbul court on Friday arrested two foreign nationals linked to the deadly attack on an Istanbul nightclub on New Year's Eve.
Two suspects Omar Asim and Abuliezi Abuduhamiti, who are Chinese citizens, are accused of "being a member of an armed terror organization," and "helping 39 times first-degree-murder".
Which intelligence agency/ies were involved? CIA? Mossad? British Intelligence?
This was a planned attack with embedded messages- That's how I saw it. And that's what I said in this post
: ISIS responsible for Istanbul Night Club Attack? About that Santa Meme...
From Earlier- Don't Miss it!