Just couldn't pass this one by- God's Chosen ? Or giving the Devil his dues?
Pretty corrupt and immoral in my book! This story has it all. New York's Mayor being investigated. Crooked Cops. Corrupt Union Officials- Hookers. Gifts. Hookers as Gifts. One guy after being question committed suicide.
Read entirely at the link

:

Excerpt below-
On the face of it Jona Rechnitz and Jeremy Reichberg, two Orthodox Jews from New York, made for an unlikely pair of hustlers. Rechnitz is from a well connected and wealthy family who have ties to Israeli Prime Minister Benjamin Netanyahu. Reichberg is a former volunteer police chaplain who grew up in a strictly religious enclave of Brooklyn.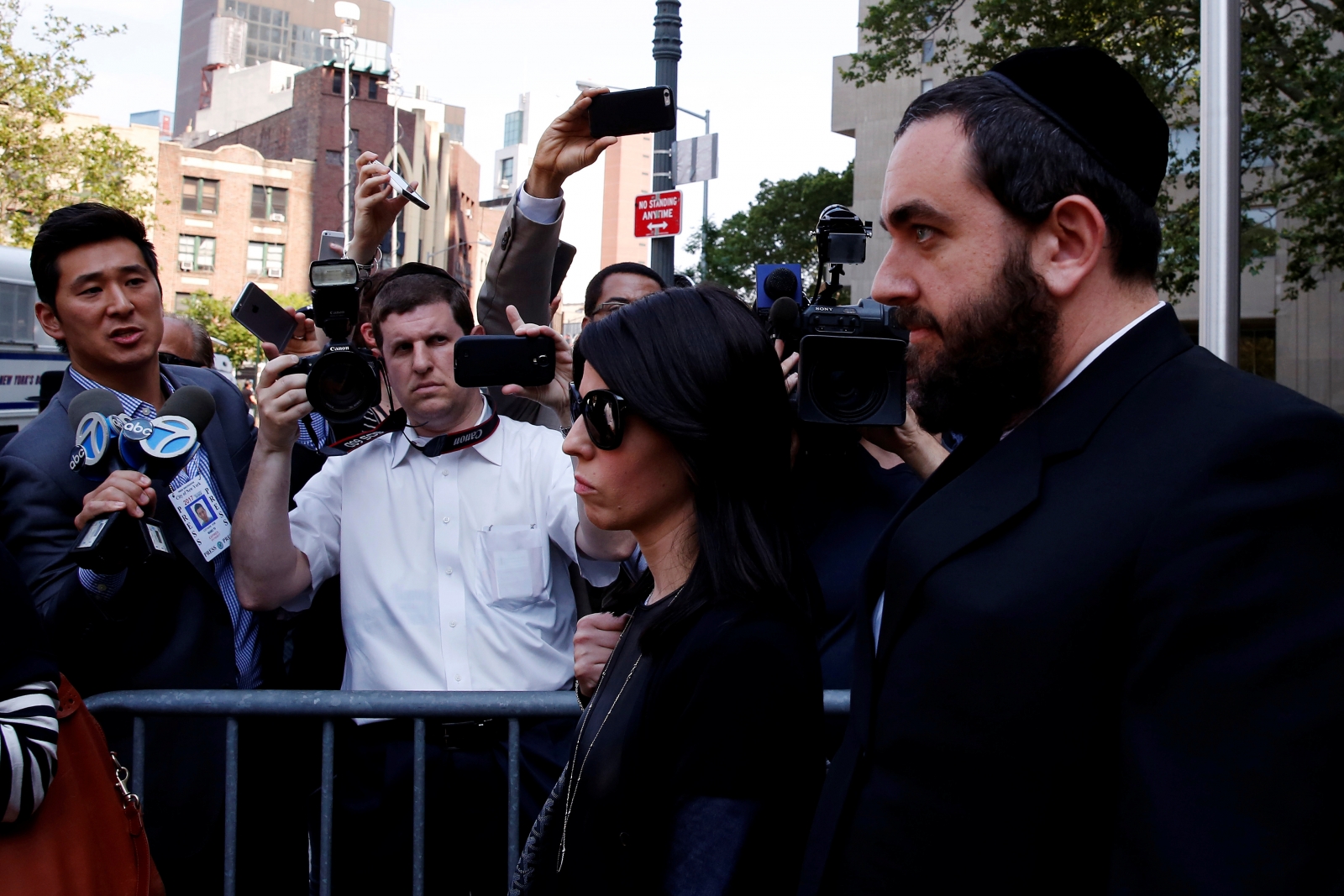 Jeremy Reichberg (R) departs Federal Court in Manhattan after a hearing in New York, U.S.,
But according to prosecutors they are both at the centre of one of the worst public corruption cases to hit New York in decades.

The cast of characters sounds like a plot from a movie and includes a powerful union boss with a taste for luxury who enjoys smoking cigars.
A clutch of high ranking cops have been arrested or fired for allegedly taking gifts and free trips including one to Las Vegas where they allegedly had sex with a prostitute on a private plane.

New York City's Mayor Bill de Blasio is also being investigated by the FBI to see whether he gave favours to Rechnitz and Reichberg for the $208,000 in donations they gave him and his allies.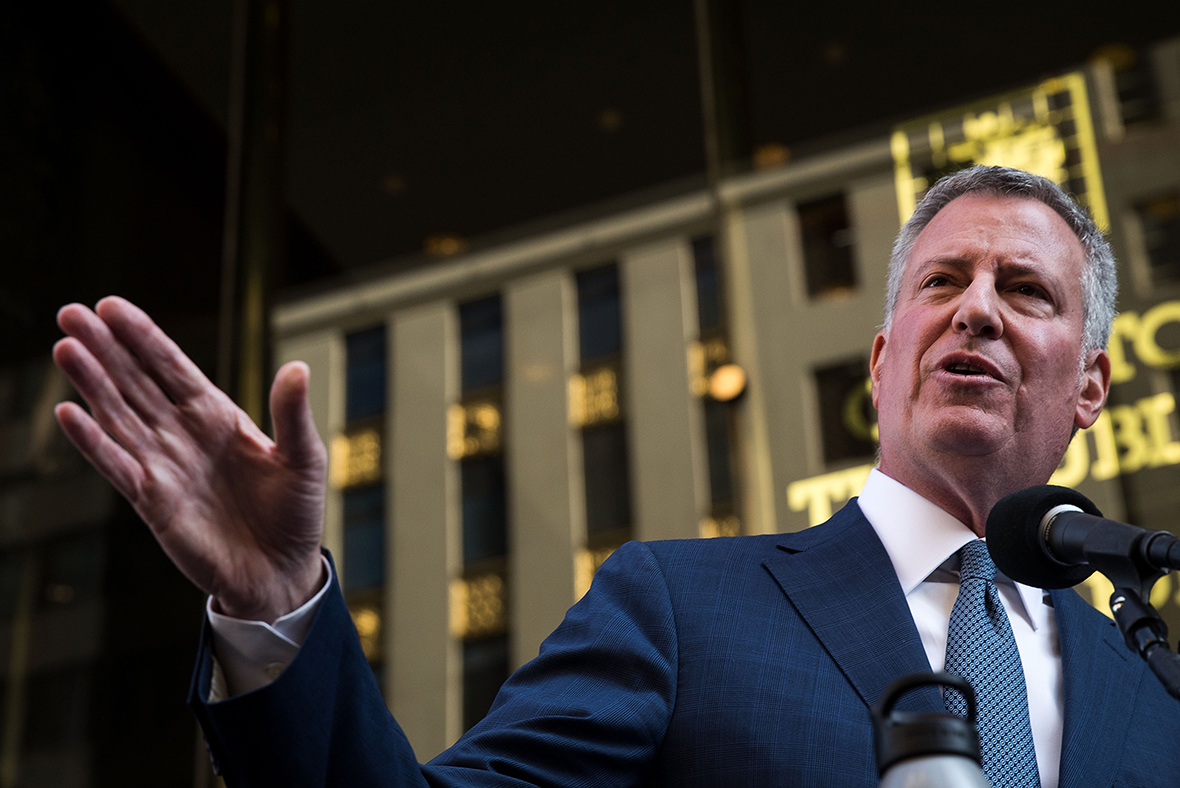 Bill De Blasio
The scandal has shone a light on the close ties between City Hall and Orthodox Jews in New York, a community which votes in blocks and doubles its size every 10 years. Isaac Abraham, a community organiser in Williamsburg, Brooklyn, said it has caused many Orthodox Jews acute discomfort.
Rechnitz, 32, is the son of Robert Rechnitz, a real estate developer and former national finance co-chair of Senator Lindsey Graham's 2016 Presidential campaign. His cousin is Shlomo Rechnitz, a nursing home tycoon who has donated tens of thousands of dollars to Netanyahu.

Rechnitz, who followed his father into real estate, was known for his charitable work with the New York Museum of Tolerance, which ran a training programme for the NYPD.
Borough Park in Brooklyn, one of the largest Orthodox communities outside of Israel. Reichberg runs a consulting business and became a volunteer police chaplain for the Westchester County Department of Public Safety in 2013.

Back in Brooklyn the 42-year-old called himself a 'community liaison' to the police department and even allegedly had business cards saying so.

Both men were regulars at the Hudson River Cafe, a trendy restaurant in Harlem that became a 'clubhouse' for high-ranking NYPD officers, as the New York Post has put it. Its owner Hamlet Peralta was arrested last April and charged with running a $12 million Ponzi scheme involving an allegedly fake wholesale liquor business.
Around the same time t

he FBI was looking into allegations that Norman Seabrook, the head of the New York correction officer's union, was misusing the organisation's funds

. Seabrook was good friends with Rechnitz, who is accused of flying him to the Dominican Republic, Las Vegas and California to curry favour with him.
On one occasion Rechnitz allegedly gave Seabrook $60,000 in a Salvatore Ferragamo bag as a bribe for putting $20 million of union funds in a risky hedge fund run by one of his friends. As the inquiry gathered steam the FBI looked further into Rechnitz and Reichberg and discovered they allegedly spent more than $100,000 on police bribes between 2012 and 2015.
Reichberg once allegedly got the NYPD to close a lane of the Lincoln Tunnel, one of the main arteries into Manhattan, for a friend. According to the federal complaint, Rechnitz and Reichberg showered gifts on the officers, tickets to Brooklyn Nets basketball games and trips to Rome and Chicago.
Rechnitz pleaded guilty to fraud conspiracy charges and is now cooperating with the FBI. In June Reichberg was arrested along with three senior NYPD officers who have been charged with honest services wire fraud and conspiracy to pay and receive bribes, among other offences.
Reichberg is facing up to 55 years in jail.
Among the others who have been arrested is Philip Banks, the former Chief of Department for the NYPD, the highest ranking uniformed post. He is accused of taking $500,000 from Rechnitz as 'investment payouts'.
Also investigated was Michael Ameri, an NYPD Highway Division integrity control officer. He killed himself on May 13 after being questioned by federal agents.
Couldn't believe this scandal hadn't crossed my desk top any time in the past year!
From Earlier:
And afterwards: