It seems obvious the US Navy has some problems. 2nd Destroyer Collision in about 2 Months!
I have just posted the news that the Captain and senior officers of the USS Fitzgerald were guilty and relieved of duties- An expected outcome.
hattip Gordon!
Now let's read about the USS John McCain
WASHINGTON, August 21. /TASS/. Five people were injured and 10 reported missing after a US Navy guided-missile destroyer collided with a merchant vessel early on Monday to the east of Singapore, the Navy 7th Fleet said in its statement.

According to the statement the USS John S. McCain "was transiting to a routine port visit in Singapore," when it collided with the merchant vessel Alnic MC east of the Straits of Malacca and Singapore.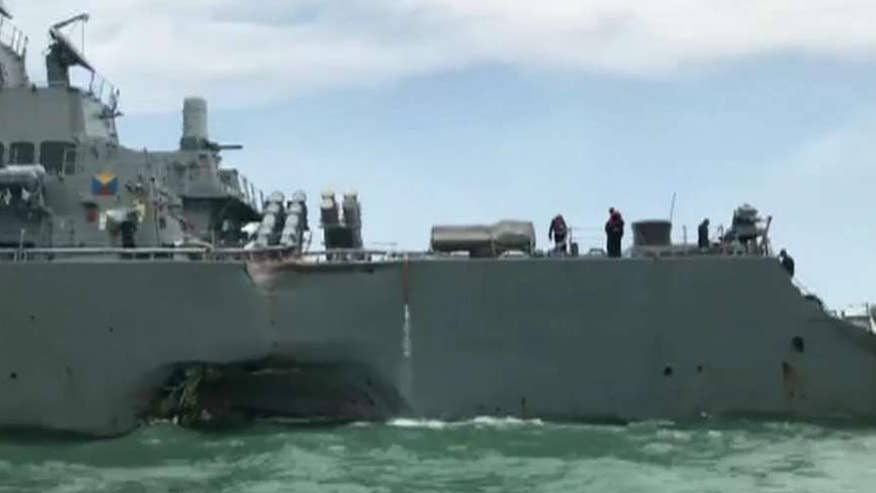 Damage to the USS John McCain
Fox News
American, Singaporean and Malaysian armed forces on Monday are searching for 10 U.S. sailors missing after an early-morning collision between a Navy destroyer and a tanker near Singapore--the second collision involving a Navy ship in the Asia-Pacific region in two months.

"There are currently 10 Sailors missing and five injured," the Navy 7th Fleet reported. "The ship is currently sailing under its own power and heading to port."

"Initial reports indicate John S. McCain sustained damage to her port side aft," the statement said. "Search and rescue efforts are underway in coordination with local authorities."

"In addition to tug boats out of Singapore, Republic of Singapore Navy Fearless-class patrol ships RSS Gallant, RSS Resilience, RSN helicopters and Police Coast Guard vessel Basking Shark are currently in the area to render assistance," the statement added.
Alnic MC is a 600-foot oil and chemical tanker.
CNN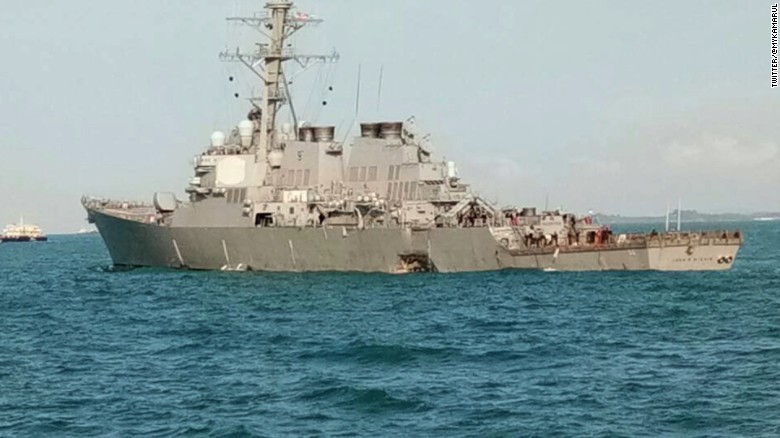 From earlier the USS Fitzgerald news above and the Quebec City Antifa rampage- meme wars for perception management