This has been a long time coming so let's peruse some interesting news.
1st : Turkish-Qatari alliance threatens Washington: US defense think tank
The rise and consolidation of the Turkish-Qatari alliance poses "a growing threat" to the interests of the United States and the Middle East, a US think tank said in a report on Thursday.

FDD claims that the report "assesses their shared Islamist outlooks and joint support for regional extremist groups, as well as military-to-military cooperation, economic aid, and trade and investment deals."
In the reported titled "Brothers in Arms: The Consolidation of the Turkey-Qatar Axis," Senior Fellow Aykan Erdemir and Senior Research Analyst Varsha Koduvayur, say that "Washington has failed to hold these two countries to account over the years."
"Despite hosting important overseas US military bases, Ankara and Doha work together in a manner that only hurts Washington and its regional interests," Koduvayur said.

"For too long, we have not sufficiently held these countries accountable for the major role they play in funding Hamas, in propagating extremist ideologies, and in backing a whole gamut of violent groups in Syria, Libya, and Iraq. This malign conduct will only increase the further entrenched this partnership becomes."
FDD

founder and president Clifford May says the Turkish-Qatari alliance "has become not just increasingly complicated, but also increasingly threatening to core American values and interests."

The report recommends that Washington should use "inducements and disincentives" to pressure
As you read those recommendations keep in mind that FDD (Foundation for the Defense of Democracies) is intertwined with the Likud party in Israel- Don't recall that previously covered information? Let's reminisce:
"Most recently, Hannah has worked as a senior counselor at the Foundation for Defense of Democracies. The Washington-based think tank is close to the Trump administration and advocates hawkish policies on national security, and especially on Iran, whose growing influence in Syria has been a major concern for the United States and Israel."
FDD " it has conducted its research from a particular vantage point and with a relatively narrow focus. Its research and advocacy have centered on the Middle East and in particular on conflicts and issues that impinge on Israel. And its positions have closely tracked those of the Likud party and its leader, Prime Minister Benjamin Netanyahu"
FDD is Pro-Israel to the nth degree. Knowing that to be reality, one must understand that this latest claim is being made in order that Israel maintains it's superiority in the region.
2- Turkey and Russia Judged Bigger Risk Than Islamic State for U.S. Troops in Syria
Turkey and Russia Bigger Risk Than Islamic State???
"Commanders have requested guidance outlining how U.S. forces might deal with an attack from the assortment of armed groups, including Russian-backed Syrian government forces, that have, in the past, tried to seize territory held by the United States. But they have received muddled direction from the Pentagon, two Defense Department officials said.
Syrian territory should not be held by the United States!
For now, the U.S. command heavily relies on the instincts of junior commanders on the ground, cautionary phone calls to officials from Russia and Turkey and overhead surveillance — susceptible to failure in poor weather — to help avoid close encounters with other forces in the Euphrates River Valley, where most U.S. troops are based.

"These forces are at risk without a clear understanding of what they are expected to achieve, and without the political support of their nation, if or more likely when, one of these American adversaries decided to attack them," said Jennifer Cafarella, the research director for the Institute for the Study of War in Washington. "These guys are deployed in one of the most risky, complex and rapidly evolving environments on the planet."

Speaking to lawmakers on the House Armed Services Committee on Wednesday, Secretary of Defense Mark Esper said that the situation in northern Syria has "generally stabilized," although he cautioned that Turkish-backed fighters remained a "wild card."


Esper added that there currently are no plans to withdraw U.S. troops from the country.



"Right now there's no disposition plans that I'm tracking," Esper said.

Gen. Kenneth McKenzie, the head of the military's Central Command, said in a recent interview that

protecting the oil fields might ultimately draw a larger challenge from Syrian army troops west of the Euphrates.

"I'd expect at some point the regime will come forward to that ground," McKenzie said.
Syrian territory and Syrian resources... hello!
But for now, McKenzie said, the remaining

U.S. forces in northern Syria, working alongside several thousand allied militia members from the Syrian Democratic Forces,

will be able to carry out "effective" counterterrorism missions

against the Islamic State in that part of the country.
Against Syria's military is what he really means
"We have enough to very capably, with our SDF partners

, pursue a counterterrorism platform against ISIS," McKenzie said.

He noted that the United States maintains a strong capability for reconnaissance and combat air power to protect U.S. forces and to carry out strike missions when necessary.

"

We have everything we need," McKenzie said in the interview.





The idea that Syrian troops could move to retake ground from the Americans is nothing new.
3- PKK Considering Rebranded Political Party in Sinjar, Iraq ( Stones Throw from Syrian Border)
OH, how curious... not.
Kurdistan Workers' Party (PKK) is planning the establishment of another party in the predominantly Yezidi area of Sinjar, a source said.
The PKK, supported by Hashd al-Shaabi, is planning to expand its influence in Sinjar through a new party.

Qadir Qachaq, head of KDP representation office in Sinjar, said that there have been no new parties by the PKK yet, but there are plans to use the connection with Hashd al-Shaabi to open a representation office in Baghdad.
No new PKK party YET, but aligned with the Hashd al Shaabi they plan to open a representation office in Baghdad- Well, what's been going on in Baghdad as of late?
Bedlam
(
a place, scene, or state of uproar and confusion) Yup, that's Baghdad!
4- Getting Iran out of Syria: The Dayan formula
"Having the audacity to use force, especially in a situation that hovers on the very real threshold of war, entails the risk of escalation, but also the potential to give Israel a prominent role in the crystallizing anti-Iran regional coalition.
Meanwhile, by taking the opportunity to undertake operational friction with the regular forces of Egypt, Jordan and Syria, the IDF built up its capability and established an awareness of that capability in the eyes of both the enemy and the international arena. The quality of the IDF's performance in these operations undoubtedly contributed to the eventual collaboration with France and Britain in the 1956 Sinai Campaign.

Applying Dayan's thinking to today's strategic context, the fighting against Iranian forces in Syria, especially on the Golan border, can be viewed as a means of initiating a clash with those forces out of a defensive motive rather than a direct interest in a full-fledged war."
5- European Parliament to host Rojava Conference on 11 December
The organizers of the conference told ANF that for the first time, a conference on Rojava will be held in the European Parliament and that their aim is to reveal the true face of the Turkish state.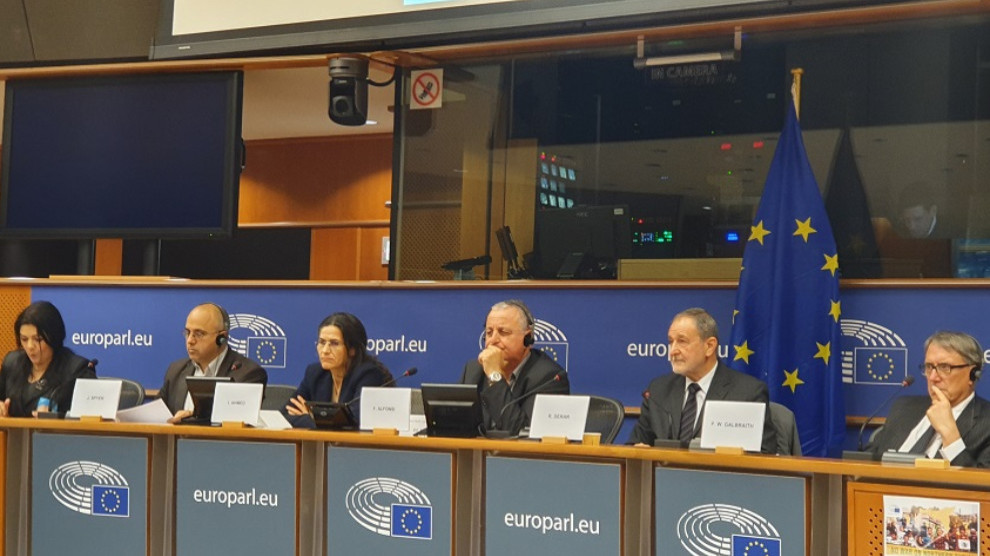 Among the participants will be Per Örneus, humanitarian ambassador at the Swedish Ministry of Foreign Affairs, former French Minister of Foreign Affairs and Co-Founder of the Doctors Without Borders Organization. Bernard Kouchner, former US diplomat and political adviser Peter W. Galbraith, RSF Middle East Bureau Officer Sabrine Bennoui, French political and Middle Eastern religions expert Amelie Chelly, Paris Bar lawyer Sevag Torossian, Greens, Left Union, Socialist and Democrats Parliamentarians from the Progressive Alliance.....
One would think Syria would have a say in this matter? But, no.
6- Galbraith: Time to stop considering PKK a terrorist organisation

Is it? I beg to differ.
7- Human Trafficking in Iraq's Kurdish Region: Women sold for sex: Iraqi Kurdistan's dark underworld
Smuggling women between Syria, Iran and Iraq.. This is the PKK in action
Abdullah brought Noura, a native of Syria, and four other women to a large function room in a seedy Erbil hotel, guarded by masked, heavily armed security guards, and filled with "many almost naked women, some of them completely naked".
"I asked 'What is this?'" she recalled.
"This is the society here. You'll have to adapt," Abdullah replied.
Refugees and internally displaced persons living in camps are another group being trafficked. Aid workers who are in the camps on a daily basis said they have heard cases of women being sold for sex with men outside the camps.
Under American sanctions, the sex industry is growing in Iran with many customers crossing the border from the Kurdistan Region to buy a night with a woman or girl. There are reports of some influential and wealthy political and business leaders in the Kurdistan Region bringing Iranian women back across the border and setting them up in an apartment.

Noura showed her injuries to the Asayesh and told them she'd been kidnapped. The Asayesh took a look through the home where the women were living and, seizing their passports, told everyone to come to the police station the next day. Abdullah had already slipped away.
At the police station, the security forces threatened to stamp the word "da'ara" – prostitution – in red letters inside their passports and deport them. Terrified of being publicly branded with what could mean a death sentence, the women begged Noura not to pursue a case against Abdullah. She relented.
The women were all allowed to leave, but the Asayesh kept their passports. Abdullah, using connections, got the passports and held onto them. He moved all the women to Duhok. Noura asked every day for her passport back, but Abdullah lied, saying the Erbil police had them and there was nothing he could do. Noura didn't believe him, but was powerless to do anything.
In Duhok, 10 days after her fight with Abdullah, Noura was finally able to go to hospital where she told doctors she had fallen down the stairs. Her broken collarbone is still visible on her slender frame.
Duhok. Iraq is central command/headquarters for the PKK... They are undoubtedly profiting from trafficking these women. Egalitarian? Not bloodly likely. Terrorists? Criminal? Oh, yeah!
Duhok: Turkish Jets Target PKK Vehicle, Casualties Reported
Turkish warplanes on Thursday afternoon targeted another vehicle of the Kurdistan Workers' Party (PKK) in the Kurdistan Region's Duhok province