And the extreme paranoia will kick it up a notch. If one can even imagine that occurring?
"Stark " is looking to be the fear word of the day. (Harsh or Blunt BUT also RIGIDLY CONFORMING) Which is sooo interesting, because, while the masses are going to see this as harsh or blunt-
I understand this coordinated move as a push for rigid conformity.
Because that's the goal rigid conformity!
*Premier to release 'really stark' projections Friday as Ontario confirms 401 new COVID-19 cases
While it's being admitted that yes, obviously, there are many different outcomes for this flu. Ontario is going to get the worse case scenario, via computer modelling, presented today
because* "You deserve to know"
Ontario health officials will release modelling data that shows the worst-case scenario for the province during the COVID-19 pandemic.
Ford had resisted calls to release that modelling as recently as Wednesday, saying there were many different scenarios, but said medical experts will now provide a public briefing.
Ford resisted calls? I don't know that he did. Nor do you? It seems to me this unsubstantiated claim of Ford "resisting" is the lead up to us believing a reluctant Premiere, who now has his "back against the wall" was simply forced into this decision!
Me, I see It as so much more fear mongering.
The myriad of problems with modelling was addressed in a recent report:
Given that Dougie is a named global warming questioner thanks in part to all those erroneous climate models, it's alarming to find that he willing to use computer models to spread fear. Same as the AGW crowd Mr Ford claims to question.
Just a reminder that PM Doug appointed a "climate change denier" to oversee Ontario Hydro
And the "denier" speaks specifically of computer models overestimating warming.
"Predictions have also been wrong, sometimes spectacularly, about temperature increases, endangered polar bears, disappearing polar ice and islands sinking into the sea. As well, computer models consistently overestimate warming," he said.
Clearly models can be wrong. They can be very wrong. And yet, today, Doug Ford's government as well as the Alberta government (also climate change"deniers") are going to spread yet more fear by presenting the worst case model for the flu outbreak, exactly as the fear mongering carbon cult has done.
* Stark Projections show Alberta on track for an overwhelmed healthcare system
And look at that! The buzzword "stark" is in the headline
Have you noticed the "huge spikes" in covid cases the last week or so? You should have had you paid attention? This was obviously because of the clearing of backlogs and does not represent a real increase in daily cases.
From a National Post article with tips to find useful information. Spikes in cases indicates backlogs being cleared.
Furthermore, beware of misleading spikes in daily case counts. They tend to be due to backlogs being cleared or a change in how tests are processed, not a real daily increase in cases.
Clearing backlogs and spinning numbers was mentioned in the previous post:
"That's the image you might have in your head given all the hype. However the increase in numbers came about as the province has massively increased testing. It was inevitable that a whole bunch of new cases would arise and sure enough, they did. Doesn't mean these people are sick. Or that they require hospitalization. Or that they are contagious. It just means this virus, in their system, was found due to the massive increase in testing! (I won't even get into the problem with false positives other then to say inform yourself- It's an issue)"
The Public Relations (PR) perception managing "stark "press release and coordinated 'tell all"is being done for the express reason of spreading yet more fear.
Corona Pandemic Hysteria = Global Psychological Operation??
Don't Panic It Makes You Stupid
The amygdala, known as the fear center, one of the most primitive brain regions, overrides the prefrontal cortex, which handles working memory and executive function. "When those deep brain areas are active, they shanghai your cortical neurons," says psychiatrist Edward Hallowell, author of CrazyBusy. "Your IQ plummets. Your creativity, your sense of humor — all of that disappears. You're stupid."
Fear makes people act irrational, and then they are easier controlled, willingly giving up freedom, rights, etc. It activates the reptilian brain of pure physical survival instinct.

It's easier to mind control people when they are in a state of fear. People then also start to police each other and keep each other in check. They can even become afraid of each other because of fear of getting infected. They turn into authoritarian followers to the extreme, following all orders, laws, and rules without questioning driven by fear (most people anyway).
This is how the government has terrorized the citizens into compliance while turning them into snitches and rats.
And Canadian's are snitches and rats-
They've turned themselves into the worst kind of totalitarian/fascist informants one could have ever imagined. I can literally find thousands of these reports that suggest the snitch lines are well used by virtue signalling Canadians helping to grow the POLICE STATE.
*Toronto COVID-19 snitches are watching
* Municipality opens COVID-19 snitch line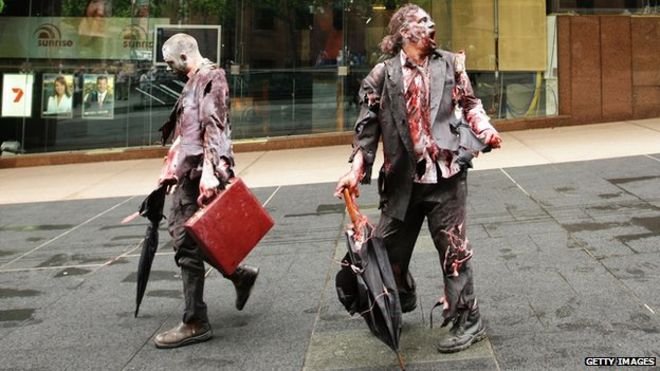 the bodies of lost souls neither alive nor dead -
I've been married for nearly 35 years and still hold my husband's hand to this day. I've no intention of being outdoors and social distancing from him. We've lived together for decades now. We share the same property, house, bathroom and bedroom. The very idea of us "social distancing" while out doors is bizarre. No, it's beyond bizarre!! And yet some snitch could turn us in to the authority. Think about that?
We'll happily stay away from other people. Frankly the way most people looks these days with their faces filled with fear is reason enough to want to keep away from them!
I sure as hell don't want to catch stupid and fearful from these zombies.
Long term the problems that will arise from all these manipulations will manifest in destroyed communities, lacking trust and having no ability, desire or will to cooperate within them. That's a very bad prognosis. For all of us
The OVERreaction of fearful people is more frightening and dangerous